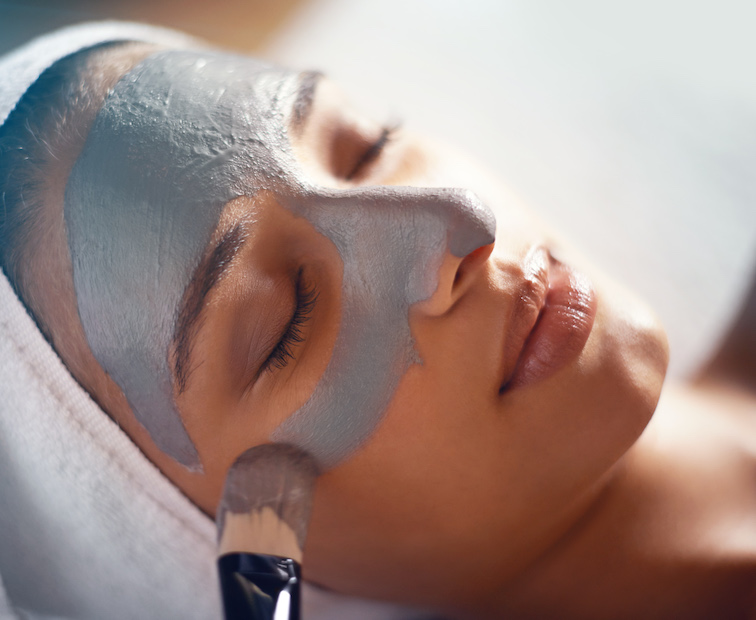 There's nothing that feels quite as satisfying as a clay mask, especially when you're dealing with a fresh breakout or your skin feels extra greasy. The way the clay hardens and tightens on your skin can make it feel like it's really, truly, definitely working. But are they truly doing that much for your skin? And how do clay masks work? The good news: Clay has legitimate benefits, especially for certain skin types. Here's exactly how clay masks work—and what they can do to improve your skin in the long run.
If you had a dollar for every clay mask ever produced, you'd be en route to somewhere warm on your private jet. It's not only masks, either. Clay is popular in skin care products, in general, because it's so effective at clearing out skin. "Clays help to detoxify the skin and draw out impurities and oils from the surface of the skin," says cosmetic chemist Peter Konish, the Director of Product Development and Strategic Product Innovation for the Prestige Beauty at Johnson & Johnson. "This is especially helpful to those people with acne or oily-prone skin." But even if you're not plagued by breakouts—in which case, lucky you—clays can be rich in minerals and acids that can benefit other skin types, too.
Clay helps absorb oils and control shine.
If you have oily or acne-prone skin, you may already be very familiar with clay masks. Clay is popular for these skin types for good reason. "It helps draw out the impurities as well as absorb excess oils that are on the surface of the skin," explains Konish. "Additionally, it helps reduce excess shine." You can kiss your clogged pores goodbye.
Certain types of clays are great for hydrating dry skin.
Even if you don't struggle with pimples, clay can still offer a detoxifying experience. In some cases, clay masks can even hydrate your skin—which is essential if you're dealing with dryness, since clay's ability to absorb oil can actually exacerbate dryness. "Look for those that are more hydrating and containing hydrating ingredients such as glycerin and sodium hyaluronate," suggests Konish.
Follow up a clay mask with your usual skin care regimen.
After you mask (or, if you're game, multimask), Konish recommends following through with your usual skin care regimen, which should consist of cleansing followed by serum followed by moisturizer. If you have oily or acne-prone skin, try using a moisturizer with salicylic acid, which can help control acne all day or night, like Eminence Organic Skin Care Clear Skin Probiotic Moisturizer.
Not all clays are created equal.
According to Konish, they may vary in their composition of minerals, such as silicon oxide, aluminum oxide, potassium oxide and calcium oxide, as well as in their physical structures. Here's how three of the most common types of skin-beneficial clays stack up:
Green Clay: You can find it in Captain Blankenship Mermaid Detox Face Mask and Pangea Organics Japanese Matcha Tea with Acai & Goji Berry Facial Mask. It's one of the most common clay types out there and contains the highest mineral content.
Red Clay: This is a kaolin-type clay, containing more silicate than other clays. Find it in First Aid Beauty Skin Rescue Purifying Mask with Red Clay.
White Clay: Though it's less absorbent than others, this characteristic makes it ideal for those with sensitive skin. Find it in SkinCeuticals Clarifying Clay Masque, which pairs it with a blend of nourishing botanical oils.
If you find the right clay mask for your skin type, it can work wonders for your skin. Slather one on, queue up Netflix and get ready to see some major results.