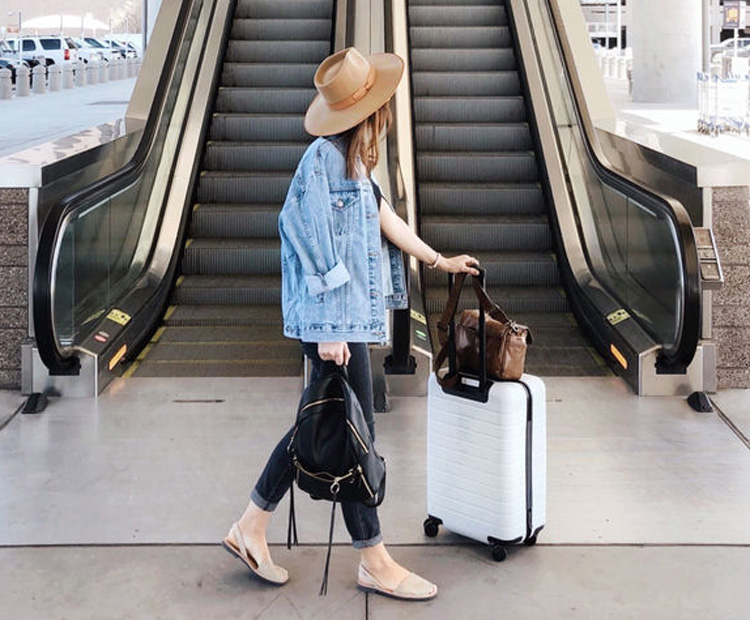 Traveling can be one of the best ways to recharge our batteries, resulting in higher productivity and a more cheerful disposition. But it can also come with a few hiccups. While tasting new cuisines and staying up to watch the sunrise over a land you've yet to discover is inspiring, any changes to your diet, sleep routine and climate can take a toll on the look of your skin and hair.
Fluctuating temperatures, low humidity and recycled air on a plane can translate to dull, lackluster-looking skin. Being sedentary on a long journey also means decreased circulation, which can ultimately lead to puffiness and bloating. And if the tap water at your destination is high in minerals, it can leave your hair feeling straw-like.
Of course, nothing derails your routine like leaving your preferred products at home. To ensure flawless skin, healthy hair and an overall more enjoyable journey, pack these travel-size products before you bid bon voyage.
Buy now

with Dermstore

Reveal a radiant complexion with LUNA 3. This hypoallergenic device from FOREO works to eradicate dead skin cells, makeup buildup and debris while also smoothing the appearance of fine lines and wrinkles. Designed for normal skin, the concentric ridges relax facial muscle-tension points while refining and evening the skin's tone.Key Benefits: * Diminishes the appearance of fine lines and wrinkles * Cleanses pores and reduces excess oil * Promotes youthful looking appearance * Improves absorption of other skincare

Buy now with free delivery

Buy now

with Dermstore

Transform your hair with the Harry Josh® Pro Tools Travel Ceramic Styling Iron—a technologically advanced travel-size flat iron designed to deliver unparalleled smoothness and shine—even on the go. Wired with unique digital technology, this innovative tool boasts an incredibly quick heat-up time plus customizable heatsettings making it ideal for any hair type.Key Benefits: * Advanced digital technology for lightning-quick heat-up time—only 25 seconds * Unique design is lightweight and ergonomic—weighs only 6 oz * Adjustable temperature control with settings from 325°–425°F (162°C–218°C)

Buy now with free delivery

Buy now

with Dermstore

Keep your getaway going well beyond your flight itinerary with Sol de Janeiro's Brazilian Bum Bum Cream, a cult-favorite body lotion. Think of it as a pot of Amazonian goodness, including coconut oil and cupuaçu butter, to give it that sweet tropical scent and silky-smooth feel. For better absorption, massage it in circular motions on any area that needs a little extra love, especially your butt, legs, stomach and arms.

Buy now with free delivery

Buy now

with Dermstore

UNSEEN SUNSCREEN™ SPF 40 is a weightless, colorless, scentless, oil-free formula for face that leaves behind a velvety soft finish. It also acts as a makeup gripping primer that's perfect for all skin tones.Key Ingredients: * Red Algae: helps protect against blue light emitted by electronic devices such as smartphones, tablets and computers * Frankincense: helps the skin be resilient and provides a soothing effect * Complex Derived From Meadow Foam Seed: increases hydration levels, resulting in a more even skin textureKey Benefits: * Provides blue light protection * Offers

Buy now with free delivery

Buy now

with Dermstore

Even if you're not flying first class, you can still jet set in luxury by applying Peter Thomas Roth 24K Gold Pure Luxury Lift and Firm Hydra-Gel Eye Patches to your tired under eyes. After just 10 to 15 minutes of wear, these caffeine-boosted and lavender-infused eye patches will help you get relaxed and most important, make your eyes look—and feel—brighter, firmer and ready to take on your travels.

Buy now with free delivery

If you want to avoid tired, dehydrated skin, then add the trio of products in iS Clinical Simple Summer Skin Kit to your vacation skincare regimen. Together, the travel-size cleanser, gel face mask and face sunscreen cleanse, hydrate and protect skin from whatever is coming its way, especially the summer sun. Because the products are gentle, sulfate-free and pthalate-free, they can be used on just about any skin type—acne-prone and aging skin included.

Buy now with free delivery

Buy now

with Dermstore

Avène Thermal Spring Water is a biologically pure, naturally occurring hydrating mist. Trace minerals and silica condition and reduce irritation as they leave a soothing barrier of lightweight moisture over the skin. Ideal for daily use by all skin types, including those with sensitive, sensitized or stressed

Buy now with free delivery

Buy now

with Dermstore

Enjoy hours of beauty sleep with the Slip Silk Sleep Mask, a pure silk eye mask that has been specially-commissioned and made to the brand's exacting standards.Inspired by the SlipSilk™ pillowcase, the SlipSilk™ sleep mask is crafted from the highest grade (6A) long fiber mulberry silk with a 22 momme thickness, and has been refined over ten years to provide the ultimate in shine, thickness, softness and durability. Pure silk inside and out, the eye mask has a pure silk filler, silk internal liner and silk-covered elastic band. Crafted under stringent regulations with certified non-toxic

Buy now with free delivery