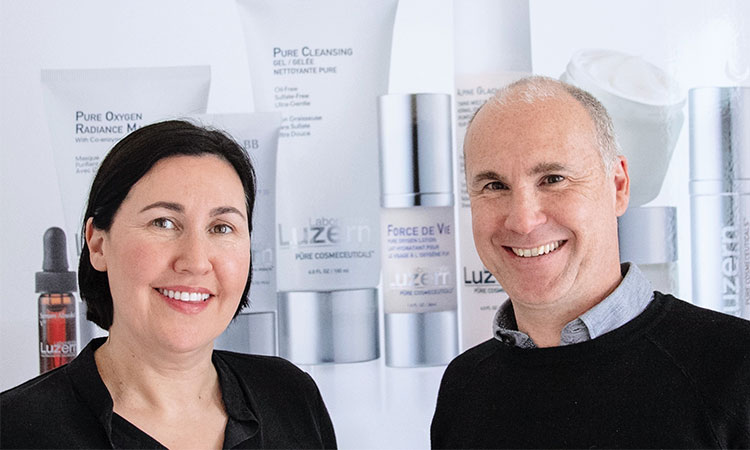 For Jennifer Herbert-Coste and Ralph Herbert, founders of Luzern Laboratories, green beauty isn't always manufactured in someone's kitchen. Nor does it always come in green jars and bottles. Sometimes, it's elegantly formulated in a high-tech laboratory powered by renewable energy, minimally processed in small batches using a unique cold processing method and housed in blue, eco-friendly glass and aluminum bottles to maximize the ingredients' stability and efficacy.
But that's not all. While environmental protection definitely plays a huge part in Luzern's green philosophy, it's the purity and potency of products that ultimately drive Luzern's success story. Featuring mineral-rich glacial waters and nutrient-dense plants organically grown in extremely harsh conditions in Switzerland, Luzern's products deliver optimal results without using any additives, irritants and other potentially harmful chemicals.
Here we sat down with Jennifer to learn more about Luzern's history, philosophy and the inspiration behind its amazing line of products.
You've built a successful company with an amazing line of natural products. How did it all start?
Ralph and I are more comfortable speaking about our brand than ourselves. We tend to gravitate toward working quietly behind the scenes, and in a world where promotion is seen as key to one's success; we are probably a bit of an anomaly. Influenced by our father, a professor of environmental science and a free thinker, along with our upbringing on several continents, we were taught at an early age to respect the earth, see alternative possibilities and question the status quo.
While it is tempting to look back at the birth of our brand as a moment of clarity that perfectly created it all, the truth is, like everything in life, it was an evolution…a journey. We started our company with lots of passion but limited experience. This meant we faced a lot of challenges and we could take nothing for granted. We had to learn from the ground up and we could not rely on industry standards, or dogma. That was a blessing in disguise. Looking back we realize the necessity for openness was a huge asset and it allowed us to successfully fight for better standards and build the brand that is Luzern today. It allowed us to take a fresh look at everything we did. The learning process continues almost 20 years on and it compels us to create a different kind of brand, a brand that continually reaches for something better. We are driven to develop the world's purest, safest and most luxurious skin care, and we still get excited by striving for continuous improvement and the ability to innovate every single day.
What was lacking in the industry that you wanted to fill with Luzern?
When we started it seemed that no one in the beauty industry was creating results-driven products that were also safe for your skin and delivered an elegant experience synonymous with luxury skin care. After years of research and a lot of trial and error, we launched our first three products. The launch was small but it reflected Luzern's core values: the belief that quality, innovation and integrity would be at the heart of our brand and that luxury skin care could deliver both significant purity and significant results.
What challenges did you encounter when you were creating the line? How did you overcome them?
From the beginning, we have been driven to develop products that make people feel beautiful, and that don't harm them or the earth. To achieve this we decided early on that we would need to buck the norms of an industry dependent on toxins and synthetic preservatives in pursuit of a better way. For our active ingredients, we looked to the Swiss Alps, mountains famous for remarkable plants that thrive in one of the harshest climates on earth. Using the extracts from these plants as the base, we formulated a product line that distanced itself from the misconception that effectiveness and purity could not coexist.
What are some of the initiatives Luzern is taking to help the environment?
Luzern prides itself as much on respect for ecological values as producing results-driven products. From our use of low-impact, eco-friendly glass and aluminum bottles to our company headquarters powered by 100% renewable energy, environmental sustainability and a green philosophy are guiding principles in the development of all Luzern products.
To ensure these values are incorporated into every aspect of our skin care, Luzern sources ingredients and packaging materials certified for their respect of people and our planet. We believe that high-performance, quality and environmental responsibility are not mutually exclusive but work synergistically to create the finest skin care in the world.

What's your best skin care tip?
Washing your face at night. Even if you don't wear makeup, it's very important to wash your face at the end of your day. It's not just about removing makeup; it is ultimately about removing the day. Throughout the day the skin on your face is continually covered with bacteria, pollutants, viruses, dirt and old (dead) skin cells. Nightly facial washing removes these impurities. Keep in mind that the skin repairs itself during the night, as this is when the blood flow is more intense. Because of the increased blood circulation, products are going to be better absorbed during the night. If you are not cleansing your face at night, the absorption of these products is not going to be as efficient or effective.
Tell us the must-try products from your brand and how to use them for best results.
Buy now

with Dermstore

Hydrate and tone skin with L'Essentials Hydrating Essence Pre-Serum Treatment from Luzern Laboratories. This weightless alcohol-free essence is loaded with replenishing bio-Suisse extracts, ceramides and natural moisture factors that instantly absorb into the skin to prep, tone and hydrate. Replenish skin after cleansing by swiping on with a cotton round or splashing on a few drops from the palms of your hands. Hydrating Essence will quickly give a hydrating boost to refresh skin and prepare it for serums or moisturizers to follow.Key Ingredients: * Saccharomyces Lysate Extract: increases

Buy now with free delivery

Buy now

with Dermstore

Serum Absolut Rehydrate Moisture Enhancing Serum from Luzern Laboratories is an oil-free aqueous hydrating serum for dull, dehydrated and compromised skin. Dual-action formula delivers powerhouse levels of low molecular weight hyaluronic acid and panthenol to instantly re-balance the skin's hydration levels. Niacinamide and lipids plump dehydrated skin while helping to replenish the vital barrier to slow down trans-epidermal water loss.Key Ingredients: * Phospholipids and Sphingolipids: repair the epidermis to support the functioning interaction between individual skin layers and provide a

Buy now with free delivery

Buy now

with Dermstore

Brighten, smooth and hydrate while you sleep with Nuit Hydra-Enzyme Masque from Luzern Laboratories. A translucent layer of this deeply hydrating masque applied onto the skin leaves it looking brighter, firmer and years younger in just one night. A bio-fermentation complex of enzymes and peptides gently speeds the shedding of surface cells while you sleep. Vitamin C and organic licorice extract assist in fading discoloration and uneven tone. Sweet almond oil, squalane and hyaluronic acid hydrate for a more refined-looking complexion. You wake to fresher, smoother and more radiant-looking

Buy now with free delivery