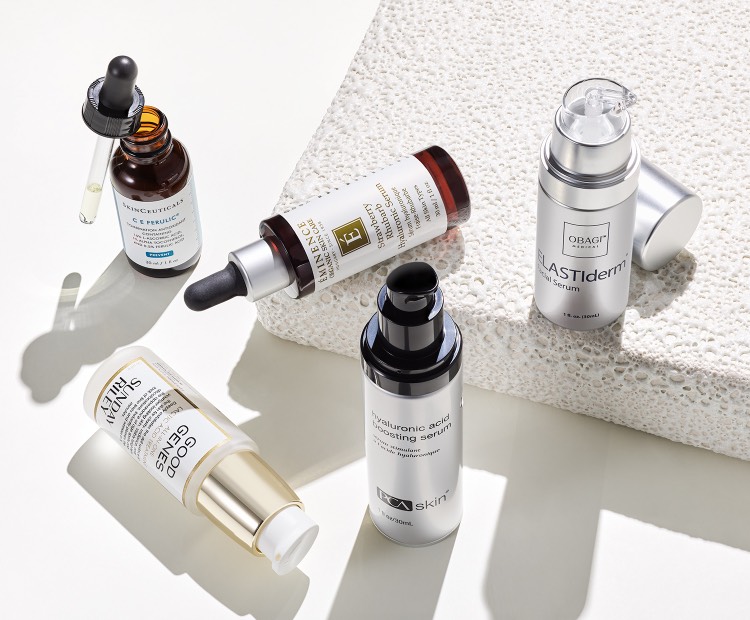 We can't completely stop wrinkles and fine lines in their tracks, but with the help of face serums, we can definitely slow down their advances. These skin care MVPs can effectively enhance your skin care regimen with their versatility and variety. They can be layered with moisturizers, night creams and masks to enhance potency, be used as a spot treatment or as standalone actives that target just about every skin concern.
But with all the different types of serums and ingredients available—and all the hype that comes with new releases and cult products—it can be difficult to figure out which bottle can give your skin that much-needed rejuvenation. Hence, it's important to understand the specific needs of your skin and how time, the environment and your lifestyle affect it.
How Wrinkles and Fine Lines Form
Fine lines and wrinkles are part of the natural aging process as skin gets thinner, drier and less elastic with age, says Dr. Rhonda Klein, a board-certified dermatologist in Westport, Conn. As early as your mid-to-late twenties, the production of the proteins collagen and elastin—the building blocks of healthy skin—slows down. Because they are being broken down faster than new ones are produced, this breakdown triggers the aging process that results in a dull complexion, sagging skin and folds and creases.
External or environmental factors also play a role. Pollution, UV radiation and certain lifestyle habits like smoking all accelerate and contribute to the degradation of your skin's healthy cells and connective tissues, with some parts getting thicker and others thinner, adds Hannah Sivak, Ph.D., a scientist, author and skin care expert. "At the molecular level, there are many changes in protein structures. Some proteins are being broken down and replaced with others that are different in amino acid sequence and physical behavior," explains Sivak.
Do Wrinkle Serums Actually Work?
Unlike creams and lotions, serums are able to go deeper into the skin's layers, says Heather Bennett, esthetician at Beverly Hills Rejuvenation Center. "Anti-wrinkle serums are more liquid than solid and therefore are able to penetrate multiple layers of skin more quickly and easily. The major benefits of serums are that they offer the most lightweight formula and give the most intensive results," adds Bennett.
"Anti-aging serums can help reduce environmental toxins, build collagen and elastin and smooth fine lines and wrinkles," says Dr. Klein. They can also help prevent premature wrinkles and fine lines from developing in the first place, says Sivak. "There are many ingredients that can prevent oxidation and modification of cellular components, including the very important DNA mutations caused by UV radiation," Sivak explains. "Other ingredients can prevent lipid oxidation, preserving cellular integrity."
What Ingredients to Look For
Identifying your skin's specific needs is the best way to choose an anti-aging serum. Below is a rundown of the best anti-aging serum ingredients that will plump up your skin, boost its defenses against environmental aggressors and keep signs of aging at bay.
Vitamin C—Known for its essential role in boosting collagen synthesis, vitamin C can leave you with a brighter complexion. It's also a potent antioxidant that "can help reduce skin damage caused by free radicals, thereby reducing fine lines and wrinkles and improving texture," Dr. Klein explains.
Hyaluronic Acid—As a potent humectant or moisture-binding ingredient, hyaluronic acid helps the skin retain moisture and induces collagen remodeling, leading to plump, hydrated skin, says Dr. Klein.
Peptides—A high concentration of peptides in a serum will help stimulate the growth of collagen and elastin. This results in the skin's increased strength and elasticity, encourages skin healing and remodeling and smoothing away fine lines and wrinkles.
Epidermal Growth Factor—Epidermal growth factor is a molecular chain of amino acids that aids in healing and wound recovery. It works by stimulating tissue repair and cell growth at a cellular level as well as encouraging the formation of collagen and elastin fibers, explains Dr. Klein.
Stem Cell—While stem cells can't actually regenerate your skin or magically erase wrinkles, they do contain powerful antioxidant and anti-inflammatory properties and help "protect your skin against sun damage, prevent wrinkles and induce collagen synthesis," Dr. Klein says.
Retinol/Vitamin A—"Retinoids bind to nuclear receptors and modify gene expression," says Sivak. They are considered the rockstars of anti-aging skin care because of their ability to "minimize the appearance of wrinkles, bolster skin's thickness and elasticity and slow the breakdown of collagen," adds Dr. Klein. They also help in lightening brown spots or pigmentation caused by sun exposure.
AHAs—Alpha hydroxy acids like glycolic and lactic acids are primarily used as exfoliants but can also "promote collagen synthesis, correct discoloration and improve the appearance of lines and wrinkles," explains Dr. Klein. They are also effective acne treatments and can help improve product absorption.
Vitamin E—This lipid-soluble antioxidant helps "protect cellular membranes from the damage done by free radicals, breaking the chain reactions initiated by them," explains Sivak. It's one of the most hardworking skin care ingredients, aiding in the prevention of photodamage, reduction of scars and plumping up the skin to diminish fine lines and wrinkles.
Niacinamide/Vitamin B3—This potent anti-aging ingredient can "visibly improve the appearance of enlarged pores, uneven skin tone, fine lines and dullness," says Dr. Klein. "It may even reduce the incidence of non-melanoma skin cancers in high-risk patients."
Soy Isoflavones—According to Sivak, these phytoestrogens "can help reduce the appearance of wrinkles caused by a decrease in hormone concentration during menopause."
Resveratrol—Found in the skin of red grapes (and red wine!), resveratrol is "a powerful antioxidant that reduces oxidative stress and irritation," says  Sivak. In high concentrations, it can help improve the skin's elasticity, radiance and firmness.
Best Anti-Aging Face Serums of 2021 
Say goodbye to fine lines and wrinkles and give your daily skin care regimen a boost with our top recommended anti-aging serums, below.
Buy now

with Dermstore

There's a reason this serum has gotten over 2,000 five-star reviews on Dermstore! Aside from vitamin E and ferulic acid, this antioxidant powerhouse also contains 15-percent pure l-ascorbic acid or vitamin C, making it truly worthy of its holy grail status. With a super-concentrated formula that's effective for up to 72 hours, this serum enhances the skin's defenses against oxidative stress and UV rays, smooths lines and wrinkles and firms and brightens.

Buy now with free delivery