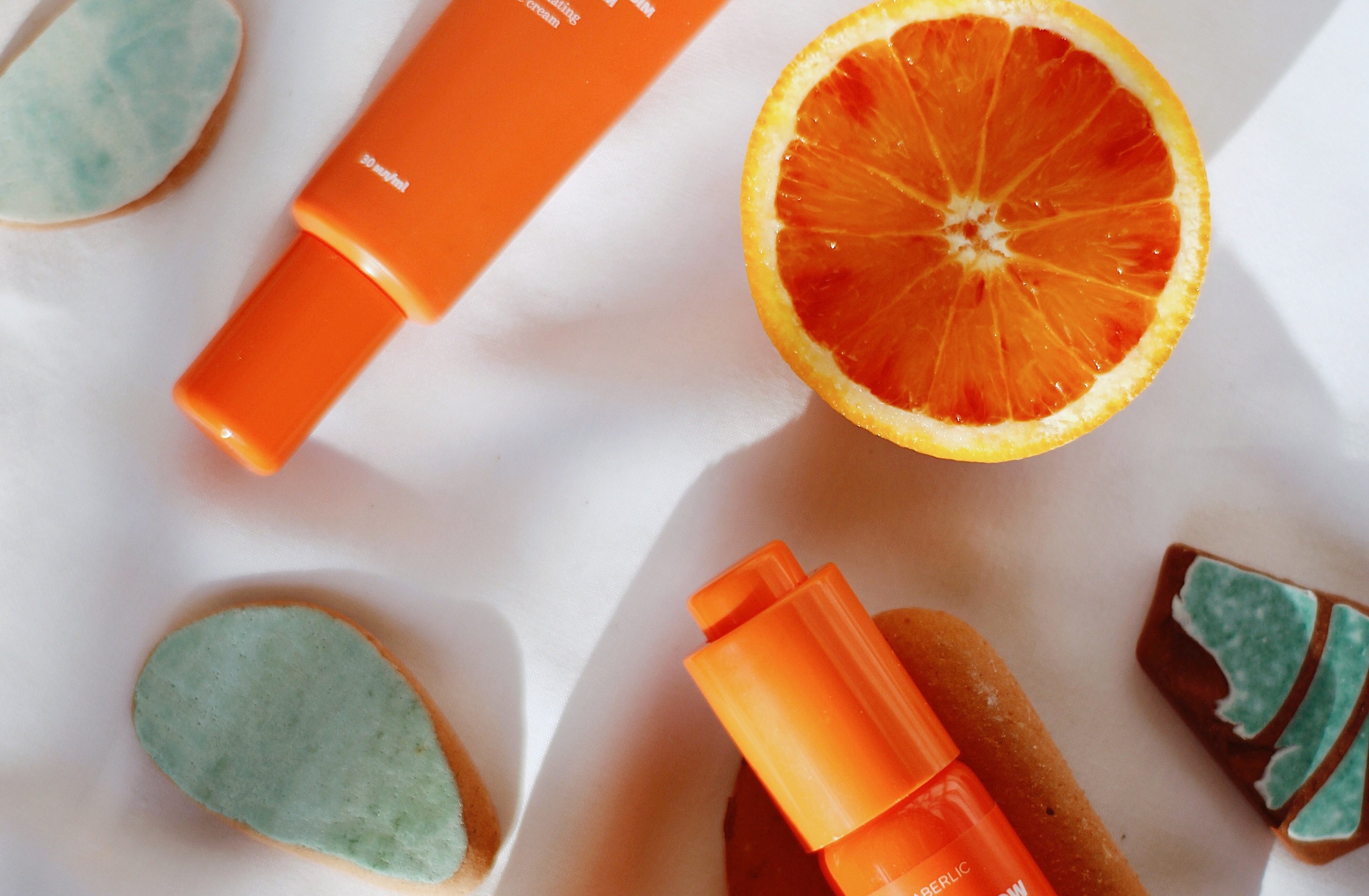 Vitamin C is the organic substance that gives orange juice its superpowers and amps up your immune system when you feel a cold coming on. So, what does vitamin C do for your face? We asked board-certified dermatologist Dr. Ashley Magovern, MD, medical director of Dermstore: 
What are the benefits of using vitamin C?
Vitamin C is an antioxidant powerhouse that can deliver a wide range of benefits to the skin. Some of these include: 
Evening and brightening your skin tone – Vitamin C is able to inhibit melanin production, which in turn helps fade dark spots on the skin and fight hyperpigmentation. This effect will also brighten your skin for an even, glowing complexion. 
Assists with collagen production – as we age, our body's collagen production often decreases over time. Vitamin C helps encourage collagen growth which will improve your skin's texture for a soft, supple feel.  
"Vitamin C is an important building block for collagen synthesis in your skin," Dr. Magovern says. If you missed that bio lesson, collagen is a structural protein that makes up the skin itself and contributes to its firmness and thickness, she explains. As we age, we lose collagen, which contributes to laxity and results in fine wrinkles. "Encouraging the skin to make more collagen is the cornerstone of everything dermatologists do to combat the signs of aging," she says. "And the products you use at home make a huge difference."  
Anti-aging and sun protection – As a natural antioxidant, vitamin C combats the free radical damage that results from everyday exposure to the sun's UV rays and environmental pollutants by donating electrons to neutralize the free radicals that cause oxidative stress. In turn, this reduces inflammation and reorganizes the skin structure to mimic younger skin, which helps build up lost collagen. Every day, free radicals bombard our skin looking for oxygen molecules to latch onto to provide stability. This can lead to skin damage that ultimately contributes to premature aging. A vitamin C product, when applied to the skin, creates a barrier for these free radicals and protects from photodamage even more than a traditional SPF. By fighting off the free radicals in the air, vitamin C provides both increased sun protection and anti-aging properties that everyone can benefit from. 
How to use vitamin C in your skin care routine
In a multi-step skincare routine, Dr. Magovern recommends applying the thinnest products first and progressing to the thickest. Vitamin C serum typically falls into the former category. "I love using serum under moisturizer," she says—particularly when introducing a new serum to the skin. After all, if your skin is dry or inflamed, any new product can cause some irritation.  While you can often find vitamin C in non-serum form, experts say that using the purest form possible (which is often a serum) will help maximize the effectiveness of vitamin C in your skin care routine. 
Combining other products with vitamin C can help target multiple skin concerns at once. For example, using a vitamin C product underneath your daily SPF will increase the effectiveness of the sunscreen and protect your skin further than using SPF alone.  
Looking for more ways to combine vitamin C with your favorite products? Read our blog on skincare ingredients you can use with vitamin C. 
How often should you be using a vitamin C serum?
Because vitamin C reverses some of the oxidative stress and free radical damage that takes place during the day, it makes sense to apply it at night when skin regenerates, according to Dr. Magovern. "I like to give the skin an extra push by applying a serum that contains vitamin C."   
That said, there's no downside to applying vitamin C in the morning, instead, or even twice a day. "I'm OK with whenever you want to put it on," she says.   
If you opt for the am, don't confuse the sun damage-reversing benefits of vitamin C with skin protection. "Vitamin C combats oxidative stress and free radical damage that leads to the breakdown of collagen, but it doesn't protect your skin from UV rays and further damage," Dr. Magovern warns. In other words, even a generous application of vitamin C serum won't take the place of a good old SPF, which should be applied after serum and moisturizer but before makeup. 
Potential Side Effects of Using Vitamin C
Vitamin C is well-tolerated by most skin types with no known risks for pregnant or breastfeeding women. If you do happen to notice stinging, redness, or dryness after applying a vitamin C serum, layering on a moisturizer should nip these side effects in the bud. And if you're nervous? Begin with a serum that contains a lower concentration of vitamin C—think 5 to 10 percent rather than the ideal 15 to 20 percent—particularly around the eyes where skin can be more sensitive.  
Should you expect your skin to act up in response to a new vitamin C treatment? "No, not necessarily," says Dr. Magovern. "Any product you put on skin that's dry or inflamed can cause a little irritation, but hydrating the skin when using active ingredients can help the skin accept the product." She recommends layering on moisturizer after vitamin C serum for this reason. 
If your skin is acne-prone, you don't have to worry about vitamin C making things worse. "It doesn't clog your pores and it can actually improve acne by reducing irritation that can compromise the skin barrier and lead to breakouts," Dr. Magovern says.   
That said, vitamin C can be a vehicle for other ingredients that do cause breakouts or don't agree with sensitive skin, so read product labels and ask your dermatologist for recommendations if you're concerned. Otherwise, slather away.  
What is the best vitamin C serum for your face?
At Dermstore we pride ourselves in carrying the best of the best skincare products on the market. We love vitamin C because of it's multitude of skincare benefits packed into one product. Adding a vitamin C serum into your routine is going to be a game changer if you haven't already. Some of our favorite vitamin C serum brands at the moment are SkinCeuticals, Is Clinical, Obagi, Paula's Choice, and Eminence. To browse our entire vitamin C selection, head to our vitamin C page.