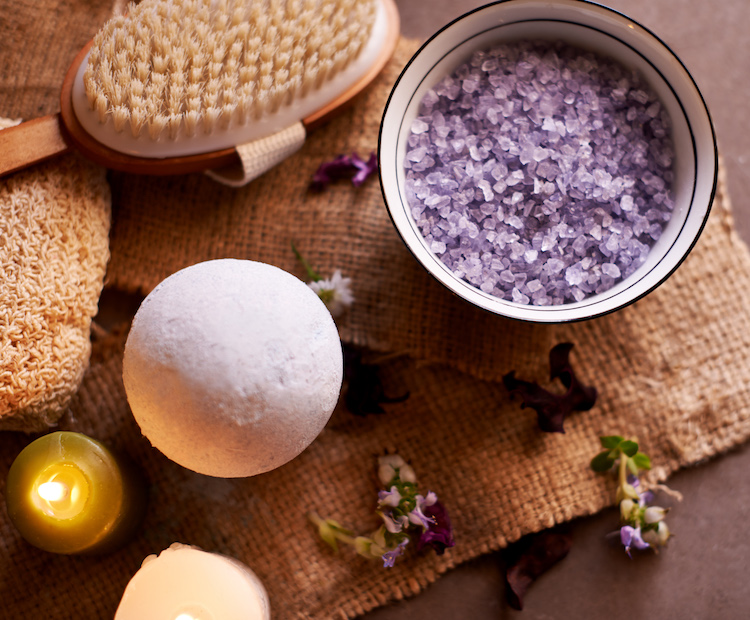 With all the stresses of everyday life, it's important we take time for ourselves. Treating yourself to some TLC is not only a great way to recharge and rejuvenate, but it's a necessary part of staying healthy.
Don't have the time or resources for a vacation or a day at the spa? No problem. Treat yourself or someone you know to a day of relaxation, pampering and pure bliss with the help of a DIY spa kit! We think the four essentials for treating yourself are:
A calming candle to set the mood
A hot bath to relax and destress 
A face mask to rejuvenate your skin
Something to pamper your hands, feet and/or nails
Ready to start assembling your DIY home spa kit? We picked a few of our favorite products in every category and at every price point so you can personalize a spa kit that fits your body's needs and your budget.
1. VOTIVO Tin Candle in "White Ocean Sands"

Trick your senses into thinking you're relaxing in a remote island paradise with the subtle, refreshing aroma of this VOTIVO candle. Made with a non-toxic blend of soy and wax and infused with essential oils, this candle offers an unparalleled soothing experience for up to 25 hours.

A spa day at home is not complete without a relaxing soak in a hot bath. This ultra-moisturizing, super foamy, aromatherapeutic bubble bath will hydrate your skin while calming your senses. Ingredients like St. John's Wort and aloe vera balances your emotions and soothes your skin, while ingredients like vitamins E and B-5 and mineral-rich gentian extract nourishes your skin and makes it glow.

Buy now with free delivery

Everyone needs a little pick-me-up every once in a while, and this energizing mask is one easy way to give yourself one. Effortlessly apply and remove the mask to brighten your complexion and nourish your skin with orange peel and pomegranate. And with its great price and mess-free formula, it's a great introduction to the (slightly addicting) world of face masking.

Buy now with free delivery

4. Nailtiques Color Lacquer With Protein

Treating yourself to a mani-pedi at the salon is great, but so is being able to change up your look in the comfort of your own home. Available in many subtle, bold and bright colors, this Nailtiques formula nourishes your nails with keratin while delivering a vibrant, glossy finish.
UNDER $100 SPA KIT

1. Joya Prism Collection Candle in "Sky"

The uplifting woodsy and herbal scent of this candle will instantly fill your home with the blissful aromas of vacation. Burn this candle and take a temporary escape from the day-to-day grind of your hectic life. One Dermstore shopper said it "makes [you] feel tranquil."

2. SpaRitual Organic Bath Salts in "Egyptian Geranium"

Revitalize your skin with a bath salt treatment by SpaRitual. Sea and epsom salts naturally absorb toxins from the skin, exfoliate dead skin cells and boost circulation, while vitamin E enhances clarity. This is an excellent product for your spa kit because the salts can be used with warm water for a manicure, pedicure, or for a full body bath.

In addition to fighting damaging free radicals and reducing inflammation with organic matcha green tea, this product works to soothes irritation with organic chamomile essential oils. Plus, it's loaded with antioxidants and ideal for every skin type.

Buy now with free delivery

4. deborah lippmann Gel Lab Pro in "Stargasm"

This chip-resistant gel nail polish is designed to last up to seven days. Plus, with ingredients like biotin, keratin and green tea, it strengthens and promotes healthy nails. (And how gorgeous is this color?)
UNDER $150 SPA KIT

1. CINQ MONDES Phyto-Aromatic Candle

This calming candle would make an excellent addition to a DIY spa kit because it promotes balance. Relax and unwind with citrus and exotic gaiac wood aromas and enjoy a deeply comforting atmosphere.

Buy now

with Dermstore

Revitalize your mind and body with a eucalyptus-infused bath salt treatment by 100% Pure. Crystalized seaweed plasma naturally absorb toxins from the skin, exfoliates dead skin cells and boost circulation, while vitamins C and E brighten skin's tone. This is an excellent product for your spa kits because the salts can be used with warm water for a manicure, pedicure, or for a full body bath.

Buy now with free delivery

Buy now

with Dermstore

Ingredients like shea butter, vitamin C and antioxidants contribute to this radiance-boosting face mask that works to minimize dark spots, free radical damage and dryness. One of the key ingredients, dimethicone, also makes it ideal for those with mature skin. Add it to your spa kit and you'll notice restored suppleness.

Buy now with free delivery

The benefits of a pedicure go beyond having pretty toes. Skip the nail salon and protect your feet from calluses and dry, rough patches with this at-home foot treatment. The patchology PoshPeel™ PediCure is designed to smooth away roughness and soften your feet. One Dermstore shopper was amazed at the youthful results: "[It] leaves your feet soft and looking 20 years younger."
UNDER $250 SPA KIT

Buy now with free delivery

In addition to this candle's refreshing, clean scent, it can also be used as a balm to massage over your skin, which makes it the perfect dual-use product for your spa kit. "I have even started wearing it as a fragrance since the wax is so soft on these candles you can just rub it on" writes one Dermstore reviewer.

Buy now with free delivery

Buy now

with Dermstore

With aromas of lavender, rosemary, thyme and chamomile, this bath treatment is ideal for relieving tired, overworked muscles, menstrual cramps, arthritis, rheumatism and swelling. According to a Dermstore purchaser, this warming bubble bath "is a great way to relieve tension and stress." It should definitely be added to your spa kit because "it will turn your bathroom into your own private spa," writes another Dermstore reviewer.

Buy now with free delivery

Buy now

with Dermstore

This intensely moisturizing face mask is designed to hydrate and comfort dry, dehydrated, aging and environmentally damaged complexions. "In a totally relaxed state of body, one can literally feel the way it absorbs and make the skin appear radiant to some extent," writes one Dermstore purchaser of this rejuvenating mask.

Buy now with free delivery

4. Bliss Glamour Gloves

These moisturizing gloves hydrate your hands in a quick, 20-minute session. Lasting for up to 50 uses, these gloves make for a great addition to your DIY spa kit. Add to your skin care regimen and you'll notice immediate results. One Dermstore reviewer exclaimed, "I love that this product makes my hands absolutely smooth."