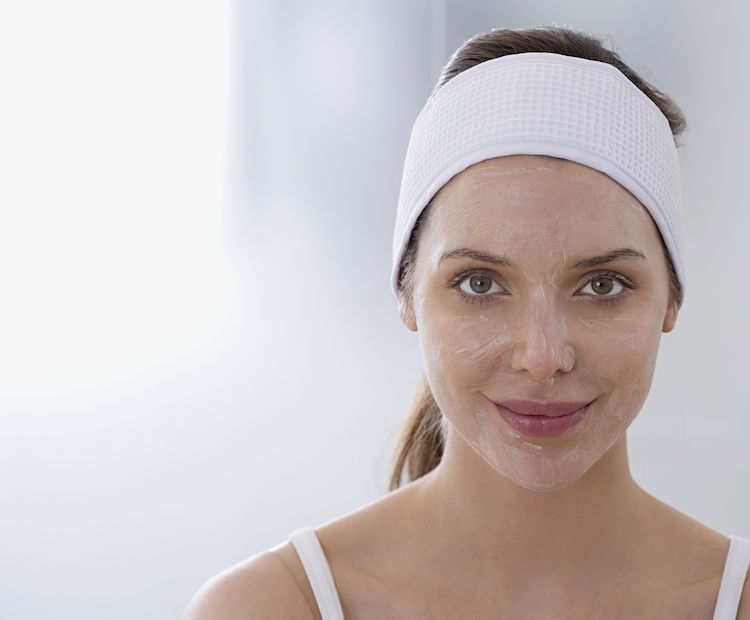 We'll try just about anything to turn back the time on the too many days spent in the sunshine or rid our faces of acne scars. Although the fountain of youth may be fictitious, the chemical peel is the real deal. The words "chemical" and "peel" may sound scary at first, but this FDA-approved treatment literally gives you a fresh face of skin—and it's been growing in popularity, with approximately 1.36 million treatments received in 2016. 
The chemical peel is the process of applying a chemical solution to the skin to smooth out its texture. It can be used to treat many skin issues like acne, fine lines, wrinkles and hyperpigmentation. A form of chemical exfoliation, a peel allows your skin to shed off a layer, making room for new, healthier skin. "Peels are great for everyone to do," says board-certified dermatologist, Dr. Ashley Magovern. "They slough off tired, dull skin cells and stimulate fresh healthy skin, allowing for accelerated cell turnover and the stimulation of collagen-making cells."
To learn how to prepare yourself for a chemical peel properly and what to expect during and after the procedure, we sought advice from both Dr. Magovern and esteemed clinical aesthetician Jennifer Gerace.
How to Prepare for a Chemical Peel
1. Choose the Right Type of Peel for Your Skin
Before making the decision to get a chemical peel, Gerace recommends getting the opinions from at least three providers first, noting that "providers should take into consideration your age, the color of your skin and overall skin condition." Don't be fooled by the one-size-fits-all peel, as "the peel's intention should be very specific to the patient's needs," she says.
2. Stop Using At-Home Exfoliants
To prepare the skin for the treatment, be sure to stop the use of all at-home exfoliants in the days leading up to your appointment. Exfoliants like retinol and salicylic acid hide in many of our beauty products. If you continue to use them before your appointment, it can cause trauma to the skin, which may result in more damage. If you have sensitive skin, it is recommended to stop using physical exfoliators like face scrubs and devices such as the Clarisonic.
3. Keep Your Skin Hydrated
Dr. Magovern stresses the importance of keeping your skin hydrated and moisturized before your appointment. "Try to keep your skin as hydrated as possible," she says, also noting that "you may want to stop any creams or serums that may be causing dryness for two to three days."
4. Evaluate Your Prescriptions
Also, take into consideration any anti-acne or anti-aging prescriptions you are using, as these might affect the way your skin reacts to a chemical peel. If you need help determining if your products are okay to use prior to your chemical peel, talk to your dermatologist or esthetician who will be able to assist you.
5. Don't Plan a Peel Close to a Big Event
The last step in preparation is to be sure to plan accordingly! If you are getting a chemical peel before a special event, make sure you've budgeted plenty of time for your skin to heal so you look picture perfect on your big day.
What to Expect During Your Appointment 
"During a chemical peel, the skin will begin its intense peeling process," says Gerace. You will have the option to choose which peel you want, though it's wise to choose an intensity based on your professional's opinion. "Chemical peels vary from very light to medium depth." To begin, your skin care professional will ask you to lie face up to establish a smooth surface for application. The entire process usually takes under an hour to complete, and your skin care professional will typically stay in the room to ensure there are no adverse reactions as it dries. 
Once the peel is applied and begins drying, you may feel a burning or tingling sensation due to its high acidic chemical composition. The amount of burning or tingling will vary based on the type of chemical peel you are receiving and will differ case to case (e.g. you might be more sensitive than another person getting the same peel). However, Dr. Magovern notes that even those with sensitive skin can find a suitable chemical peel. "Contrary to popular opinion," she says, "peels don't have to sting or burn or cause a lot of redness and inflammation to work."
What to Expect After a Chemical Peel
Your Skin Will Peel for 3–10 Days
According to Gerace, the type and depth of the solution will dictate how long the skin will peel. "The traditional medium-depth chemical peels take three to five days for the skin to peel off before the new pink skin underneath arises," she explains, while "deeper peels that contain phenol can take seven to ten days to recuperate from." Dr. Magovern notes that the peeling should start on or around the third day after a peel, not immediately after.
Treat Your Skin With Care
Dr. Magovern recommends the "use of a gentle cleanser and a hydrating serum or gel, like one that contains hyaluronic acid or ceramides" to help soothe the skin in the days following a chemical peel. You may also want to treat the new skin right away with a combination of stem cell and light therapy, Gerace explains. "This addresses the health of the new skin cells at a cellular level and is your opportunity to reset your skin and start fresh," she says. Integrating potent aftercare solutions such as colloidal silver, Botaniceutical and marine algae extracts will help hydrate, stabilize and protect the new skin. "These ingredients will boost the skin's ability to fight free-radical damage at this early stage, which is so important and often overlooked."
Don't Neglect SPF
The chemical peel is used to accelerate the exfoliation of dead skin cells to reveal fresh, new skin. The biggest risk during this process is sun exposure, and Gerace highly recommends using a high, broad-spectrum SPF to keep the skin safe during the delicate time following the procedure. "The skin is thinner after a peel and very susceptible to UV damage," she says. "It is essential to use a physical block like makeup foundation along with your SPF for at least two months after receiving a chemical peel."
Avoid Overheating the Skin
Gerace also explains the importance of keeping the skin cool, "You shouldn't let hot water touch your face as any inflammation can spike post-inflammatory hyperpigmentation (PIH)." She urges you not to take hot showers and keep your water at room temperature or colder.
If you aren't ready to take the plunge and go for an in-office chemical-peel treatment, we recommend trying an at-home peel. Check out some of our top-rated peels below, and read our guide to choosing the right peel for your skin type.