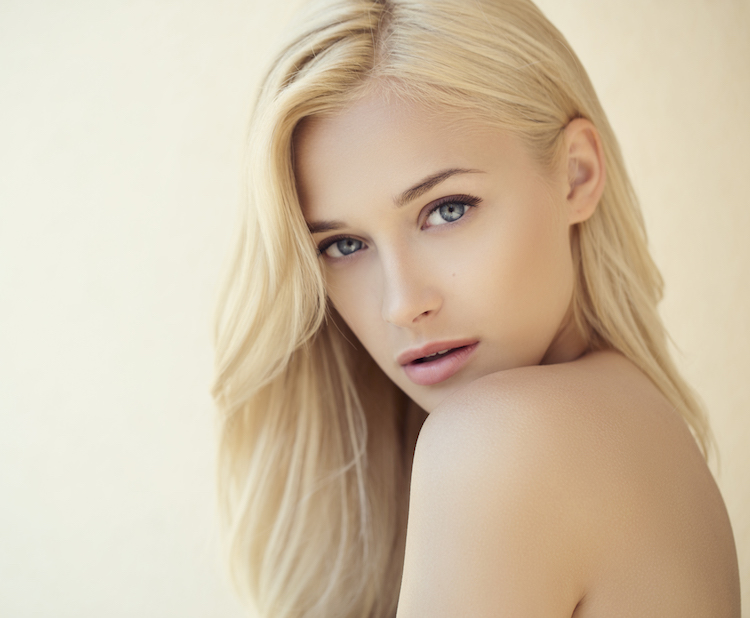 Summer is here, blondies! This is the season when the dirty blondes start going platinum blonde and the non-blondes start making appointments to get those golden highlights. For those of us living as faux blondes, we would do practically anything to make it look like we were born this way (cue Lady Gaga). However, the road to bleach blonde hair is not always an easy one. Keeping our hair healthy is just as much about the journey as it is about the destination. From the initial appointment to aftercare and touch ups, hairstylist and salon manager Lena Stanley explains how to keep bleached hair healthy with these five tips. 
1. Don't Try This at Home 
To ensure that your blonde hair journey starts off on the right foot, seek a professional! While do-it-yourself kits may seem enticing and easy, they can be very risky—especially if you've previously colored or chemically treated your hair. For example, have you had a keratin treatment or dyed your hair in the last couple of years? Stanley tells us that the state of your current hair plays a big role in how the bleaching treatment turns out; therefore, a consultation with a salon professional is vital. Any overlap of dyes or treatments can cause damage to your hair, she explains, and you may not realize this on your own. A salon pro will also be able to advise you on choosing the right shade of blonde (and there are a lot!). From icy, almost-white blonde to more of a yellowy, Marilyn Monroe-esque shade, a hairstylist can help you find the right tone for your complexion.
2. You Might Not Be Able to Go Straight to Platinum
Are you a brunette or redhead who is wondering how to get platinum blonde hair? Your best option may be starting with some peek-a-boo highlights and building up from there, Stanley advises. Don't expect to go from dark to platinum blonde in one visit! If this is attempted, your hair could end up with severe breakage. You'll most likely need to schedule three or four appointments to make the transition gradual and the process healthier on your hair, says Stanley. This steady progression will also help you get used to the blonde and assist in deciding if going full, bleach blonde is the right move for you!
3. Wash Sparingly and Properly
After going platinum blonde, the golden rule for maintaining your color is to shampoo less frequently than normal. If you shampoo every day, try slowing down to every other day to prevent drying out your hair. Find a dry shampoo to use in between wash days to keep your tresses looking fresh! It's also important to choose products without sulfates, Stanley says, as "they are less stripping and will extend the life of your color." She recommends Neuma neuMoisture Shampoo to help protect the health of your hair and extend your color. 
4. Purple, Purple, Purple
Whether you are the icy, platinum type or more of a golden blonde, purple shampoo is a gem when it comes to bleach blonde hair care. If you're looking to get rid of any brassy tones in your hair, purple shampoo is extremely effective. Stanley notes that before you select your shampoo, you should consider what level and tone your color is. If you're trying to neutralize the yellow tones in your hair, opt for a more pastel purple product so you can use it every time you shampoo without being too harsh. Are you looking to amp up the platinum, silver shades in your hair? Is your hair getting too yellow? Search for a deep purple shampoo, preferably with a silvery tone. When using a purple treatment, Stanley recommends letting it sit for a bit longer than normal shampoo before rinsing and only using it about once a week. What do you do if your hair starts to turn purple? Don't stress! Stanley advises rinsing with a clarifying shampoo to remove the buildup of product and fade away the purple.
5. Follow-Up Is Key 
In order to avoid damage like split ends and breakage, try to get regular trims to keep your hair in check. Getting a haircut every couple of months can ensure your bleached strands stay as healthy as possible, says Stanley. When it comes to touching up roots, timing depends on how quickly your hair grows out. Stanley recommends touch-ups every eight weeks or so to maintain a consistent shade of blonde. If you're looking to avoid as much maintenance as possible, she suggests a concealing spray or powder (like Pronto Hair Shadow in Blonde) to mask those sneaky roots.