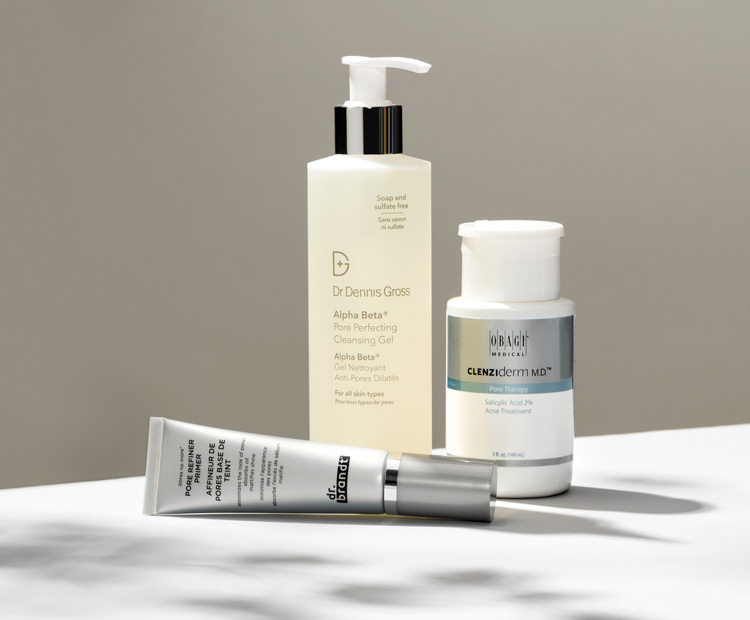 Large pores seem to be the facial characteristic so many of us just can't get rid of. You've probably tried cleansing, exfoliating and covering up your skin to minimize or mask the appearance of your pores—but they just won't shrink. Well, to help minimize your pores, you first need to understand what they are, what purpose they serve and what causes them to appear larger in the first place. Here's a brief overview of pores and some top-rated product recommendations to help you get a flawless complexion.
So, What Are Pores, Exactly?
The word "pore" literally means an opening in a surface where microscopic particles can pass. More specific to our bodies, pores are also the opening at the top of our hair follicles. It is also where the sebum (our body's natural oils) is released to the surface to help our skin be naturally moisturized. Though their appearance can be frustrating, in actuality, when all aspects of our anatomy work in perfect harmony, pores are helpful for maintaining healthy skin—and who doesn't want that?
Understanding a few details about pores can help you deal with them in a healthy manner and help you avoid potentially harming your skin with unnecessary products. Here are five important things to know about pores:
They are actually hair follicles.
Their appearance is largely determined by genetics.
Environmental factors, aging, dry skin, oil and acne can all make your pores look bigger.
Regular cleansing can help minimize the appearance of pores.
Too much cleansing can actually cause your pores to produce more oil.
Tips and Recommendations for Minimizing Large Pores
Unfortunately, pores will never permanently shrink—meaning they're not going to get smaller than they appear in their normal, healthy state. This is because pore size is largely dependent on genetics, and pores serve an important function when it comes to healthy skin. You can, however, take steps to keep your pores clean and healthy to minimize their appearance. Some important tips to consider:
Keep your skin clean (cleanse once or twice per day) to remove makeup, oil, dirt and debris
Apply sunscreen year-round (sun damage breaks down collagen, which can lead to saggy pores)
Exfoliate to remove dead skin cells and unclog pores (but be gentle and don't overdo it; 1–3 times max per week is enough)
Choose the right products for your skin type (non-comedogenic products that won't clog pores are best)
With the last point in mind, it's so important to be strategic about what you're putting on your face. Below, you'll find Dermstore's recommendations for products to clean, shrink or lessen the appearance of your pores.
Deep Cleansers
Buy now

with Dermstore

Powered by 2% salicylic acid and glycerin, this treatment can help clear, refresh and balance your skin. It's created by Obagi, which is known for their focus on high-quality, potent ingredients to restore and maintain skin health. One reviewer praised the fast-acting and refreshing effects, saying, "Literally rid me of clogged pores within a week. Best 'toner' I have ever used. It leaves my skin feeling refreshed and clean."

Buy now with free delivery