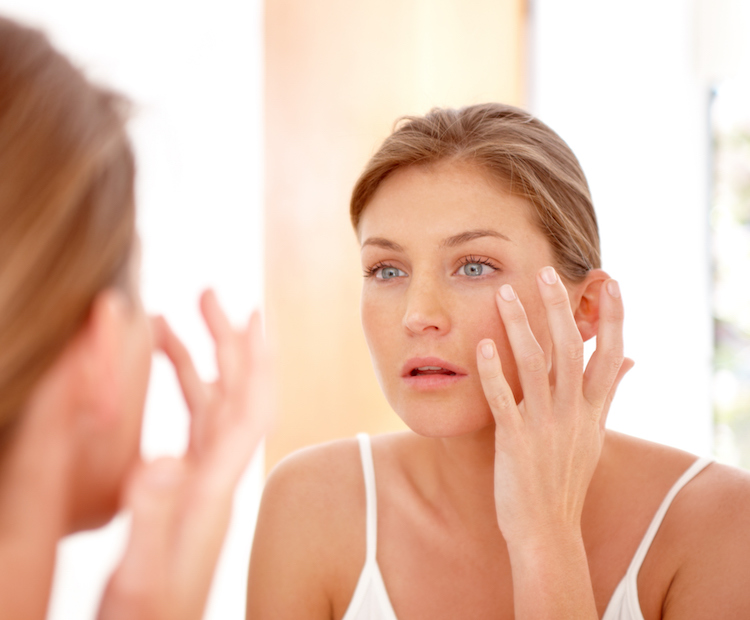 Our skin is the largest organ of our bodies and is just as important as our lungs, brain or heart. And while it's easy to measure the health of the body's other organs (scans, blood tests, etc.), our skin is a little more subjective. Before we can get into how to maintain healthy skin, first let's take a look at what it actually means to have healthy skin. To learn about the signs and best practices in maintaining skin health, we decided to catch up with one of the experts.
What Does It Mean to Have Healthy Skin?
Certified by the National Commission on Certification of Physician Assistants, Christina Ponzio-Guarino, MSPA, specializes in adult acne and says, "To have healthy skin means to have skin that is hydrated and free of sun damage."
Ah, two things I always (sometimes) remember to do—moisturize and protect. Ponzio-Guarino explains that SPF should be everyone's best friend. Sun damage can lead to freckling, wrinkles, pre-cancers, atypical moles, basal cell carcinoma (BCC), squamous cell carcinoma (SCC) and malignant melanoma. (Oh, my!)
"In addition to hydration and lack of sun damage," she adds, "healthy skin is also even in color, is smooth, firm and elastic."
How to Measure Your Skin Health 
"Compared to measuring your blood pressure or cholesterol, measuring healthy skin is much less objective," says Ponzio-Guarino. "It's easier to begin with measures of unhealthy skin and those would include poor texture, lack of moisture, non-elasticity and uneven tone."
Texture
Unhealthy: "If your skin is rough, bumpy or blotchy," says Ponzio-Guarino, "these are clear unhealthy measures."
Healthy: Your skin should look and feel smooth. Consistency among the appearance of pore size and hair follicles should be present.
Moisture and Hydration
Unhealthy: Often used interchangeably (because they have similar symptoms), dry and dehydrated skin are two separate concerns. If your skin is red, dry, tight or flaky, it could very well be dry and/or dehydrated. Even if your skin is oily, it could still be dehydrated. This is because without enough water in your skin, your pores can overcompensate by producing more sebum. Though we do produce oil to help our skin, an excess of it has the potential to create a bacteria-loving environment that we do not want to host!
Healthy: Ponzio-Guarino says, "Your skin should be hydrated just enough to radiate a calm glow."
Elasticity
Unhealthy: As we get older, our skin produces less elastin, making it thinner. Factor in high amounts of damage, unhealthier skin will be unable to bounce back and more susceptible to wrinkles.
Healthy: Healthy elasticity will result in minimal fine lines and wrinkles. "Even as we age," says Ponzio-Guarino, "healthily maintained skin can produce enough collagen and elastin to keep skin stronger." The areas around our eyes, lips and jawline will thank us for preventative care in the long run!
Color and Tone
Unhealthy: Uneven skin tone is the first sign, but Ponzio-Guarino also emphasizes that tanned skin is unhealthy skin. "Even if you aren't burning," she explains, "if you're tanning your skin, you're damaging it."
Healthy: Your entire body, and more specifically your face, chest and back should be even in color and your tone should permeate naturally.
How to Keep Your Skin Healthy: 4 Steps to Better Skin
Getting healthy skin isn't going to happen overnight (sigh), but there are four key practices you can explore in order to reverse skin damage and wake up each morning with healthier skin than yesterday.
1. Protect
"It is important to wear sunscreen every day," Ponzio-Guarino says. "Re-apply every two hours, wear cover-ups, sunglasses and hats. Do not ever step into a tanning salon. According to the Melanoma Research Foundation, just one visit under the age of 30 increases your risk of developing melanoma by 75 percent. It's just not worth it. My favorite brand of sunscreen is EltaMD. It offers high SPF and is light on your skin."
Dermstore Recommends: EltaMD UV Daily Broad-Spectrum SPF 40
2. Moisturize and Hydrate
Start by drinking enough water each day, as this could be the cause of your dehydrated skin. If you need extra hydration, adds Ponzio-Guarino, "use a hyaluronic acid serum before applying moisturizer." You should also be moisturizing your body and face daily. Ponzio-Guarino suggests using oil-free and non-comedogenic moisturizers for your face (especially for those prone to acne).
Dermstore Recommends: Peter Thomas Roth Water Drench Hyaluronic Cloud Serum
3. Glycolic Acid and Retinoids
"Glycolic acid and retinoids can help reverse skin damage and keep your skin looking smooth and healthy," says Ponzio-Guarino. "Prescription-strength retinoids, such as tretinoin (primarily used for acne), are better than over-the-counter versions, but you can find great glycolic acid alternatives over the counter."
Dermstore Recommends: Glycolix Elite Treatment Pads 20%
4. Cosmetic Procedures
"IPL light therapy (intense pulsed light), laser treatments, chemical peels, microdermabrasion, microneedling and regular facials can keep your skin healthy and reverse signs of damage," Ponzio-Guarino explains. You can turn to an esthetician at your local spa or doctor's office for many of these procedures or treatments.
Dermstore Recommends: ORA Microneedle Face Roller System
Contact your dermatologist for more information on how to keep your skin healthy, and check out Christina Ponzio-Guarino's video recommendation, How the Sun Sees You, to discover the level of skin damage that can exist entirely invisible to the naked eye.