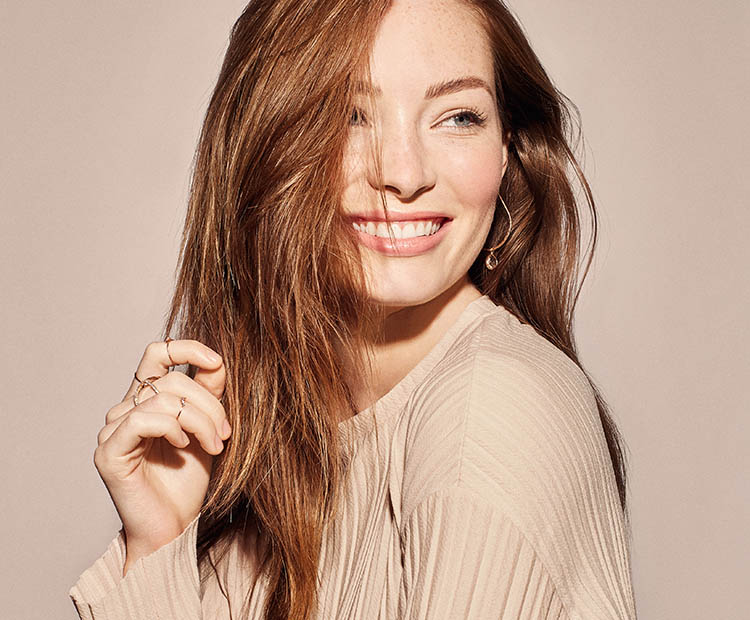 Whether you like to keep up with the season's hottest hair trends or prefer classic styles that perfectly frame your face, you know that getting your hair to just the right length is key in looking your absolute best. But growing out your locks doesn't exactly happen overnight, which we all know can be particularly frustrating. So how can you grow your hair faster than what you're used to? 
As it turns out, gaining length on your hair doesn't always have to be at a snail's pace. Believe it or not, there's a lot you can do to help grow out a haircut. To get a better grasp on strand-strengthening techniques, we sat down with Chelsey Pickthorn, NYC's master colorist and owner of namesake salon, Pickthorn, to discuss everything from switching up your hair care habits and products to examining the foods you eat—all of which, we learned, play a big role in how fast your hair grows. Ready to fast-forward to your desired length? Follow the hair-growth tips below, and you'll be well on your way. 
1. Change the Way You Brush Your Hair
Once upon a time, you may have thought one brush could solve all your hair care needs. Pickthorn advises otherwise when it comes to trying to grow out your hair. When it comes to brushing damp hair, or wet hair, Pickthorn recommends using a Wet Brush, a staple in her Brooklyn-based salon. As for when your hair is dry, "stimulate your scalp with a boar's bristle brush, such as a Mason Pearson brush, to get blood flow to your follicles to promote growth." Whether you're brushing wet or dry hair, one thing's for sure, whatever you do, don't tug. When you're trying to grow out your hair (and, honestly, always), be as gentle as possible with your tresses.
2. Avoid Heat Styling
Hot tools, despite creating gorgeous hairstyles, are also known for causing serious damage. And, as you know, damage means trims and ultimately shorter hair. Yikes! That said, when trying to grow out a haircut, it's best to avoid heat styling, but if you absolutely can't stay away, Pickthorn recommends doing so only once hair is 80 to 90 percent dry, so as to avoid unnecessary time exposed to high temperatures.
For faster hair-drying, try: Harry Josh® Pro Tools Harry Josh Ultra Light Pro Dryer
3. Don't Avoid Getting Your Hair Trimmed
Before you raise your eyebrows at how counterproductive this might sound, trimming your hair regularly is actually one of the most important steps in keeping your locks and tresses healthy. Trims get rid of split ends and other styling damage, which can lead to weaker strands and more breakage if left untreated. Depending on your hair type and hairstyle, a trim can be scheduled every six to eight weeks, or whenever you're noticing more damage on your ends. It's also important to let your stylist know what your goal is when you see them to make sure you only lose what's necessary. 
4. Air-Dry Your Hair with Care
If you love air-drying your hair for the carefree routine associated with it, you're not alone. But, if you want your air-drying to benefit how fast your hair grows, you need to put a little extra effort into the process. Since your hair is most fragile and prone to breakage when it's wet, you should always tie your hair into a loose braid or ponytail. When your hair is all together, it will help it dry naturally without accidentally snagging on anything.
To protect your strands, consider a thermal spray, like Oribe Royal Blowout Heat Styling Spray.
5. Never Use Rubber Bands
Like many hair care products, not all hair ties are created equal. Believe it or not, all the scrunchies and elastics on the market actually serve their own unique purposes. While you might be used to traditional hair ties, nowadays it's best to use crease-free fabric alternatives, as well as the coil bands. These specific ties work to prevent tension and breakage, ultimately helping your hair reach new lengths, literally.
Regardless of the specific hair tie you choose, or the situation you find yourself in, "Never use rubber bands," says Pickthorn. "They break and pull hair out, which prevents growth."
6. Avoid Bleaching Your Hair
If you're trying to grow out your hair, you may want to put your plans to go blonde on hold. Exposure to bleaching chemicals can do a number on your cuticles, which can lead to moisture loss. When hair is bleached repeatedly, it tends to become drier, more brittle and prone to breakage and split ends. It also causes your hair to become more porous, making them more susceptible to damage from heat and styling tools, UV rays and other environmental stressors. 
7. Look After Your Scalp Like You Would Your Face
Over the past few years, we've seen a rise in innovative hair care products with functions, formulas and ingredients that were traditionally only reserved for skin care—think scalp scrubs, moisturizing masks and even serums. And for that, we are forever grateful. Like your skin, your scalp can also suffer from dryness, dehydration and flakiness without the right nourishment and pampering. Not to mention, product buildup can also lead to clogged pores and follicles. And as we know by now, a healthy scalp is the key to healthy hair growth.  
8.

Eat Foods Rich in Minerals and Vitamins That Promote Healthy Hair

 
Nourishing your hair from within is just as important as using the right hair care products. Protein-rich foods can boost hair growth because hair follicles are mostly made of protein. The same is true for vitamin D, which according to a 2021 study, plays a major role in signaling pathways of hair growth and stimulating hair follicles. Aside from these, look for foods that are rich in vitamins B, E and B12, iron, zinc, folic acid and omega 3 fatty acids.  
If you think that you're not getting enough of the key nutrients from your diet alone, you can consider taking hair supplements. Just make sure to speak to your doctor first to ensure you're taking the right amount and getting the most out of your supplement. 
9. And Fill Your Diet with Whole, Unprocessed Foods
You've heard it before, but we're here, with the help of Pickthorn's hair expertise, to remind you again: You are what you eat. This is especially true of your hair, so if you want healthy, hydrated, shinier-than-ever tresses that grow down-to-there, make sure to pack your plate with whole, healthy foods. Bonus: They'll help your skin, too! 
10. Use a Silk Pillowcase
If you want to protect your hair while you sleep, then it's time to let go of your cotton pillowcases. Cotton absorbs moisture and generates a lot of friction that can lead to tangles and breakage. Instead, opt for silk pillow covers. Not only will it make your sleep feel extra luxurious, but it also has a softer surface that doesn't cause as much friction as woven fabric and will even help your hair retain moisture. 
11. Manage Your Stress
When you want to grow your hair out, make sure to keep your head on straight. When you get lost in loads of stress, you risk compromising your hair health, which is the exact opposite of what you want to do. So, sign up for that yoga class, go on that run, ride that horse. Relax, enjoy yourself and look forward to a healthier, longer head of hair. 
12.

Use the Right Hair Care Products and Devices
With so many hair care products on the market, one of the best hair-growth tips you can follow is to make sure your shampoo and conditioner combo comes with efficacious hydrating and strengthening ingredients and are specifically formulated to stimulate hair growth. Energizing treatments also give a much-needed boost to help your tresses grow longer and stronger by penetrating the scalp and nourishing the follicle.  
When it comes to ingredients, keratin should be at the top of your list. This protein is naturally found in our hair and helps prevent dryness, protects and strengthens strands and give hair its shiny appearance. You can also look into hair care devices that promote hair growth by stimulating the scalp and follicles.  
Wondering which products can help you achieve your long, lustrous and healthy hair goals? We listed down our hair growth must-haves, below. 
Related Read: 9 Best Hair Growth Products and Hair Loss Treatments for Women
$134.00 Buy now

with Dermstore

This four-piece kit is a true hair-saver that not only promotes hair growth but also addresses thinning and fragile hair problems. It includes a shampoo and conditioner combo with alpha keratin 60KU and two bottles of minoxidil foam 5%—the only FDA-approved ingredient to regrow hair in women—which works by reactivating old hair follicles and encouraging new hair growth. 

Buy now with free delivery