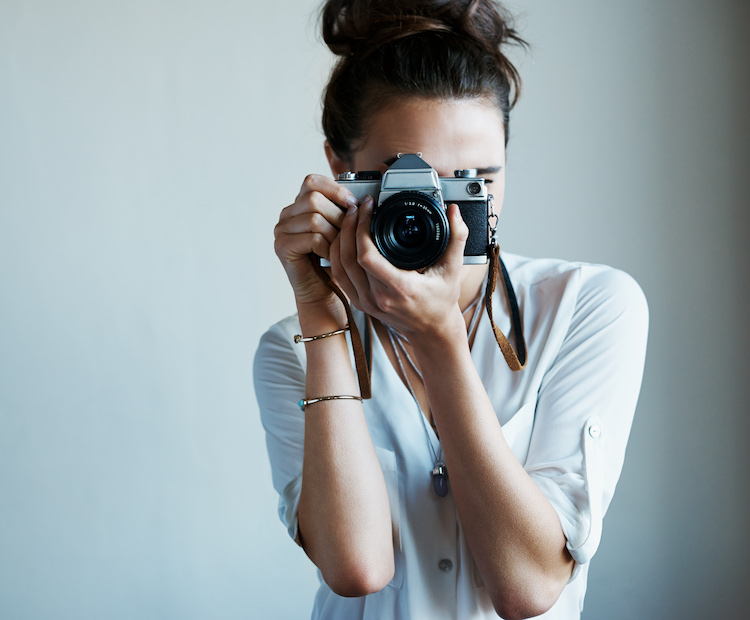 In the world of social media, dating apps and even networking sites, your profile picture is often the key to making a good first impression. Whether you're getting professional pics taken on a special occasion or in need of a killer selfie worthy of a right swipe, here's how to achieve a camera-ready look in no time. 
1. Stay Hydrated and Moisturized
Makeup artist to the stars and founder of Belle Amici Beauty, Margaux Lancaster is no stranger to applying makeup. She emphasizes the need for a great hydrating primer and moisturizer, before even thinking about applying a touch of makeup. "Skin below makeup should be fresh and hydrated. I think of a rose petal—that is how your skin should feel." Before applying makeup, Lancaster also likes to exfoliate her skin. "I make a homemade exfoliant scrub with coconut oil and salt or sugar," she says.
2. Lay the Right Foundation
Applying the proper foundation and the way in which you apply that foundation is key to a flawless photo. Make sure you pay attention to your skin tone and areas where uneven tones appear. You'll want to counteract those problem areas with a color correcting foundation or concealer (we like this all-in-one palette). For example, to counteract red hues, Lancaster suggests a foundation with gold or yellow tones. Purple or blue dark circles under your skin? A peach concealer can help brighten up your skin. Skin have a bit of a yellow tint? A lilac concealer will get the job done. "The next trick is blend, blend, blend," she adds. "If you use a good primer and moisturizer, your makeup will hardly need to be touched up."
3. Steer Clear of Powders
Lancaster insists on avoiding powders, especially if you are applying makeup under your eyes. It can increase the visibility of under-eye lines and creases. If it looks like there's a halo around your image once you take a photo, it may be from the powder. Should you prefer to wear powder foundation, try applying in a downward motion in the direction of hair growth. This will help you avoid a hazy, fuzzy look.
4. Be Strategic With Lighting 
Vico Velez, a beauty and product photographer based in Los Angeles, urges those ready to snap a selfie to find or create the most flattering light. "When it comes to lighting for beauty, especially when trying to achieve as close to perfect-looking healthy skin without retouching," says Velez, "the key is creating an overall soft and diffused even light on the face. The reason being, when you see blemishes and pores, it's actually because you are seeing the contrast between highlights and shadows on the skin." Velez suggests using light diffusers to bounce light off of flat bright surfaces.
However, you don't need professional equipment to find good lighting for a photo. "It's all about avoiding direct and specular lighting that can be harsh and accentuate skin imperfections," Velez explains. "Another helpful tip is to try to position the light straight-on balanced evenly on the face, so to not create unwanted shadows."
5. Wear the Right Clothing 
Lifestyle Expert Heather Monahan reminds us to pay attention to the colors and shapes of our clothing before stepping in front of the camera. "Everyone has certain colors that flatter them and those that do not," she says. "For me, black washes me out, while pastel colors bring my face to life. Try on different colors to ensure you know which palettes make you look better and then be sure to wear your go-to colors that make you pop when you are going to have photos taken."
San Francisco-based photographer Sarah Sloboda stresses the importance of wearing solid colors in photos. "Darker colors are slimming in photos," she says, "while patterns can be distracting. Go for something dark and plain, with a nice neckline, to accentuate your face." Of course, dark doesn't have to mean all black—especially if black clothing washes you out like Monahan. A navy blue or emerald green can have the same slimming effect, while complementing your skin tone.
Figured out your signature color? Now it's time to highlight your best feature with the right structure. "We all have different bodies and like different things about ourselves," says Monahan. "If you love your legs, be sure to wear shorts or a skirt when going to have your picture taken. Make the most of your waist with a belt or a dress if you like your middle. Being aware of what you like about your body will help you to highlight it in any photo."
6. Find Your Best Angle and Fix Your Posture 
Angles are key when it comes to finding your most flattering pose, and Sloboda explains that facing the camera straight on is usually no one's best angle. "Turn ever so slightly to one side," Sloboda says. "If you're able to try both sides, that's great—sometimes your best side isn't the one you think it is!" She also adds that posture is of the utmost importance, suggesting that you "do what you learned in yoga class where you roll your shoulder blades back and down, and lift your heart forward."
7. Think Happy Thoughts 
Arguably more important than how you look is how you feel when taking a selfie or getting a professional photo taken. "The camera will pick up extremely subtle things about how you are feeling," Sloboda says, "so have thoughts that make you feel confident, happy and whatever else you want to project." Put on your favorite music, grab a friend for some moral support and put your best face forward.