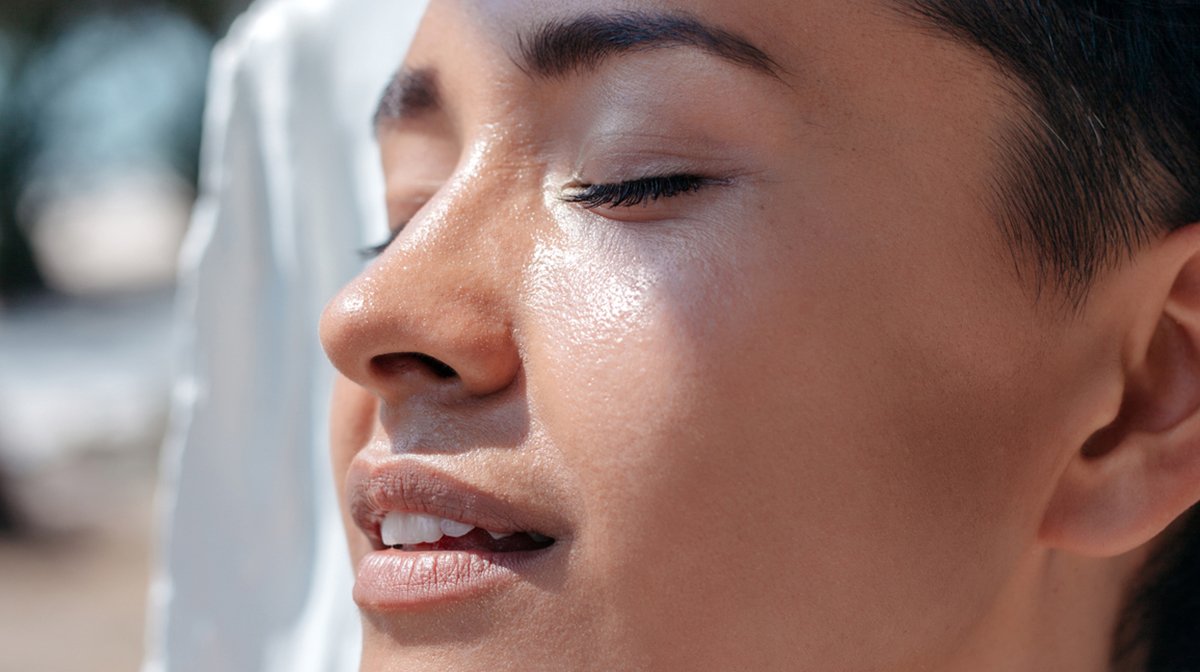 Summer is synonymous with beach days, sun-kissed skin (hopefully sans the burn), naturally lightened hair, and, of course, a pared-down skin care routine consisting of lightweight products. But as the temperatures start to dip, it's time to swap out your summer staples for richer options. Come fall, it's not just your wardrobe that needs updating—your skin care requires a mini makeover, too.
What Happens to Your Skin in the Fall
"The skin recognizes climate changes and reacts to them to regulate its needs," says Dr. Jordana Herschthal, a board-certified dermatologist in Boca Raton, FL. "Cooler, drier air generally leads to drier skin because of limited humidity, so use products that maintain moisture and protect the skin's lipid barrier to decrease irritations," Dr. Herschthal adds. Unfortunately, dry skin isn't the only by-product of cold weather—flakiness, breakouts, redness, and dullness often ensue, too.
Follow these expert tips to transition your skin care routine from summer to fall without causing a skin freak out.
Summer calls for gel-based or foaming cleansers that decrease oil production while encouraging cell turnover. But a summer approach to cleansing is not necessarily best for fall. Dr. Angela Lamb, a board-certified dermatologist in New York City, explains that because the skin produces less oil during the winter, "it's best to use cream-based cleansers or those with moisturizers." Nevertheless, failing to switch up your cleanser, especially if it contains salicylic or glycolic acids, can lead to unnecessary dryness.
Try: First Aid Beauty Pure Skin Face Cleanser
Using a moisturizer is one thing, but adding a serum, which contains actives that get into the skin more potently, takes your hydration game to another level. Dr. Lamb recommends applying serums before moisturizers since they trap moisture. Serums are available in various forms to target cell renewal, protection, and hydration, amongst other concerns. "They add an extra level of hydration and boost the skin's ability to produce collagen, elastin, and hyaluronic acid, which help improve the skin," adds Dr. Herschthal.
Try: PCA Skin Hyaluronic Acid Boosting Serum
Switch to a Thicker Moisturizer
The dog days of summer are the perfect time to trade rich, heavy moisturizers for lightweight formulas. Dr. Mariwalla says, "thicker products lock in moisture, and because the summer air is humid, a heavy moisturizer is not always necessary." The exceptions to the rule: very dehydrated skin that requires intense moisture year-round and oily or acne-prone skin, which is most compatible with a weightless moisturizer.
For the rest of us, alternate summer moisturizers for ones with ingredients like glycerin, ceramides, and hyaluronic acid, all of which restore the lipid barrier and hydrate skin. "Also, apply your moisturizer to damp skin before the water has a chance to escape," adds Dr. Lamb.
Try: Sunday Riley ICE Ceramide Moisturizing Cream
Retinol is the anti-aging gold standard, but because it can cause photosensitivity and lead to inflammation and redness, the rule of thumb is to avoid it (or cut down on it) during the summer. But, come fall, it's a whole other story. The vitamin-A-derived ingredient works wonders to assist in exfoliation and sun-induced discoloration and brown spots. "I like retinol in the winter because you have to worry less about sun sensitivity," reveals Dr. Kavita Mariwalla, a board-certified dermatologist in West Islip, NY. Her advice: use retinol at night and top it off with a good peptide-rich moisturizer.
Try: Obagi Medical Retinol 1.0
Even if you're not spending the afternoon lounging poolside, sunscreen needs to be part of your daily routine. Sun damage can occur any day, any time, and anywhere. "In overcast weather, UV rays penetrate the skin, increasing your risk of skin cancer and accelerating aging," says Dr. Herschthal, adding that mineral sunscreens with zinc oxide and titanium dioxide are critical for blocking UVA and UVB rays.
Try: EltaMD UV Clear Broad Spectrum
"Humid air has a greater water content, so the water in the skin does not evaporate as much," says Dr. Mariwalla. So while it's easier to get away with not regularly using body lotion during the summer, that's not the case come fall. "The air is drier, so the natural water that your skin holds tends to be lost." Plus, dry skin can become itchy and irritated.
Dr. Herschthal recommends steering clear of lotions with drying and irritating ingredients, like fragrances. Another trick of the trade: invest in a good humidifier to keep the air around you as moist as possible—your skin will thank you.
Try: La-Roche Posay Lipikar Body Lotion
It's not just the skin that gets dry during the colder months. The lips do, too, and they can chap, flake, and crack. To prevent a dry pucker, swipe on a layer of an occlusive balm that contains petrolatum, glycerin, beeswax, or oils to lock in moisture. Lip masks are also an option.
Dr. Mariwalla also offers this piece of advice: "The lips can experience sun damage, why is why it is important to use a lip sunscreen to help with pigmentation and aging."