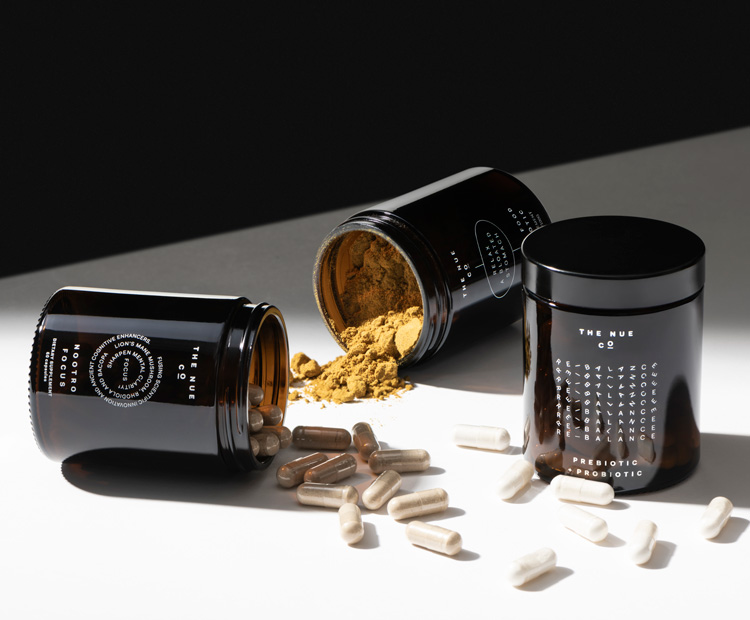 Getting healthy, glowing skin isn't just a surface-level concern—it's a whole body affair. Research has found that what's going on in your gut is often reflected on your complexion, for better or for worse. No wonder more and more of us are adding supplements to our beauty routines.
Introducing The Nue Co.
You could say Jules Miller founded The Nue Co. based on a gut feeling. The line of science-backed supplements made with natural and organic ingredients came about as a result of her own health struggles. "When I was in my mid-twenties I developed really bad IBS—I ended up being hospitalized a few times, and I was constantly bloated and uncomfortable. I was taking endless supplements to help deal with my bloating and cramps, which actually made them worse," she says.
Her experience led her to probe deeper into the world of wellness pills and powders. "After I spoke with my grandfather, who spent the majority of his life as a pharmacist, I started to look into what was in the vitamins I was taking. I discovered many were full of chemicals, fillers and other unnecessary ingredients. He provided the insight that led me to develop our whole product philosophy, which is to develop highly absorbable supplements that stem from a need. That's why our line includes Debloat Food + Prebiotic that instantly reduces bloating when you feel like you've swallowed a balloon, or Nootro-Focus that gets you in the zone and helps you focus on a task to meet your deadline."
Top-Selling Supplements to Try
Ready to give the brand a try? We've put together a cheat sheet to The Nue Co.'s bestselling wellness formulas: