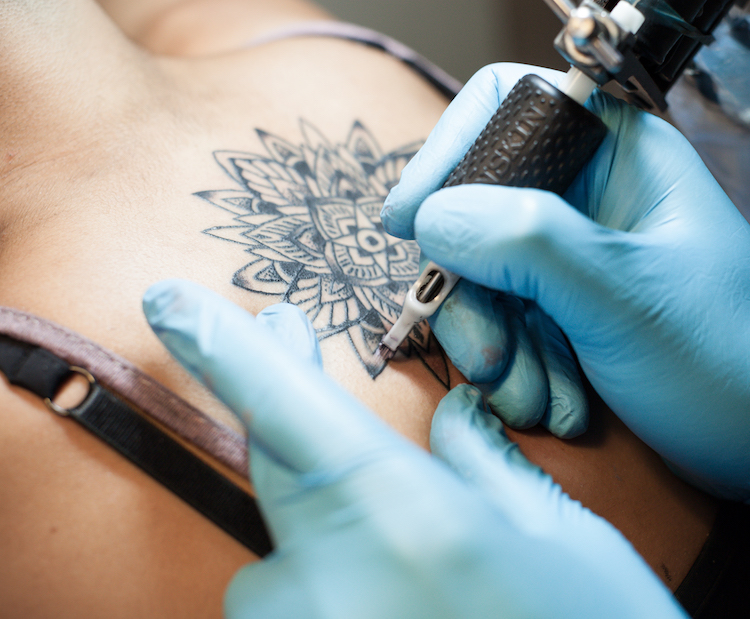 Having worked and participated in the tattoo industry for several years (as an enthusiast, not an artist), one of the most frequent questions from first-time customers to seasoned collectors alike, besides, of course, 'Is it going to hurt?,' concerns the aftercare of the tattoo: "How do I heal it?"
There seems to be a gap in knowledge concerning preferred post-care between the tattoo shop and the doctor's office. Tattooing, with its underground roots as an outlaw trade, does not involve or require any kind of screened medical process or training, though it could be argued that the type of work is a cosmetic procedure as much as an artistic practice. That is not to say that tattoo shops do not take proper medical precautions for their services provided: all equipment is sterilized to medical standards and all used materials are disposed of according to proper biohazard regulations. However, tattooers are not trained in the same standardized way as medical students.
I spoke with dermatologist Dr. Heather Rogers to help bridge the gap between the doctor's office and the tattoo shop. "As a physician, I always recommend caution and education before undergoing any elective procedure," says Rogers. "So, when proceeding, always do your research."
Tattoo Aftercare Instructions: 3 Dos & Don'ts 
With her wealth of information provided, as well as my experiences working on the tattoo side of the divide, I have compiled a list of the dos and don'ts of tattoo care. Most of the basic list is agreed upon by each side of the conversation; however, the major division comes with the type of skin care product that facilitates the most efficient and beneficial healing process.
1. Use hot water and gentle cleanser to wash your tattoo.
During the process of getting tattooed, many foreign bodies are introduced into your skin, including several different types of ink and the petroleum jelly used during the tattoo application. Blood and plasma from your body also mix into the tattoo tools, which essentially fill your pores to the brim. Using hot water creates a larger opening in your pores, allowing for a smooth release of body and ink, which further hastens the healing process. Use a gentle, unscented cleanser to remove bacteria from your skin. Wash your new tattoo one to three times a day for the best results. 
2. Use a clean, open palm to cleanse your tattoo. 
As you undergo the cleaning process each day, opening your pores and allowing your tattoo to breathe, always use a flat and open palm to cleanse. Avoid rough scrubbing products such as a washcloths or loofahs as the coarse material can irritate your tattoo and disrupt the healing process. Using an open palm to scrub any of the excess clogging your pores as well as applying a mild soap to your fresh tattoo promotes a smooth and gentle healing for your skin. This handy method will also help avoid the biggest trigger word in any conversations concerning tattoo care: scabs.
3. Do not—under any circumstances—pick a scab on your tattoo.
Consider this the golden rule of any tattoo-care tips. This rule is set in stone (or skin, if you will). Unlike a scab on an everyday cut or scratch, a tattoo scab is built primarily of ink, thus picking the scab could lead to lighter spots of color (commonly called holes) in your tattoo once it is fully healed. Scabbing is, of course, natural to your body healing any kind of topical wound. However, the more you follow the first two tips in this list, the less your body will be prone to scabbing.
Post-Cleansing Tattoo Care
After washing your tattoo with hot water and an open hand, it is then always recommended that one use some type of topical lotion to heal and moisturize your new work. This is where the conversation forks and where we elicit the help of Dr. Rogers. Every tattoo shop I have worked for generally promotes the usage petroleum-based healing ointments. Dr. Rogers finds the same suggestions in the dermatology community.
"In my experience, many tattoo artists (like many dermatologists) recommend Aquaphor or over-the-counter antibiotic ointments during the healing process, things that commonly cause allergic reactions," says Rogers. "Over-the-counter antibiotic ointments used to kill bacteria commonly found on the skin have been used for 40-plus years, [thus] most bacteria are resistant to them."
Rogers attributes the promotion of petroleum-based products to a lack of awareness across disciplines about the ingredients within these products that can cause major allergic reactions and disruptions in the healing process for both tattoo and non-tattoo situations.
So, what should you use to heal your tattoo?
Dr. Rogers has created a product that is both plant-based and hypoallergenic, pulling together the pros from both the bland, chemical-laden products on the shelf and their plant-based alternatives: RESTORE Healing Balm.
"I made it because I was so frustrated by the number of allergenic reactions I was seeing from the ointments people were using after procedures," says Rogers. "It is all we use after surgeries and lasering in my dermatology practice, and many of my patients also use it to heal new tattoos."
So, remember, before you get a tattoo, educate yourself and be very thorough when picking the design, picking the artist and picking the parlor—but never pick the final product.