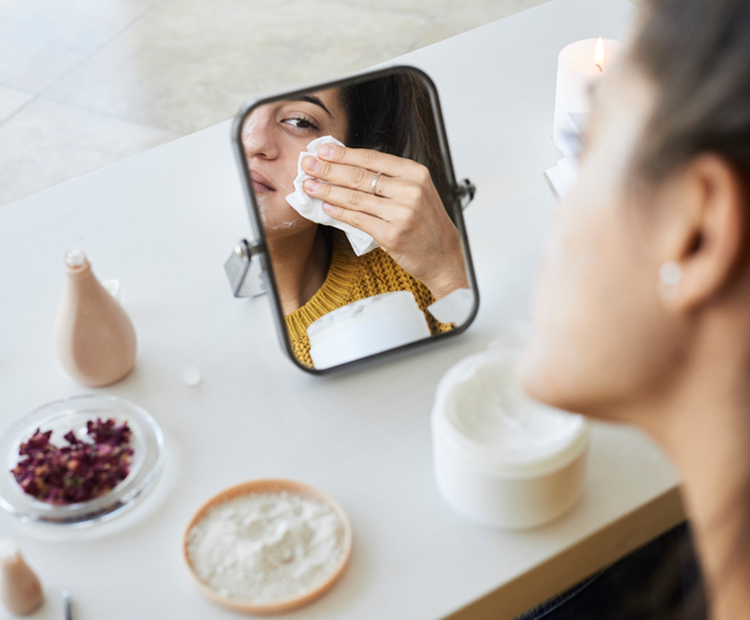 To those who have read my post about my personal skin care regimen, I'm sure you're wondering how to get that same level of care if you're on a budget. This week, Dermstore has challenged me to PARE DOWN my skin care routine, which means I have to create a dermatologist-approved skin care plan for three months on a budget of $300 or less. The good news? It's possible—if you know which products you really need to invest in as well as which products you can spend less on. 
When to Splurge
When it comes to slowing down the aging process, here are three products I can't live without—and where the majority of my budget will go:
Night Cream: SkinCeuticals Retinol .05 Refining Night Cream, $76
Antioxidant Serum: iS Clinical Super Serum Advance Plus, $148
Sunscreen: MDSolarSciences MD Creme Mineral Beauty Balm SPF 50 UVA-UVB, $39
While I had to sacrifice the growth factors found in another favorite product, SkinMedica TNS Essential Serum, I still picked an antioxidant that has data to prove that its formulation penetrates into the skin and protects it from the damaging free radicals from the sun and pollution. "Antioxidant serums" are a bit of an industry buzzword; it is important to note that only a few antioxidant serums have the research to validate that their products can do what they say they can do. This research is expensive to complete, which is why serums tend to be pricier. When it comes to my skin, I favor the products that are scientifically proven because in order for key ingredients to get deep enough into the skin to protect it, they need to be in a very well-formulated vehicle (aka "serum").
When to Save
That said, the above products leave me with less than $50 to spend on the rest of my skin care regimen. That's fine, I already have my top picks:
Cleanser: Pharmaceutical Specialties Vanicream Cleansing Bar, $3.95
Face cleansers have one key job to do: clean the day off the face.  They are only on your skin for a short period of time, but if they are too strong or drying, they can do harm in that short period of time. A wonderful, safe skin care product line is Pharmaceutical Specialties. Its cleansing bar will remove eye makeup without drying out your skin.
Face Cream/Moisturizer: La Roche-Posay Toleriane Sensitive Fluide $29
Face creams sit on the top of your skin, pulling and holding moisture in the top layers of the skin. They contain large water binding molecules that are too large to penetrate the skin. So, buying an expensive face cream with amazing anti-aging ingredients does not mean those ingredients will get to where they need to be in order for the skin to be able to use them. Instead, it is better to get the anti-aging ingredients in a serum that can penetrate the skin, and then follow it with a moisturizer that will protect and hydrate the skin.  
So, as I have just done, spend your money on your serums and then get a face cream with a good texture that leaves your skin feeling perfectly hydrated so you can better tolerate the more powerful treatments. For the price, this moisturizer from La Roche-Posay is a daily moisturizer that will hydrate your skin without irritating your skin. 
While we all love a good eye cream, you'll notice this is not my "must have" list because a good, gentle face cream can be applied around your eyes to keep them well moisturized.
I hope all this information helps you feel empowered to make great skin care choices for yourself. Please let me know if you have any questions or concerns in the comments section below!
Warmly,
Dr. Heather Rogers