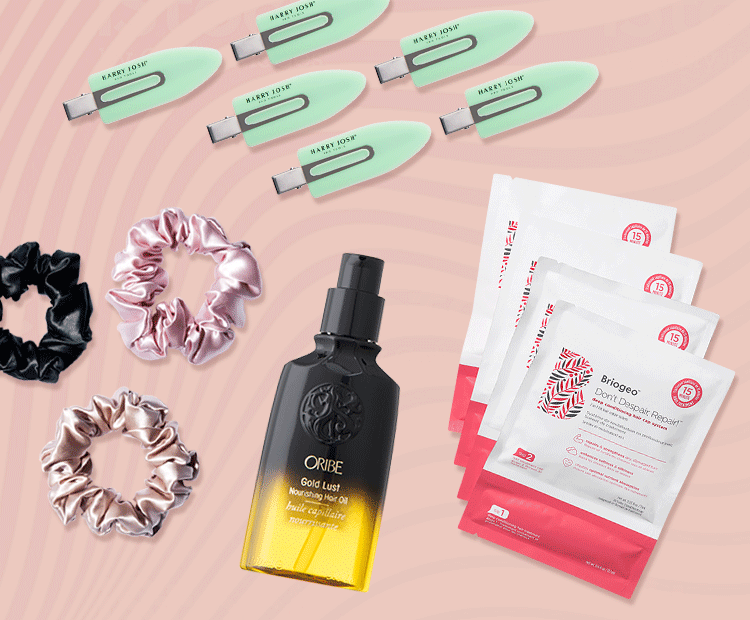 Shampoo and conditioner might be viewed as a necessity in many shower routines, but they aren't the only products your hair needs. As it turns out, your daily shampoo and conditioner are only a small piece to the hair care puzzle. That said, with so many oils, sprays, foams, creams and accessories calling our names, finding the right products for your 'do can mean the difference between a good hair day and a bad hair day.
Lucky for you, we've scoured our selection of brands for the best hair care products and accessories that can seriously benefit your strands. From hair ties that won't cause breakage to a hair towel that dries hair faster than your typical bath towel, we uncover the most life-changing—read: hair-changing—products you didn't know you needed, below.
Buy now

with Dermstore

There's a reason you see so many celebrities in hair and makeup with clips in their hair. In order to keep hair out of the face while applying makeup or skin care products, small, thin clips are placed at the front of the hairline. Unlike large banana clips or hair ties, these crease-resistant hair clips make it so you can move onto the next step in your glam without sacrificing your 'do. Not to mention: You can even use them to set waves in place for the ultimate Hollywood glam style.
Try: Harry Josh Pro Tools Pro Makeup & Wave Setting Clips
The king of the blow dryers knows a thing or two about crease-resistant hair clips. Harry Josh Pro Tools Pro Makeup & Wave Setting Clips features the same sleek design and craftsmanship of many of Harry Josh's tools and accessories and can be incorporated into your routine in a multitude of ways. Use them to set your waves or as a unique—celebrity-approved—way to keep strands away from your complexion while makeup or skin care is applied.

Buy now with free delivery

Buy now

with Dermstore

Scrunchies are back in style and that means less creasing and breakage, so long as you use a silk scrunchie, that is. "Any friction on your hair is damaging, as it roughs up and can break hair cuticles, leading to frizz, color loss, dullness and more issues," explains Britta Cox, creator of the Aquis Hair Towels and Turbans. "Silk is super smooth and causes minimal friction, so when it's layered between a hair band and your strands, it offers protection by minimizing the friction from putting your hair up or tossing and turning in bed," she adds. In addition to protecting your strands from breakage, silk scrunchies can also provide your 'do with a splash of style.
Try: Slip Silk Scrunchies
Not all silk scrunchies are created equal. Very few are as stylish and beneficial as the Slip Silk Scrunchies. You might recognize the brand from its cult-favorite Pure Silk Pillowcase and we can assure you that the scrunchies are just as craze-worthy. Made from the brand's award-winning slipsilk™ fabric, the tug-free scrunchies add a touch of shine to your 'do without causing breakage and discomfort.

Buy now with free delivery

Buy now

with Dermstore

Deep conditioner isn't the only way to soften strands. Using a nourishing oil can also boast some major hair care benefits. Unlike deep conditioners—which are typically used once a week or as needed—hair oils can be used every day to add a burst of hydration while providing a sleek, shiny finish.
Try: Oribe Gold Lust Hair Oil
Want your hair to shine like gold? Reach for Oribe's Gold Lust Hair Oil. Enriched with deeply nourishing ingredients such as argan oil and shea butter, the hair oil can provide your strands with deep nourishment that works to soften and smooth out damaged tresses and tame frizz. In addition to its nourishing ingredients, the oil also contains the brand's signature complex, featuring watermelon, lychee and edelweiss flower extracts, which can help improve moisture content and even strengthen strands for a healthier-looking 'do.

Buy now with free delivery

Wouldn't it be great if you could find a hair care product with the same results and low-maintenance vibes as a sheet mask? Good news: It's totally possible. In a world where convenience and high quality is key, sheet masks have become one of the most popular beauty products on the market. And deep conditioning hair caps are a must-try! "Deep conditioning is important to keep your hair properly moisturized," says Dr. Debra Jaliman, a board-certified dermatologist. "Hair [that] is not deeply conditioned every once in a while may become very dry and can be prone to breakage and split ends," she adds.
Try: Briogeo Don't Despair, Repair! Deep Conditioning Hair Cap System
Behold, one of our favorite hair cap conditioning treatments on the market! Briogeo's Don't Despair, Repair! Deep Conditioning Hair Cap System doesn't just have a cheeky name, it has stellar ingredients that can up the ante in your hair care routine. Formulated with panthenol, aloe vera, keratin and algae extract, the Deep Conditioning Hair Cap System can help soften, strengthen and condition dry strands. This hair cap makes deep hydration easier than ever before.

Buy now with free delivery

Buy now

with Dermstore

Silk scrunchies aren't the only way to protect your strands from breakage—silk pillowcases can, too. "Silk pillowcases provide a smooth surface and don't allow for hair breakage," explains Dr. Jaliman. On top of that, they help to lower the risk of friction and prevent bedhead from wreaking havoc on your strands. Dr. Jaliman recommends a silk pillowcase for those prone to frizzy hair as "a silk pillowcase will allow for less frizz."
Try: Slip Queen Pure Silk Pillowcase
Pair your Slip Silk Scrunchie with a Slip Pure Silk Pillowcase and you've got a match made in heaven. Silk pillowcases receive a lot of attention for their skin care benefits, but they can also work wonders on the hair. Made from 100% silk, which not only helps keep friction and bedhead at bay, it also prevents product absorption so your strands won't have moisture stolen from them while you sleep. That combined with its ability to prevent creasing and drying of the skin and you've got yourself the ultimate beauty product you didn't know you needed.

Buy now with free delivery

Buy now

with Dermstore

If you wrap your hair with a standard towel after cleansing, you might want to reconsider. "Regular bath towels weren't designed for hair—which is pretty clear, as the loops on a cotton towel cause hair-damaging friction and don't remove excess water from hair," says Cox. "Hair is most vulnerable to damage when it's wet, becoming 56% weaker as it absorbs water and stretches and swells (known as hygral fatigue)," she adds. "The swelling forces the cuticles to open, hair tangles more easily and gets roughed up, causing damage and frizz," she explains. Switching to an absorbent towel that can, in turn, protect the strands from hygral fatigue can help promote healthier hair all around.

Try: Aquis Lisse Luxe Turban

Switching to an ultra-absorbent hair towel like the Aquis Lisse Luxe Turban is not only more efficient, it's gentler, too. "Aquis towels and turbans gently draw water out of hair 50% faster and without friction, so it's able to regain its strength, is less frizzy and easier to style," explains Cox. Not to mention, it's much more comfortable than a traditional bath towel and stays intact for an easy, hands-free towel-dry.

Buy now with free delivery

Buy now

with Dermstore

Your skin isn't the only thing that can benefit from a good scrub down—your scalp (and subsequently, your hair) can, too. Adding an invigorating scalp scrub formulated with apple cider vinegar to your weekly regimen can help slough off buildup and promote shinier, more healthy-looking hair. "Apple cider vinegar has anti-bacterial and anti-fungal properties," explains Dr. Jaliman. "It contains malic acid, which is what helps to keep the pH level of the scalp balanced. Using a [scrub] with apple cider vinegar will help to avoid buildup on the scalp (dandruff) and will keep the scalp healthy," she concludes.

Try: dpHUE Apple Cider Vinegar Scalp Scrub

When it comes to beauty products formulated with apple cider vinegar, the beauty world goes crazy for dpHUE—and for good reason. The brand's Apple Cider Vinegar Scalp Scrub is infused with pH-balancing apple cider vinegar along with aloe vera and avocado oil to bring moisture to the scalp while working to slough off dry, dead skin cell buildup. Using an invigorating scalp scrub like dpHUE's can leave your scalp and hair feeling squeaky clean without that uncomfortable, moisture-stripped sensation.

Buy now with free delivery

Buy now

with Dermstore

You never know when you'll need a hairbrush—which is why a travel-sized one can come in handy! Adding a small hairbrush to your gym bag or purse can help ensure you're never in danger of a bad hair moment—that and it comes in handy when you want to tie it up on top of your head. Whether you use it to brush out a few knots from the wind or slick your hair back with it, you'll always be glad you have one within arm's reach.
Try: Mason Pearson Pocket Bristle Hair Brush
When it comes to hairbrushes, no one does it quite like Mason Pearson. Take the legendary hairbrush brand everywhere you go with the Pocket Bristle Hair Brush. Made with tight clusters of boar bristles for fine hair and sensitive scalps, the mini brush helps keep hair intact in a gentle manner while coating each strand in its own oil to strengthen and protect hair naturally.

Buy now with free delivery

9. A Stylish, Waterproof Shower Cap

Extending the life of our blowouts is impossible without a shower cap. That said, who wants to put on an ugly, plastic wrap-like cap? Not us! Luckily, with the rise of dirty hair came some pretty stylish options. Instead of protecting your 'do with a traditional shower cap—or risking moisture—reach for a more stylish option that not only looks great but will protect your hair better than the average cap. Better yet: Reach for one designed for the shower, pool, spa, sauna, or rain.
Try: SHHHOWERCAP The Muse
Take your shower cap beyond the bathroom with SHHHOWERCAP The Muse. The turban-like cap is 100% waterproof and is stylish enough to be worn in public—something you'd never think to do with a traditional cap. In addition to protecting hair from the shower, The Muse can also ward off humidity to help maintain style and smoothness. And don't worry about keeping it clean—it's machine washable!