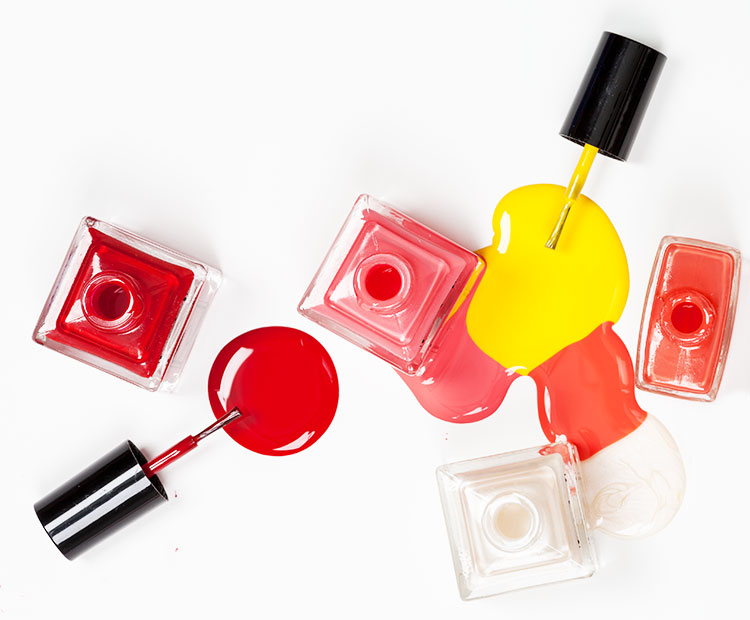 We all have our little rituals to stay positive and zen. You know, that spritz of lavender on your wrist to feel calm, or a saucy red lipstick for instant sex appeal. But there's another beauty staple hiding in your cosmetics case that may also have serious mood-boosting potential. "Studies show that color stimulates hormones that can affect your mood, so choose nail polish shades that make you happy," says Jenna Hipp, clean beauty expert and celebrity nail stylist who has worked with Emma Roberts and Michelle Williams.
Let's dig deeper: Color therapy (otherwise known as Chromotherapy) has long been researched for its effects on behavior, as seen in the use of bubble gum pink shades in hospitals and correctional facilities for apparent relaxation. And while experts agree that more investigation needs to be done before pointing to any conclusions, at the very least a fresh paint job will help you feel polished for any occasion. At the very best, it may inspire a whole new outlook post-breakup or heading into that job interview.
Here, Hipp reveals why a polish change could be just the fix you need, and which nail polish colors will have the most impact.
Buy now

with Dermstore

"When you go into your next meeting, let them know you mean business with a classically sophisticated nude polish to give your hands a clean and perfectly manicured look," says Hipp, who suggests finding a shade that compliments your skin tone. "In a pinch, no polish is okay, but be sure nails are clean and filed without being too round or too square," she adds. Use a toothbrush and whitening toothpaste for a brighter nail bed and add one coat of clear topcoat for a professional-looking finish.

Buy now with free delivery