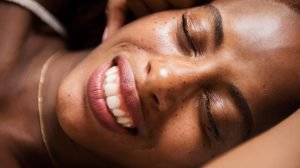 You all know by now that your skin care routine should be tailored to address the needs of your specific skin type, but your skin care considerations shouldn't end there. Your skin tone also plays an important factor when choosing the right products and ingredients in your beauty regimen. And those with a deeper complexion or melanated skin may find that their skin requires special attention in certain areas.
For instance, while crow's feet, fine lines and wrinkles appear much later in melanin-rich skin tones than in their fair-skinned counterparts, skin of color is more susceptible to hyperpigmentation and other discoloration issues. This is because melanated skin—those that fall under Types IV-VI of the Fitzpatrick Scale—has more pigment-producing cells called melanocytes, which create melanin that gives skin its darker color. When these cells are over-stimulated, they tend to produce more pigment that leads to discoloration.
"This melanocyte stimulation occurs in response to disruption or irritation of the skin barrier commonly due to acne breakouts, use of strong chemical exfoliants, or even excess friction rub on the skin (using face scrubs and brushes)," explains San Francisco-based doctor of internal medicine Simran Sethi, MD, founder and medical director of RenewMD Beauty & Wellness.
To get a better understanding of how to care for melanated skin, we asked top skin care and medical experts of color to share their best tips and advice in addressing the most common skin concerns typically associated with deeper skin tones.
Hyperpigmentation or Discoloration
Skin of color is more prone to post-inflammatory hyperpigmentation, whether it's caused by medical conditions such as melasma and dermatitis or inflammatory conditions like eczema and acne. Discoloration and post-inflammatory hyperpigmentation also tend to be more noticeable and last longer in deeper complexions.
"To treat hyperpigmentation, the cause of hyperpigmentation first has to be determined," says Kemunto Mokaya, MD, a board-certified dermatologist in Houston, TX. Once you've determined the root cause of discoloration, look for products with brightening and antioxidant-rich ingredients that prevent free radical damage and encourage cell renewal.
"These include retinol, vitamin C, non-hydroquinone lighteners like daisy flower extract as well as components that improve the skin's hydration and oil production and properly cleanse the skin to allow for better product absorption," suggests San Diego-based facial plastic surgeon Amir Karam, MD.
Most skin brightening ingredients work best when used together, but only do so after you've consulted with your dermatologist, says Dr. Mokaya. "It is recommended that you seek help from a dermatologist to determine which ones to combine and how to best use them—especially since melanated skin is usually sensitive, and these ingredients can worsen things if used in the wrong ways," she adds.
And one way for things to go wrong, according to Dr. Sethi, is by using bleaching products that focus on reducing melanocytes. "Bleaching agents, or hydroquinone, can increase inflammation and result in more hyperpigmentation. For darker skin tones, I would recommend avoiding bleaching agents unless you are under the supervision of a physician and limiting use of chemical exfoliants and face scrubs to twice a week," she adds.
Oiliness and Acne
Oiliness is one of the most common skin concerns across all skin tones and types, but when you have melanin-rich skin, the struggle gets even more real. For one, having oilier skin means you are more likely to experience adult acne, which can leave marks that appear darker and last longer in deeper skin tones if not treated properly.
And if you are using products that reduce oil in the hopes of preventing breakouts, you may actually be doing your skin more harm than good. "Melanated skin that is acne-prone and oily will get more pigmented and oilier if it is over-dried. When darker skin gets too dry, it stimulates increased pigmentation and even more oil as the skin's goal is to always maintain a strong lipid barrier," explains Dr. Sethi.
So how do you prevent acne and inflammation without drying out your skin? By keeping it hydrated, says Dr. Sethi, as well-hydrated skin produces less oil. She recommends gentle antioxidant ingredients like green tea and combining it with hyaluronic acid. "Green tea calms inflammation associated with acne, and applying a hyaluronic acid serum over that will protect the skin's natural oils and break the cycle of over-drying and excess oil production commonly seen with acne-prone skin," she explains.
As a rule, it's best to avoid using harsh soaps and cleansers that strip your skin of its natural moisture. "Ingredients like salicylic acid and benzoyl peroxide are helpful in addressing acne and oiliness in all skin types. However, they can be irritating and should be introduced gradually at the lowest concentrations," adds Dr. Mokaya. "Start low and gradually increase. Consider using them every other day."
Skin Sensitivity
Sensitivity is not uncommon in melanated skin, which is thought to have more components that are linked to allergic reactions and react more pronouncedly against heat and mechanical stimuli. Skin sensitivity is often associated with itching, dryness, peeling and redness. However, redness is often harder to see in skin of color, says Dr. Mokaya.
In deeper complexions, redness caused by irritation can sometimes present with more purplish or hyperpigmented tones. "Conditions are sometimes unrecognized or misdiagnosed," she adds. When symptoms and causes of sensitivity are not properly identified and addressed, the continued exposure to irritants can create more pigmentation issues for your skin.
Keeping your beauty routine clean and simple is key if you have sensitive skin to lessen the chances of irritation. One way to streamline your regimen without sacrificing your skin's health is by switching to multitasking products specifically formulated for sensitive skin that target several concerns in one go. "Look for ingredients that do many things at the same time. For example, niacinamide, which is soothing and helps repair the skin barrier, even out pigment and reduce inflammation," suggests Dr. Mokaya.
On the other hand, make sure you steer clear of irritating ingredients like alcohol, fragrance. dyes and parabens.
Signs of Aging and Sun Damage
It's true: the excess melanin in your skin can help stave off the appearance of crow's feet and laugh lines, but that doesn't mean skin of color is invincible against photoaging. According to an article by the Skin Cancer Foundation, photoaging—or skin damage brought about by constant exposure to UV rays (UVA, UVB and even HEV or blue light)—is the primary cause of premature skin aging and is responsible for up to 90 percent of visible changes to the skin.
Photoaging occurs as a result of lifelong and cumulative exposure to UV rays, and signs can begin to appear as early as in your teens. These include wrinkles, sun spots or lentigines, uneven texture, loss of skin tone, spider veins and redness. And while melanated skin does have a certain degree of built-in protection against UV damage, it's also more prone to developing sun spots and dark patches or melasma. Not to mention, constant exposure to the sun can cause inflammation that accelerate the aging process,
With that in mind, Dr. Mokaya says, "Sun protection is vital in preventing premature aging, and despite melanin, people with skin of color should still use sunscreen and practice other sun protective measures." In fact, skin care experts have long touted sunscreen as the number one anti-aging product, making it an absolute must in your daily regimen (even in winter).
Aside from broad-spectrum sun protection, it's also important to focus on the health of your skin's natural barrier to help preserve its youthful appearance. "We know that in the case of melanated skin, a strong skin barrier will not only protect the skin from wrinkles as it does in all skin types, but also from post-inflammatory hyperpigmentation," explains Dr. Sethi. "Retinol increases skin cell turnover rate, which will repair fine lines and pigment. Using a lipid-rich moisturizer with it ensures the skin's lipid barrier is maintained and post-inflammatory hyperpigmentation is avoided."
How to Choose Skin Care Products for Melanated Skin
When it comes to creating a beauty regimen for melanated skin, it's important to look for multitasking ingredients and formulas that target concerns without risking irritation, inflammation and over-stimulation of pigment-producing cells. Have a look at our top picks for best skin care products for melanated skin, below.
Buy now

with Dermstore

This skin care MVP has dominated the vitamin C serum scene for many years now and shows no signs of slowing down. Its incredibly potent formula combines antioxidant powerhouses (ferulic acid, vitamin E and 15% l-ascorbic acid aka the most potent form of vitamin C) to even out and brighten skin, protect from environmental and free radical damage and reverse visible signs of aging.

Buy now with free delivery