US searches for "skincare" have risen a huge 110% in the last five years according to Google Trends and the obsession doesn't stop there – #SkinCare has been tagged 91.5 million times on Instagram and TikTok videos using #SkinCare have had an eye-watering 71 billion views.
We wanted to dig a little deeper to uncover the most popular skincare brands – whether it's a serum with the perfect finish, a jade roller or a must-have cleanser, we all have our favorite skincare picks we swear by. Our new research reveals which brand dominates in each state across the US.
Analyzing Google searches in each of the 50 states over the last twelve months, combined with Dermstore's own data, we can reveal the brands' skincare novices and obsessives alike love across the country.
From California to Maine, and Montana to Texas, take a look at our research to see if you agree with the rest of your state!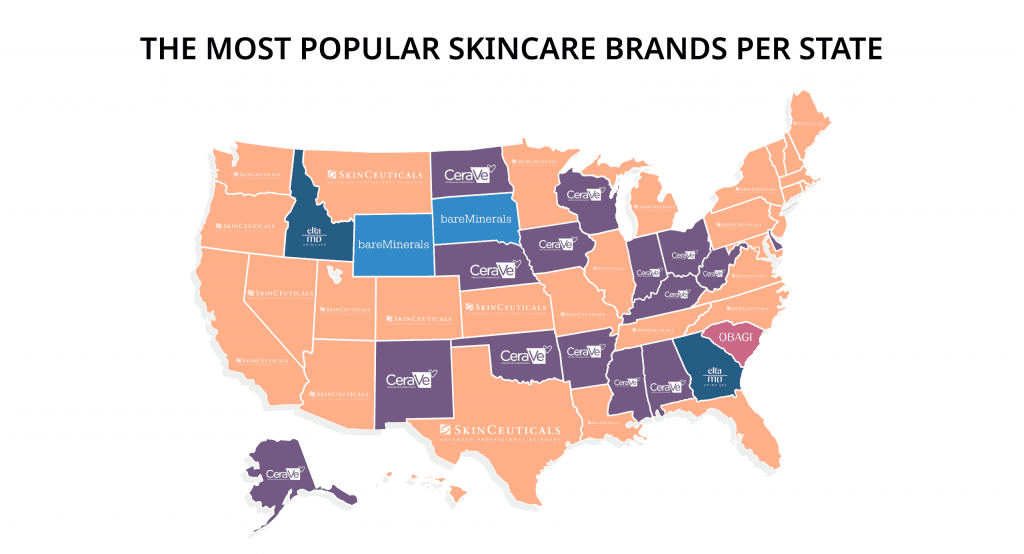 Which Skincare Brand is the Favorite in Each State?
Founded in 1997, well-known SkinCeuticals have been creating high-performance skin formulas for over 20 years. It's no wonder why it's one of the industry's leading brands as our research reveals it topped the online searches in 30 out of 50 states, dwarfing CeraVe who placed in second with 15 states choosing this brand over any other. In joint third, EltaMD and bareMinerals ranked first in 2 states each – Georgia and Idaho, and South Dakota and Wyoming respectively.
When we analyze the top three most searched brands for each state, CeraVe, SkinCeuticals and EltaMD appear most frequently – staking claim 49, 46 and 36 times respectively.
Top 3 Skincare & Cosmetics Brands by State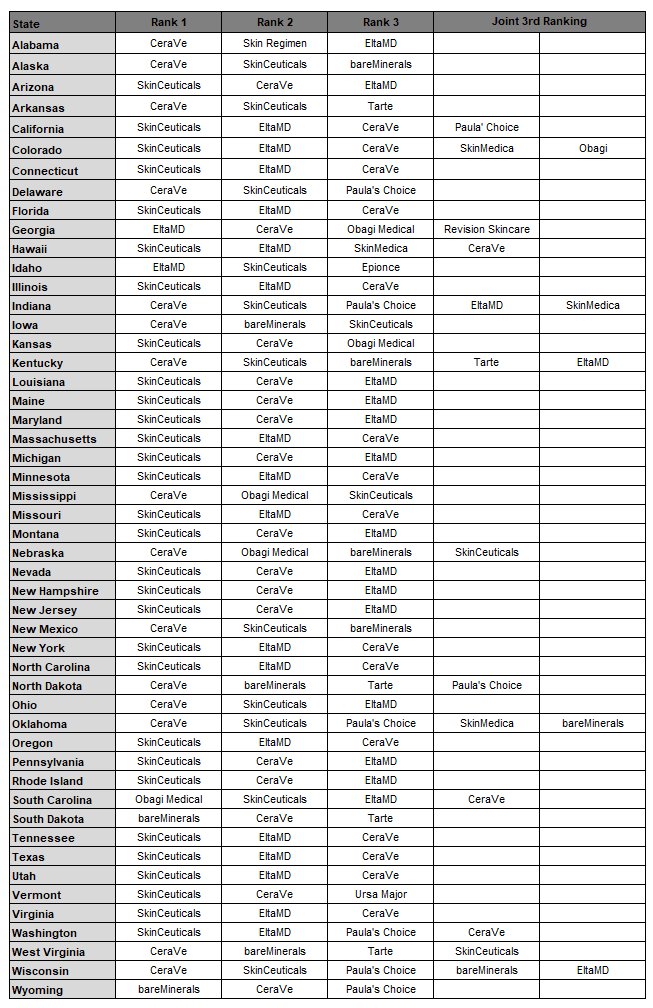 From our research, we can see which brands are the most popular in the US overall. Interestingly the top 10 includes five affordable brands; EltaMD, CeraVe, Paula's Choice, bareMinerals and Tarte.
The Most Searched for Beauty Brands in the US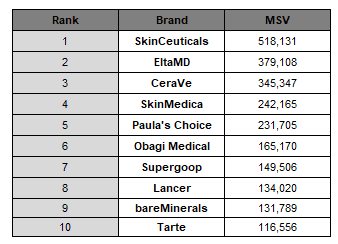 2021 Holiday Heroes
From new and niche labels, to iconic and loved brands, each year shop shelves (online and offline) are lined with brilliant skincare gifts and gift sets. With plenty of choices to suit every person and skin type, which brands were on Santa's 'Nice List' in 2021?
Dermstore's sales data can now reveal the 2021 holiday heroes – the brands which were most popular this holiday season – in each state across the US. So, did you gift a friend (or yourself) with any of these brands this year?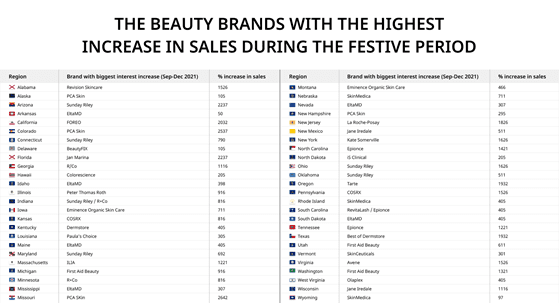 Hailed by actress, director, producer and talk show host Drew Barrymore, Sunday Riley is a cult-favorite praised for its "game-changing" products, and it seems this was definitely the case this holiday season as it became the firm favorite in six states. In joint first place was EltaMD, widely known for its ultra-popular sunscreen, among lots of other products. PCA Skin followed in second place, being the preferred brand choice in four states – Alaska, Colorado, Missouri and New Hampshire.
The USA's Holiday Heroes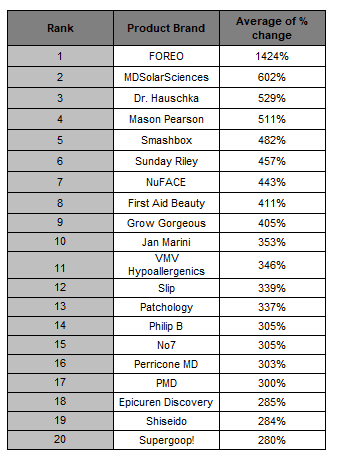 Methodology & sources
To find our favorite brands, we used Google search data (searching all languages) to establish the average monthly search volume in each state for over 190 skincare brands. We combined this data with Dermstore's own website search data to create an index system – a formula which scores each metric to produce the final rankings and an average score is calculated across the data points. The brand that scored the highest was then used as the top skincare brand for that state.
To find our 'holiday heroes' we used Dermstore's own sales data, taken from October – December 2021. The brand with the highest percentage increase was then used as the top brand for that state.
Data was collected in January 2022.