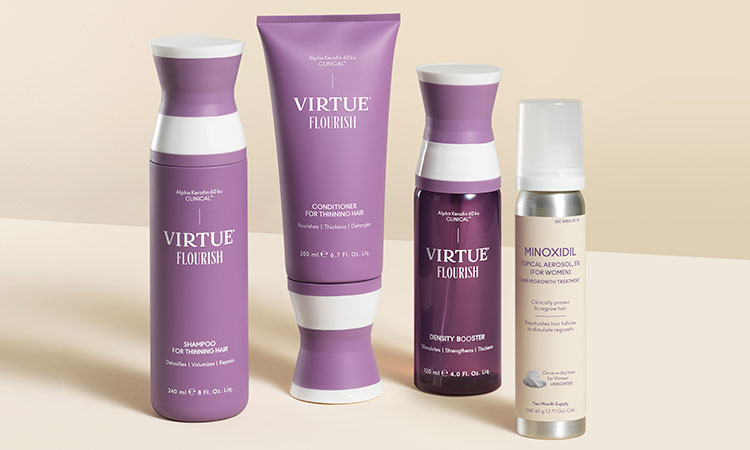 If your ponytail isn't as thick as it used to be or you've noticed more stray hairs on your pillow, you're not alone. More than half of all women will experience hair loss in their lifetime—but many of us are still ashamed to talk about it.
Hair care brand VIRTUE is hoping to change all that with the launch of their Flourish collection. The company, known for its proprietary hair-repairing keratin protein, developed the new product line to address thinning hair in a way that's specific to women's needs.
"Hair loss is an issue that many women face at one point in their lives but silently suffer," says Adir Abergel, celebrity hair stylist and the brand's creative director. "There is uncertainty on where to go for help. At VIRTUE we are on a mission to open up the communication channels, change the conversation and offer better products to address hair thinning and hair loss for women."
The Flourish lineup has everything you need to build a complete routine for fuller, thicker hair, including a shampoo, conditioner and two treatment options: one with minoxidil (the only medically proven ingredient to regrow hair) and one that's botanical-based for those who prefer a drug-free option.
Different Hair Loss Causes, Different Treatments
Before building a regimen, your dermatologist can help you identify which treatment is best for you, as well as the root cause of your hair loss. The two most common types are age-related hair loss and stress-related hair loss, says Dr. Ashley Magovern, a board-certified dermatologist in Manhattan Beach, Calif. and Dermstore's medical director.
Age-related hair loss, or androgenetic alopecia, "can be genetic," says Dr. Magovern. "We see this type of hair loss in both men and women," with thinning along the hairline and top of the scalp, she explains. This type of hair loss can be treated with minoxidil, the key ingredient in VIRTUE's Flourish Minoxidil Foam 5% for Women, as well as oral medications, supplements, scalp products that decrease inflammation and low-level laser therapy, according to Dr. Magovern.
The other common type, stress-related hair loss (known as telogen effluvium) can be triggered by factors that include "pregnancy, surgery, emotional stress and nutritional stress," says Dr. Magovern. "People usually notice shedding of the hairs and complain of hair coming out all over the scalp, not just certain areas. This type of hair loss usually resolves on its own but can take months." A scalp treatment like the Flourish Density Booster can help nurture new, fragile hairs so they can grow and thrive.
With any treatment, it's important to stick with it for at least six months. "For hair to really regain its original strength, luster and thickness, it will take longer than you may think," Dr. Magovern says. "Combining all modalities is my preference: using a good shampoo, conditioner and topical treatment serum that encourages a healthy scalp, using minoxidil if needed, taking vitamins and supplements, adopting a healthy lifestyle and considering using a low-level laser treatment."
Meet the Flourish Collection
The products in VIRTUE's new lineup don't just promote hair and scalp health—they also help your hair look and feel its best while you wait for hair to regrow. Here's what else makes VIRTUE unique.
Want to try the full regimen? The Flourish products are also available in two full-size bundles: The Nightly Intensive Hair Growth Treatment set (with minoxidil) and the Nightly Intensive Hair Rejuvenation Treatment set (without minoxidil).
$28.00 Buy now

with Dermstore

For Moderate to Severe Hair Thinning

This night treatment is powered by minoxidil, the only FDA-approved ingredient to regrow hair in women. It works to reactivate the hair follicles and stimulate regrowth, with visible results in as few as three months.

Buy now with free delivery