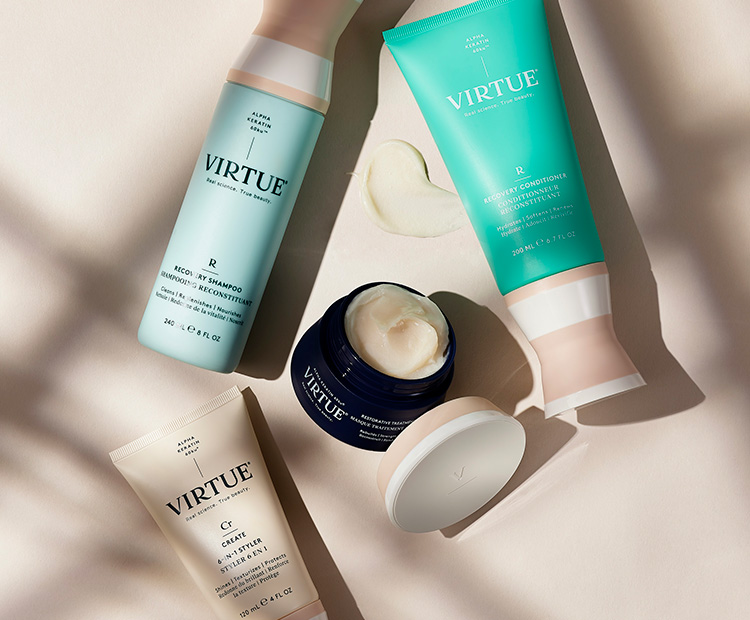 From gray to ombré and pixie cuts to blunt bobs, hair trends change as quickly and as often as the seasons. But ask any hair expert and they'll tell you the one thing that never goes out of style: strong, healthy hair.
But between color and chemical processes and the frequent use of styling tools—not to mention the beating your hair gets from the sun and pollution—maintaining your crowning glory's health can often prove to be a challenge. Fortunately, the talented team over at VIRTUE® have "cracked the code for healthy hair," says the brand's creative director, celebrity hairstylist Adir Abergel. It's all thanks to a game-changing ingredient that repairs damage and restores hair by going deep into the source of the problem.
Curious? Here are five things you need to know about VIRTUE's revolutionary hair care line and the breakthrough ingredient that distinguishes the brand.
1. Its hero ingredient was used to treat battlefield injuries.
Six years ago, while leading a regenerative medicine lab in Winston-Salem, North Carolina, retired US Army colonel and VIRTUE's chief science officer Dr. Luke Burnett and his team of bio-scientists found a way to extract human keratin in its purest form. This groundbreaking discovery has led to significant applications in bone, tissue and nerve regeneration, which became especially beneficial in treating burns and other injuries.
This protein technology, Alpha Keratin 60ku™, was also found to be particularly useful in repairing damaged hair. (Hair is made up of 95% keratin.) "Unlike other keratins, which are highly processed animal byproducts (feathers, sheep's wool), this is a unique protein that is derived from human hair and carefully extracted to remain whole and fully functional," explains Abergel.
2. Alpha Keratin 60ku™ "repaves" hair damage.
Most hair care products contain hydrolyzed keratin from animals, which has gone through chemical processing. Often, this leaves the proteins too broken to leave a lasting impact when repairing damaged hair. On the other hand, because Alpha Keratin 60ku™ is derived from ethically sourced human hair, the body is able to recognize it as its own, allowing it to bind where it is needed the most and restore hair to its healthiest state. "Since it is essentially hair, it 'sees' cracks of damage and goes where it's needed to repave and heal the damage, giving you your best hair possible. It actually repaves the cracks of damage like repaving a road," says Abergel.
3. Clinical studies have shown real results. 
The brand takes their commitment to hair care even further by continuously investing in research and development and by prioritizing technology and innovation. So, it's not a surprise to know that clinical trials of VIRTUE's hair care products have shown dramatic results, including a 95 percent reduction in split ends and a 138 percent increase in color vibrancy. "People are responding so well to VIRTUE because there's real technology in it that actually works. They see and feel a real difference in their hair. Once they see how good it can be, they don't want to go back to the way it was before," Abergel adds.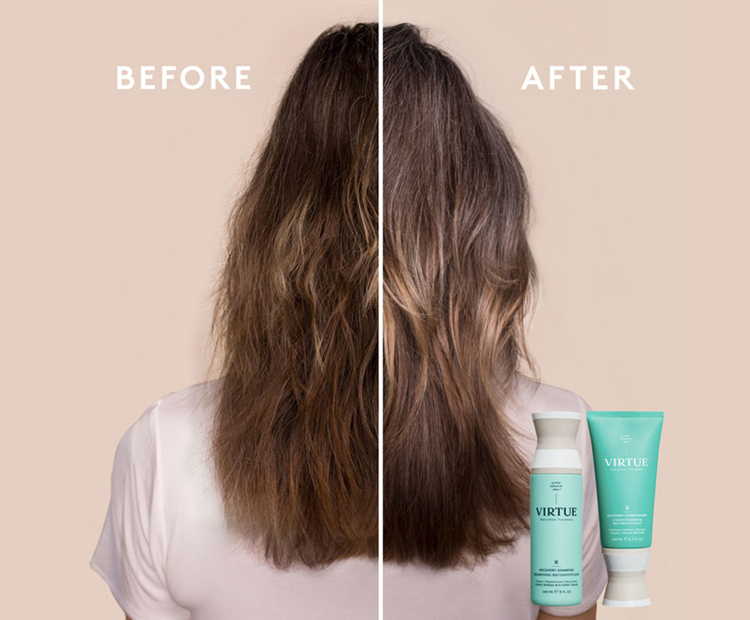 And because VIRTUE puts an emphasis on hair health, Abergel says each of the products has been formulated for all hair types and textures. "The Alpha Keratin 60ku™ protein is like a smart technology that targets and treats not just the symptom, but the underlying cause of every major hair issue. And when you have healthy hair, your full potential will unleash. You will achieve more bounce and shine, less frizz and your haircuts and color will last longer. VIRTUE has changed the way that I and so many of my fellow hairstylists do hair," notes Abergel.
4. The line is infused with a fragrance that does more than leave your hair smelling clean and fresh.
The products' signature scents don't just smell good—they serve a purpose. In the case of VIRTUE, their fragrances are designed not only to energize and lift your mood but also to enhance the efficacy of their hair care products. Each fragrance blend is infused with multitasking essential oils and fruit extracts that nourish and moisturize hair without overwhelming your senses. Ingredients like lavender essential oil have soothing properties, while spearmint leaf oil has a stimulating effect and coconut and yuzu extracts nurture hair.
5. VIRTUE offers a complete range of products that address common hair concerns.
Whether you're on the search for a shampoo that will restore your hair with each use, a purifying conditioner that will detoxify your scalp, hair treatments that will restore your strands without weighing them down or a multitasking styler that will keep your hair manageable and protected, you'll find a VIRTUE product that delivers on its promised results. And because the brand places great importance on integrity and responsibility, each product comes with a cruelty-free guarantee and contains no parabens, sulfates, phthalates, synthetic colors and dyes.
Wondering which of VIRTUE's hair care products you should get your hands on first? Here are our favorites:
Buy now

with Dermstore

Together with the Recovery Conditioner, this shampoo transforms and restores damaged hair with daily use. It dissolves excess oil, product residue and other daily impurities to prevent build-up that can weigh down your hair and cause dullness. Best for all hair types, it fills the cracks of each strand, acting as a powerful treatment that counters damage from heat, chemicals and color treatments.

Buy now with free delivery