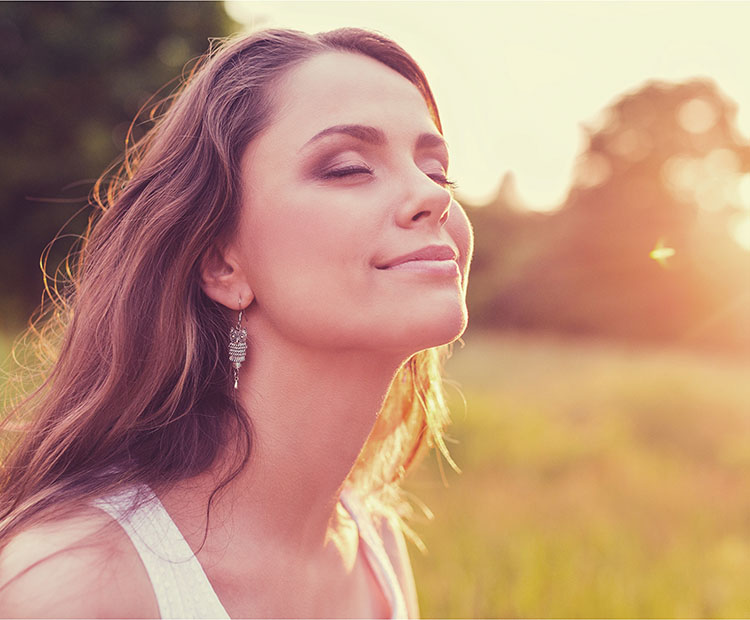 When it comes to building an anti-aging routine, products designed for the neck and décolletage barely come to mind. What most women don't realize is that the components of skin aging— wrinkles, laxity (sagginess), discoloration and crepiness—are just as likely to develop on the chronically sun-exposed skin of the neck and upper chest as it does on the face. If you're wondering how to properly care for this particular section of your skin, consider the tips below.
1. Extend your skin care routine to your neck and chest.
While there's nothing much we can do about the facial bone resorption and muscle thinning—two contributors to the "turkey neck"—that naturally occurs as we age, there are a few things we can do to delay its appearance. The rules of prevention are simple, whether on the face, neck or décolletage: proper hydration, UV protection and stimulation of collagen and elastin synthesis to replace those we lose with aging. If your skin care routine already has these, go ahead and simply extend the application to your neck and chest.
2. Up your nutrient intake.
In one's twenties, preventative measures like daily moisturization and sunscreen use are non-negotiable. As we approach our thirties and forties, products containing amino acids, vitamins, topical retinoids, antioxidants and alpha hydroxy acids are essential adjunctive measures to further combat sagginess, creping or uneven skin pigmentation.
3. Supercharge your skin as you sleep.
While there's no single cream that can magically lift sagging skin, the products below are among the most advanced over-the-counter creams to fight signs of aging and environmental damage on your neck and chest. When used in combination with other anti-aging agents or in-office procedures (like laser resurfacing or Ultherapy), it's possible to see a smoother and firmer appearance. Here are some of the products I tried and recommend to my patients:
Buy now

with Dermstore

StiVectin-TL is a great place to start for those with early signs of creping on the neck and upper chest. This cream feels thicker initially, but upon gentle massage absorbs quickly and feels silky on the skin. It's formulated with anti-aging ingredients like myristyl nicotinate, a component of vitamin B-3, to curb photodamage, minimize hyperpigmentation, reduce inflammation and restore skin barrier function. We recommend using this cream in conjunction with a topical retinoid to enhance the effects of both products to deliver a potent one-two punch. Over the course of a few weeks, skin feels softer and appears visibly tighter. A few more additional weeks and fine lines become less noticeable.

Buy now with free delivery

Buy now

with Dermstore

At its core, this firming cream packs several antioxidants and peptides to address skin laxity and wrinkles. Perricone MD Cold Plasma Plus encourages your skin to lift and tighten, reducing sagging and lines. It contains tocopherol, a nutrient that nourishes the skin and promotes cell repair. Suitable for both morning and evening use, neck lines and uneven pigmentation from chronic photodamage will gradually fade.

Buy now with free delivery

Buy now

with Dermstore

This cream delivers skin-repairing and collagen-boosting ingredients in an elegant formulation that feels light, silky and luxurious on delicate neck skin. Triethyl citrate stimulates collagen to reduce fine lines while skin-repairing acetyl glucosamine restores skin function and fades discoloration. Antioxidants like tocopherol protect against UV damage and reduce free radical damage. This product works synergistically with a topical retinoid or topical alpha hydroxy acid for additional exfoliation and age-reversing effects. This helps achieve soft, supple and gradually firmer-appearing skin on the neck and chest.

Buy now with free delivery