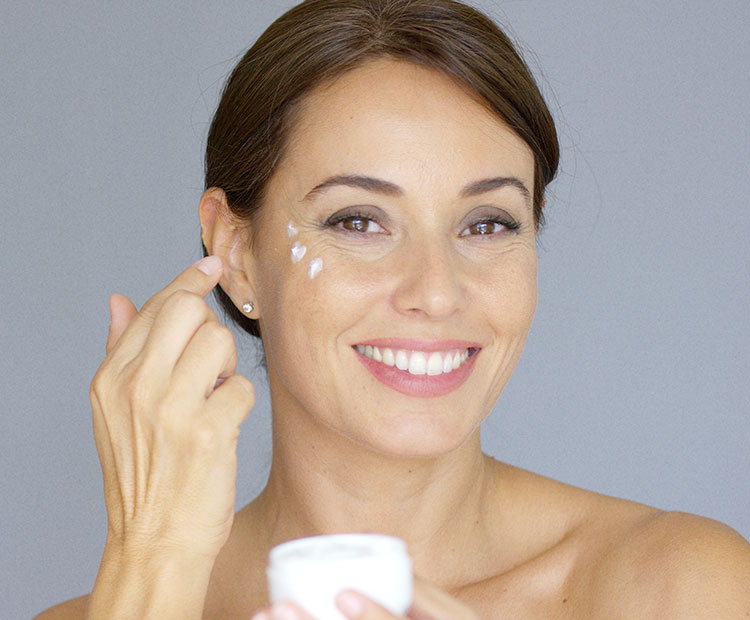 If eyes are the windows to the soul, you want to make sure they're looking their best and brightest regardless of your age. That's why according to board-certified, Los Angeles-based dermatologist Annie Chiu, it's vital to apply an eye cream at least every night, if not twice a day, starting in your 20s. "Over time it's about maintaining the health and thickness of the eyelid skin. Improving the skin quality in this area early on ensures that the eyelid skin does not easily lose laxity and its smooth appearance later on."
When choosing an eye cream, Dr. Chiu recommends looking for ones with antioxidants to help fight oxidative damage from pollution and UV irradiation. Creams with vitamin C, retinols and growth factors encourage thickening of collagen in an area where the skin is delicate and already thin. If you have puffy skin around your eyes, she also recommends using an eye cream with caffeine, which allows a temporary de-puffing by constricting blood vessels in the area. But be warned: All these ingredients, though effective in face creams and serums, may do more harm than good if the product is not formulated specifically for the eye area. Dr. Chiu explains: "A lot of great active ingredients, such as retinols and vitamin C, can actually cause irritation, so it has to be specially stabilized or formulated for this delicate skin area."
For best results, Dr. Chiu says consistency is key. "Regular use of eye cream over time will keep the eyelid skin elastic and can improve or prevent against some fine lines or collagen loss. Remember: Nothing is magic. Results don't occur overnight," she says. "You can further protect the delicate skin around your eyes by choosing an eye cream with SPF or applying sunscreen every day." Dr. Chiu also advises people to remember to wear sunglasses when outside to protect against UV-light damage and lines that can creep up around the corners of your eyes from squinting.
So the next time you're shopping for an eye cream, keep Dr. Chiu's advice in mind or look for one of these dermatologist-recommended eye creams.
Get the best of both worlds with instant and long-lasting anti-aging benefits. The SkinCeuticals complex in this eye cream targets several signs of aging, including improving the appearance of dark circles and reducing eye puffiness. With blueberry extract and proxylane, it also diminishes fine lines, wrinkles and crow's feet.
Brighten and tighten the skin around your eyes with this rejuvenating daily eye cream. It contains hyaluronic acid to plump and hydrate skin and an advanced complex of PSP growth factors to boost cells' ability to repair and revitalize your skin, increasing firmness and reducing wrinkles.
Best suited for mature or damaged skin, this eye cream works with your skin's natural renewal process to help restore a youthful glow and healthful appearance. It works to reduce fine lines and wrinkles by strengthening and firming the skin around your eyes and encouraging the production of collagen and elastin.
Repair the delicate skin around your eyes with this anti-aging cream that contains 90-percent green tea polyphenols and age-defying peptides. Its active ingredients diminish dark circles, firm sagging skin and reduce the appearance of wrinkles.
Hyaluronic acid diminishes dehydration lines and increases your skin's radiance and brightness, while vitamins A, C and E provide antioxidant protection to lighten dark under-eye circles. Its rich texture nourishes the sensitive skin around your eyes, and peptides and TNS give your eyes a more youthful appearance.
Increase skin elasticity and neutralize free-radical damage with this combination of vitamins A, C and E and red seaweed extract. After use, you'll find your skin firmer and smoother and with fewer noticeable lines and wrinkles, thanks to its green tea leaf extract and organic silicones.
This triple-action eye cream combats eye aging and fatigue with nourishing vitamins and botanical oils. It reduces puffiness, dark circles and wrinkles without drying the skin while increasing collagen production, circulation and capillary function.
This eye cream relies primarily on retinaldehyde, a stabilized version of retinol, which reduces wrinkles and crow's-feet without causing irritation or peeling, and hyaluronic acid fragments (HAF) to decongest the delicate under-eye area and plump your skin.
Reverse the signs of chronological and actinic aging with this eye cream, which contains L-ascorbic acid. Clinically proved to have anti-aging effects on the skin around the eye, it smooths skin texture as well as improves the radiance of your complexion.