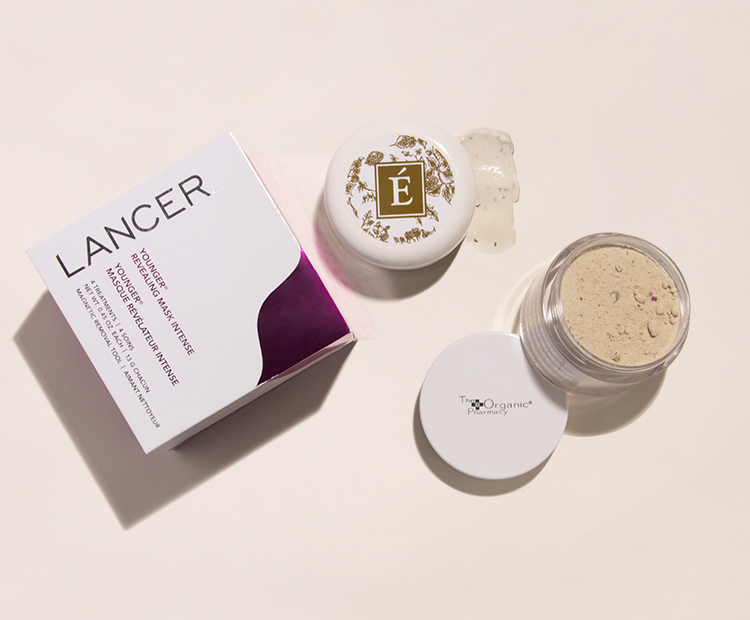 Fact: Face masks are just about the most fun skin care product on the planet. With so many colors and textures to play around with, it's hard not to want to take a million selfies when you're wearing one. But face masks go way beyond looking cool. In fact, face masks offer serious skin care benefits—and that's definitely needed when it comes to mature skin.
How Skin Changes as You Age 
As you age, your skin changes in a myriad of ways, and this is caused by both internal and external factors, says Esta Kronberg, M.D., a board-certified dermatologist in Houston. For starters, the processes in your body responsible for keeping your skin bright and firm start to slow down. You can expect everything from a decline in collagen production, less springy elastin, dead skin cells not turning over as rapidly, wrinkles appearing, hollowed cheeks and eye sockets becoming more defined, to a decrease in oil production leading to drier skin. On the flip slide, lifestyle factors like stress, tobacco and alcohol use, unprotected sun exposure and lack of sleep can also accelerate the skin's aging process, notes Kronberg. That's why it's so important to incorporate a skin care routine that specifically addresses mature skin concerns. And one of the products you should include is a face mask.
What Ingredients to Look for and Avoid 
If you have mature skin, Kronberg suggests looking for products, including face masks, that are formulated with rich lipids. "These are oils—fats—that are small in molecular size so they can penetrate the skin," she says. The main benefit of using a lipid-rich face mask is that it'll lubricate your skin, something that could be undermined by cold or dry weather, overuse of strong anti-aging products, or getting too many anti-aging treatments too close together. Overall, you want to look for a face mask that has nourishing ingredients like hyaluronic acid, grape seed oil, dimethicone and vitamin E if you have mature skin, says Kronberg. Unless you experience adult acne, you'll want to avoid salicylic acid and combinations of three clays, since these might be too drying for you, she adds.
Ready to find the best anti-aging face mask for your mature skin? Check out our favorites for fine lines and wrinkles, sagging skin and more!
For Fine Lines & Wrinkles
Buy now

with Dermstore

This is where the fun factor of using a face mask comes in. Once you apply this anti-aging face mask and let it sit for 5-10 minutes, use the remover tool to lift the face mask off your skin. As for the face mask itself, it's formulated with a silicone mineral powder that'll leave skin looking brighter and younger. It's also formulated with skin-conditioning agents including dimethicone and coco-glycerides.
For Sensitive & Irritated Skin

Buy now with free delivery