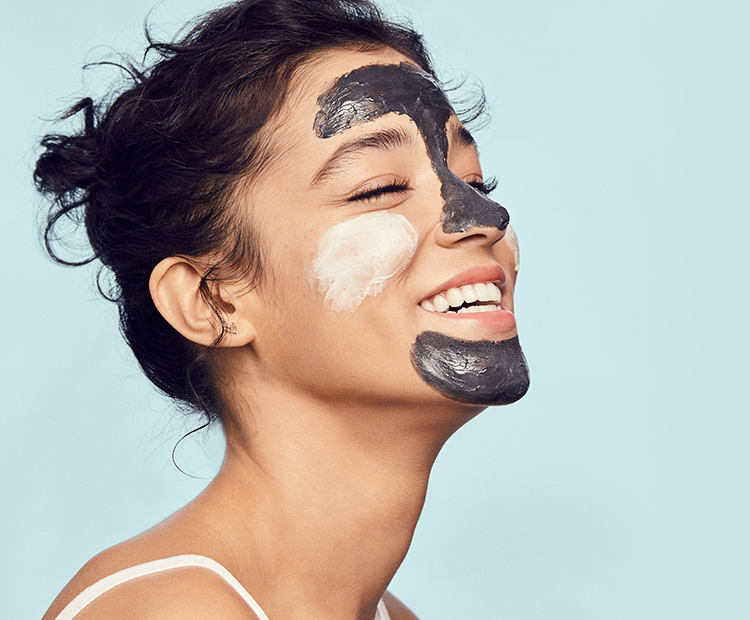 If your skin's been looking dull or you suddenly find a few dark spots popping up on the surface, you might want to add a brightening face mask to your routine. A brightening mask's main job is to, well, brighten your skin. But according to dermatologist Francesca Fusco, brightening masks can help with a plethora of other common skin care problems, such as dark spots, dullness and dryness. Here are just some of the ways brightening masks help your skin:
1. Fade Dark Spots
"Dark spots are usually secondary to sun damage or the result of a scar or a very inflamed persistent blemish," explains Fusco. Certain ingredients present in brightening masks, like licorice, azelaic acid and vitamin C, can help fade them by inhibiting tyrosinase, an enzyme that fuels pigment and disperses melanin onto the skin, says Fusco. Other ingredients like arbutin and kojic acid also help lighten the appearance of dark spots.
2. Slough Off Dull, Dead Skin
Skin gets dull because of the buildup of dead skin cells on our faces. Some brightening masks feature exfoliating ingredients, like retinoids, glycolic acid and other alpha hydroxy acids, to help slough them away and unveil softer skin, explains Dr. Fusco.
3. Hydrate Dry Skin and Soften Wrinkles
With dead skin out of the way, your skin also gets all the nutrients and benefits of your other skin care products. Some brightening masks also contain hydrating ingredients, like hyaluronic acid, which "plumps skin and improves radiance," says Fusco.
How to Choose a Brightening Mask 
When it comes to choosing a brightening mask, reading the label and knowing the key ingredients will tell you whether a mask is right for your skin type or your skin concern. If you're on acne medication or have very dry skin, for example, you'll want to avoid face masks with a high concentration of retinol, advises Fusco. "It can further dry skin," she says.
Not sure where to start? Below are our top brightening face masks for your skin type.
If You Have Normal-to-Oily and Combination Skin
Buy now

with Dermstore

Formulated with clay, seaweed and papaya, this clay mask works to unclog pores and keep acne-causing bacteria at bay while soothing your skin with aloe vera.

Buy now with free delivery

Buy now

with Dermstore

If hyperpigmentation is your biggest skin issue, this face mask is for you. Formulated with a proprietary blend of red algae, licorice, glycolic acid and other brightening ingredients, this product exfoliates dead skin cells, reduces the appearance of pigmentation and provides protection from free radical damage.

If You Have Sensitive Skin

Buy now with free delivery

Supercharged with vitamin C, pomelo and snowflake flower extracts, this corrective face mask helps fade the appearance of dark spots, improve uneven skin tone and boost radiance. It also features aloe and allantoin to help soothe and calm irritated skin.

Buy now with free delivery

Buy now

with Dermstore

Perfect for combating signs of aging and hyperpigmentation, the Bright Skin Masque by Eminence Organic Skin Care contains bioflavonoids, gigawhite and alpha lipoic acid that works to lighten dark spots and improve the overall tone and texture of your skin.

Buy now with free delivery

Buy now

with Dermstore

Since dullness is caused by the buildup of dead skin, an exfoliating face mask like the Papaya Pineapple Mask by Sanitas Skincare is a great option to help brighten up your complexion. Gentle enough for even the most sensitive skin types, this mask features a dual-enzymatic compound to de-clog and exfoliate your pores.
If You Have Normal-to-Dry Skin

Buy now with free delivery

6. Erno Laszlo White Marble Bright Face Mask

Erno Laszlo's White Marble Bright Face Mask is a dual-phase brightening mask made with three key ingredients: vitamin C to fade dark spots, jojoba to moisturize your skin and antioxidants to neutralize free radicals. Mix the two phases together to form a mousse-like consistency, apply and let the mask work its magic.

Buy now

with Dermstore

Flaunt a photo-filtered look the natural way with the White Glowing Mask by Natura Bisse. Its antioxidant-enriched formula works to nix dark spots and reduce the size of large pores. Ingredients like betaine (obtained from sugar beets) and naturally derived sugars provide optimal levels of hydration, unveiling soft and supple skin.

Buy now with free delivery

The Camu Camu Power CX30 Vitamin C Brightening Sleep Mask by Peter Thomas Roth offers a goldmine of nourishing ingredients that work to diminish dryness. Not only is it packed with a highly concentrated dose of vitamin C, which improves the look of fine lines and wrinkles, but it also contains hyaluronic acid, an ultra-hydrating ingredient that plumps up your face.

Buy now with free delivery