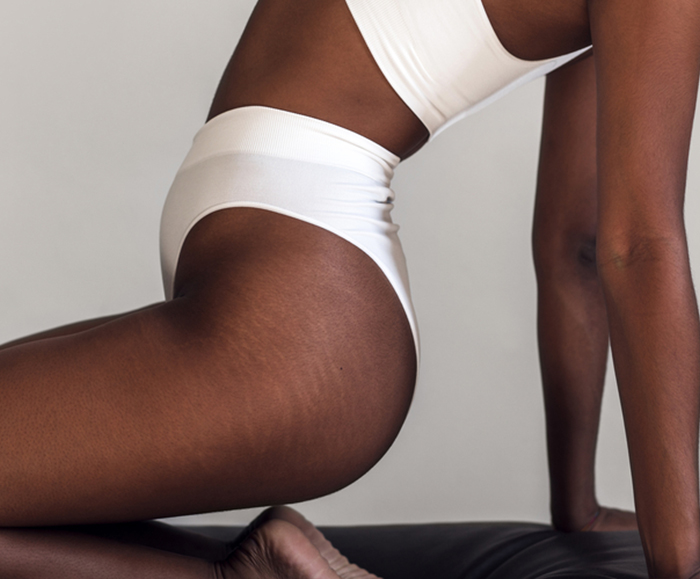 If you ask us, there is absolutely nothing wrong with having stretch marks. Often, they are reminders of life's milestones—whether that's being a first-time mom or finally shedding (or gaining) your desired weight. While other times, they happen for no obvious reason other than your body going through changes as you emerge from puberty to adulthood. And now that body positivity is (finally!) something we regularly see on our Instagram feeds and talk about with our families and friends, there is no better time to own those lines and stripes on your skin. That said, it's also perfectly acceptable if you want to prevent stretch marks from forming and getting worse and there are plenty of ways to do it—even from home!
What Causes Stretch Marks
As one of the most common skin conditions, stretch marks or striae affect almost all pregnant women, 70 percent of adolescent women and 40 percent of adolescent men, according to the U.S. National Library of Medicine. "They occur when the growth of the body outpaces the growth of the skin. This happens when young women reach puberty and breasts enlarge, hips splay or thighs become fuller. Wherever the skin is stretched (as in pregnancy), breaks in the collagen occur," says board-certified dermatologist Anna Guanche, founder and director of Bella Skin Institute.
These dermal scars start out pink to red and fade to a silvery color over time, adds Dr. Guanche. "The texture within the stretch mark is different because the dermis underneath, where the break in the collagen is, gives way," she explains.
For men, those sunken lines usually form during puberty and can be attributed to a rapid growth spurt and can also be caused by excessive bodybuilding. Additionally, Dr. Guanche notes, "There are other medical conditions such as Cushing's Disease (excess cortisol) or excessive use of topical corticosteroids that can lead to stretch marks."
Striae can also develop regardless of your skin type, says board-certified dermatologist Janet Prystowsky, associate professor of dermatology at Mount Sinai. "Stretch marks do not affect certain skin types more than others. People with genetic tendencies are more susceptible, as well as people who put a great amount of stretch pressure on their skin," she explains.
How to Treat Stretch Marks
Laser treatment remains the most effective way to diminish the appearance of stretch marks, says New York dermatologist and author Bobby Buka, founder and chief science officer of First Aid Beauty, as it can go deep into the dermal layer and encourage repair of the scar tissue underneath.
For red or newly formed striae, Dr. Buka uses a pulse-dye laser that emits a light frequency that can be absorbed by the color red. "This acts to heat and shrinks small capillaries in the stretch marks, making them less noticeable over two to three sessions," he explains. On the other hand, white or old striae can benefit from a carbon-dioxide laser "to reactivate stretched out collagen fibers," Dr. Buka adds.
If you're eyeing a less invasive and more wallet-friendly approach, there is also a variety of at-home solutions that can help make those lines less noticeable. However, board-certified dermatologist Craig Austin, creator of medical-grade skin care line Cane + Austin, stresses, "There are some things you can do at home that may help in reducing the appearance of stretch marks though may not fully make them disappear." He cites Retin-A, collagen boosters and natural creams like olive oil and cocoa butter as some of the most popular treatments and ingredients that help address stretch marks.
Other Tips to Prevent Stretch Marks
While there is no guaranteed solution to completely prevent stretch marks from forming, Dr. Austin says maintaining a healthy weight and keeping skin hydrated and moisturized can reduce their chances of developing. He also recommends "addressing them soon after they appear as fresh stretch marks are easier to treat."
As for the men, Dr. Guanche adds, "Guys who are taking supplements and getting big rapidly could moderate and work their way up in bulk slowly so that the skin has a chance to catch up, so to speak."
Looking for ways to help prevent and reduce the appearance of stretch marks? Let us help! Below, we rounded up our top picks for best stretch mark solutions!
Buy now

with Dermstore

Make sure your pregnancy glow lasts well after you've brought your bundle of joy into this world! Featuring jojoba, vitamin E, neroli and lavender, this moisturizing oil nourishes and protects skin from free radical damage while keeping it soothed and hydrated to prevent stretch marks.

Buy now with free delivery