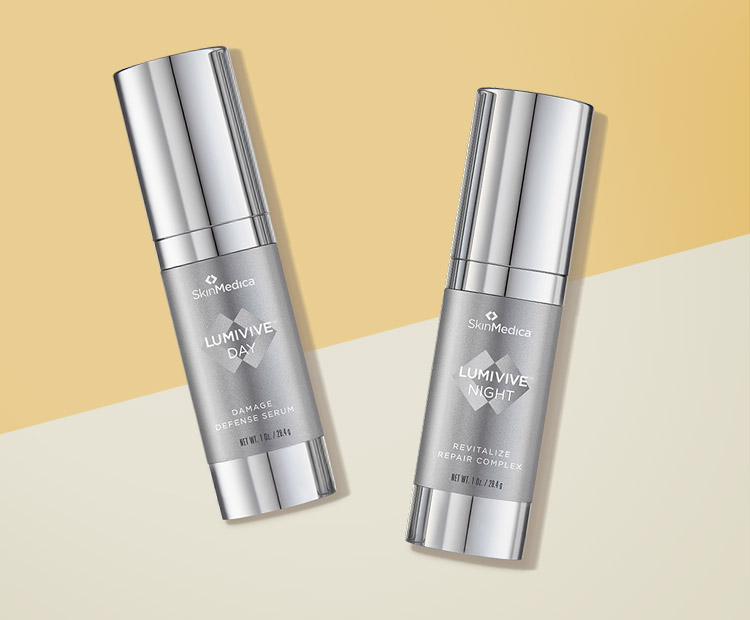 With technology readily available at our fingertips, it's no surprise that most of us spend endless hours (10+ on average, to be exact) on our smartphones, tablets and laptops. These devices keep us in the know, help us stay organized and sometimes entertained before falling asleep. Yet, they also emit blue light that can potentially damage our skin, according to recent studies, leading to premature aging.
What Is Blue Light and Why It May Be Harmful to Your Skin
Most of us are aware that the sun produces invisible ultraviolet rays, which can help the body manufacture vitamin D but at the same time age and burn our skin. But what most of us don't know is that the visible rays produced by the sun come in many different colors—red, orange, yellow, green, blue and many shades in between. Red light has a longer wavelength and therefore produces less energy; on the other end of the spectrum, blue light has a shorter wavelength (400–495) and falls within the spectrum of high energy visible (HEV) light, which means—you guessed it!—it produces more energy.
Like ultraviolet rays, blue light has both benefits and dangers. Natural exposure to blue light during the day helps us stay alert, boosts our attention span and lifts our mood. At night, exposure to it can hurt our eyes and disrupt our sleep pattern, throwing our circadian rhythm out of whack—and this can prove problematic for our skin.
During shut-eye, our body—and skin—recuperates and repairs itself, which is one of the many benefits of getting adequate sleep. Sleep deprivation, according to plastic surgeon and dermatologist Dr. Mary Lynn Moran, MD, causes an elevation of cortisol, the stress hormone, interfering with our bodies' ability to mend itself overnight. "Our cells regenerate while we sleep, so if we don't get good quality sleep, they are unable to repair themselves, leaving us looking older," she adds.
What's more, HEV is capable of penetrating the skin more deeply than UV rays, deep down where elastin and hyaluronic acid are produced. It may also degrade antioxidants in the skin and increase free radicals, which can lead to accelerated skin aging. It has also been shown to contribute to dark spots or hyperpigmentation, per this finding.
How to Protect Your Skin From Blue Light Damage
With technology ownership ever growing, our exposure to blue light only increases. In fact, a 2018 Pew Research Center study found that 67% of older U.S. adults own a smartphone compared to 92% of millennials. What's worse, having blue light–emitting devices closer to our skin or pressed against our faces may heighten the effects of blue light and accelerate the appearance of wrinkles, saggy or loose skin and dark spots. But don't fret just yet. While we can't always avoid being exposed to blue-light damage, there may be a way to up our skin's defense against it: SkinMedica's LUMIVIVE™ System.
Currently the only skin care system on the market that offers an all-around approach to the detrimental effects of blue light, LUMIVIVE™ System works in three ways: it recharges the skin's ability to repair itself, enhances your overall skin care regimen and defends the skin from environmental aggressors.
What's in SkinMedica's LUMIVIVE™ System
The system includes two formulas: the LUMIVIVE™ DAY Damage Defense Serum (a protective day serum) and the LUMIVIVE™ NIGHT Revitalize Repair Complex (a reparative night serum). Together, this multitasking duo work synergistically to not only help the skin repair itself but also shield it from constant exposure to environmental aggressors.
The DAY Damage Defense Serum, which features cocoa extract, alteromonas ferment extract (from deep sea algae) and bioflavonoids, create a bio-barrier on the skin, offering full atmospheric protection against skin damage caused by blue light, pollution and ozone.
At night, the NIGHT Revitalize Repair Complex revitalizes and detoxifies the skin cells with powerhouse ingredients like mitoquinol mesylate, an antioxidant that creates mitochondrial protection (mitochrondia being intracellular structures which are crucial to the lifespan of cells) and helps support adenosine triphosphate (ATP or the form of energy used by cells, similar to how a car battery works); mirabilis jalapa callus extract or four o'clock flower, a botanical wonder that detoxifies the skin; and pentapeptide-34 trifluoroacetate, a peptide which helps support naturally produced coenzyme Q10 and ATP levels to recharge and invigorate skin.
When used as directed, this system has been shown to diminish visible signs of damage, like redness, wrinkles and discoloration, for a healthier-looking complexion. In a 12-week clinical study on 300 patients in two of the most polluted cities in the world (New Delhi and Beijing), results showed improvement in the overall radiance, visible redness and appearance of skin discoloration in just eight weeks. These findings indicate that even in the most polluted environments, the LUMIVIVE™ System can help protect skin from pollution-induced damage and reverse signs of existing damage.
How to Use LUMIVIVE™ for Best Results
According to SkinMedica, this unique system works for a full 24 hours without washing off of the skin regardless of daily activity. For best results, use this with your anti-aging serum, like the TNS Serum, as well as a sunscreen, like Total Defense + Repair SPF 34. When used together, antioxidants and broad-spectrum sunscreens provide the most complete protection against visible aging caused by environmental aggressors.
Here are the products you'll need to get the best protection from blue light:
Buy now

with Dermstore

Energize your skin with LUMIVIVE™ System from SkinMedica by clearing imperfections, alleviating damage and restoring vitality. Formulated with a blend of antioxidants and coenzyme Q10, these face serums reduce uneven pigmentation, free radical damage and redness.The LUMIVIVE™ System includes: * LUMIVIVE™ Day Damage Defense Serum: an antioxidant serum that defends skin from damaging environmental aggressors such as blue light (HEV) as well as pollutants in the air * LUMIVIVE™ Night Revitalize Repair Complex: an evening serum that revitalizes and detoxifies the skin while reducing the

Buy now with free delivery

Buy now

with Dermstore

SkinMedica's TNS Essential Serum features two active formulas that dispense out of two separate chambers and are blended together into one creating a powerful solution that helps smooth wrinkles and regenerate skin cells for a more youthful appearance. The TNS Recovery Complex® is a protein- and amino acid-rich serum to reduce inflammation and the signs of aging. The APS Corrective Complex is a mixture of anti-aging ingredients, peptides and antioxidants to strengthen sagging skin.Key Ingredients: * TNS Recovery Complex® (Human Fibroblast Conditioned Media TNS®) - chamber 1:a physiologically

Buy now with free delivery

Buy now

with Dermstore

SkinMedica's Total Defense + Repair SPF 34 protects the skin from sun damage and prevents aging due to chronic exposure to infrared light. Using an advanced antioxidant complex, this restorative formula goes beyond UVA and UVB protection, reducing the appearance of fine lines and wrinkles, improving the skins texture and evening skin tone, leaving you with a smooth, polished complexion.Key Ingredients: * SOL-IR™ Advanced Antioxidant Complex: trio of potent antioxidants that protect against IR-A and help rejuvenate skinKey Benefits: * Protect skin from harmful infrared rays (IR-A rays) *

Buy now with free delivery