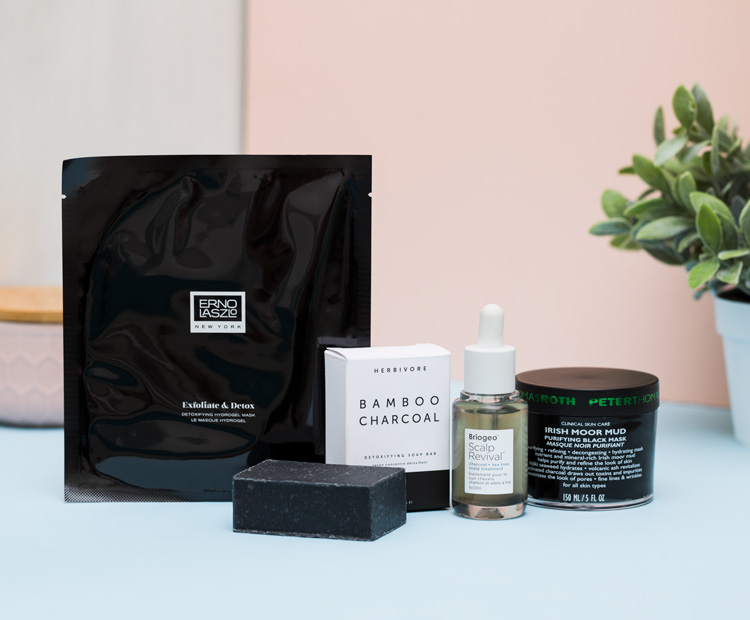 If we had to pick the skin care ingredient that surpasses all the rest in popularity these days, it'd have to be charcoal. You can't log onto Instagram without seeing someone you follow with a black mask on—and it turns out there's good reason to make this ingredient a part of your skin care routine, especially if you have oily skin or acne.
Skin benefits of charcoal
According to research published in the Western Journal of Medicine, charcoal comes from materials that contain carbon, such as wood pulp. The material is treated with chemicals to remove any impurities and turn it into small granules that can then be used in different ways. It becomes "activated charcoal" when high temperatures combine with a gas or activating agent to expand its surface area, making it more porous than regular charcoal. Because of its ability to trap toxins and chemicals in pores, activated charcoal has been used to treat overdoses and poisonings, improve kidney functions, reduce cholesterol levels and even detoxify skin and scalp. It is for this reason that it's now found in skin care products like cleansers, masks and even shampoos.
"Charcoal draws out oil and debris from the skin and also exfoliates, so think of it like a deep detoxifying cleanse," says Sejal Shal, MD, founder of SmarterSkin Dermatology. "It can help reduce oily skin, improve acne and make pores appear smaller," she adds. While anyone can try charcoal skin care products, they're better for people with combination, oily or acne-prone skin because charcoal can be drying, explains Shal.
How to use beauty products with charcoal
"Of the charcoal-containing products, I like charcoal-infused masks the most because adsorption depends on physical contact, so charcoal needs to sit on the skin to be effective," says Shal. She suggests trying a charcoal mask once or twice a week. "If your skin is extremely oily you may be able to use it more often," she notes.
Ready for a skin detox? Try these five charcoal-infused products to reap the benefits for your complexion.
Buy now

with Dermstore

Pimples don't stand a chance against this acne facial cleanser. It's formulated with active charcoal to draw out toxins, salicylic acid to unclog pores, clay to absorb impurities, vitamin E to strengthen skin and yogurt extract to fight breakout-causing bacteria.

Buy now with free delivery