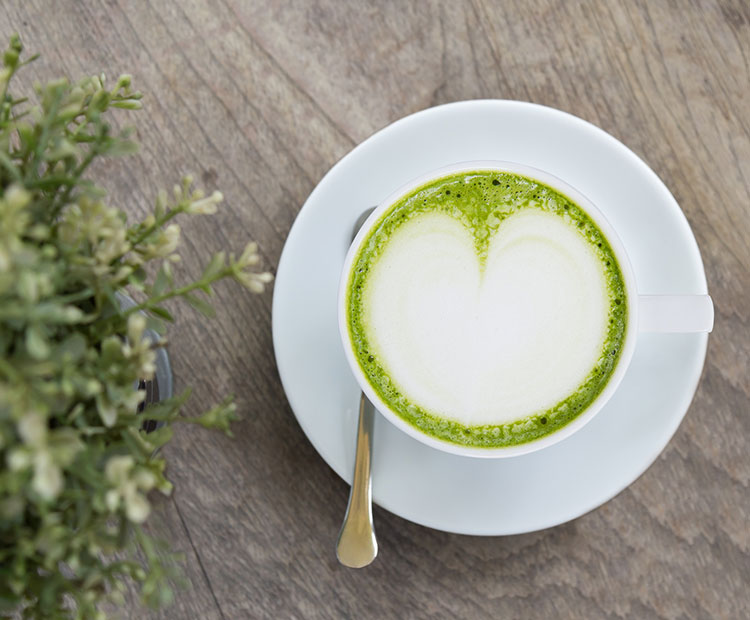 Everywhere we look, it seems as though superfoods have taken over. We're adding them to our smoothies, we're making teas out of them and we're even formulating our anti-aging skin care products with them. That being said, superfoods in skin care is nothing new. In fact, many of them have been used for centuries to promote beauty from the inside out. And one beauty food in particular has left its mark on skin care and beauty products alike: matcha green tea.
Matcha green tea is a type of—you guessed it—green tea that is boosted with antioxidant-rich vitamins and minerals. According to esthetician and founder of LaBelle Day Spas & Salons, Bella Schneider, what makes matcha so special is that it is grown differently than regular green tea. "It's covered from direct sunlight 20 to 30 days before harvest in order to increase its chlorophyll levels and production of amino acids," says Schneider. Once the leaves are harvested, they're then turned into a potent powder.
So, how can matcha be of benefit to the body's largest organ? According to board-certified dermatologist Dr. Debra Jaliman, Assistant Professor of Dermatology at Icahn School of Medicine at Mount Sinai and author of Skin Rules: Trade Secrets from a Top New York Dermatologist, "it can improve inflamed skin, it's good for exfoliation and protects skin from free radical damage." But, that's not all. "Matcha is a wonderful treatment for people with oilier skin complexion due to its purification, detoxing and antibacterial benefits," adds Schneider. "Matcha also helps rejuvenate skin that lacks oxygen, as a result of sleepless nights, smoking and toxicities in the air."
Used for centuries in Asian cultures, the anti-aging superfood can now be found in anything from face masks to even hydrogel eye masks. We share some of our favorite skin care products formulated with matcha green tea, here:
Buy now

with Dermstore

Enriched with alkalizing greens, detoxifying herbs, beauty-boosting phytonutrients, antioxidant-rich matcha green tea and more, HUM Nutrition's Raw Beauty Green Superfood Powder is an excellent way to nourish both your body and your skin. The added matcha not only provides the body with an energy boost, it also works to fight off free radicals and prevent premature signs of aging.

Buy now with free delivery

Buy now

with Dermstore

Kiss puffy eyes goodbye with 100% Pure's Bright Eyes. Formulated with a potent blend of aloe juice, matcha green tea, green coffee, vitamin C and more, this hydrogel eye mask quenches thirsty skin, brightens dark under-eye circles and works to de-puff the eye contour.

Buy now with free delivery

3. H2O+ Beauty Aquadefense Protective Matcha Facial Moisturizer

If you're looking for a daily moisturizer that is rich in antioxidants—meaning, it can protect against damaging free radicals and promote youthful skin—look no further than H2O+ Beauty's Aquadefense Protective Matcha Facial Moisturizer. Enriched with anti-aging matcha green tea, essential fatty acids and deeply nourishing coconut oil, this facial moisturizer works to unveil a hydrated, glowing and more youthful-looking complexion.

Rejuvenate your complexion and balance your skin's moisture levels with Pangea Organics Japanese Matcha Tea with Acai & Goji Berry Facial Mask. Enriched with a blend of powerful anti-aging ingredients—matcha green tea, goji berry and wildcrafted seaweed—this natural facial mask works its magic to revitalize skin cells, reduce irritation, minimize sun damage and improve circulation—all while helping to nourish, soften, tone and hydrate the complexion.

Buy now with free delivery

5. 100% Pure Organic Matcha Anti-Aging Antioxidants Shielding Serum

When it comes to anti-aging, a hydrating serum is key. And with added ingredients like antioxidant-rich matcha green tea and organic seaweed extract, 100% Pure Organic Matcha Anti-Aging Antioxidants Shielding Serum comes armed and ready to ward off visible signs of aging.