Getting beautiful skin isn't a matter of magic; it's a matter of consistency and using the right products. Whether you want to slow down the natural aging of your skin, reduce breakouts or prevent flare-ups, there are some things that everyone should do to maintain healthy skin. Luckily, a great skin care routine doesn't have to be a chore; it can be an opportunity to indulge in relaxing treatments on the daily. Maintaining a daily skin care routine is the first step to reclaiming your skin's health and youthful glow. Here's how to create an ideal routine.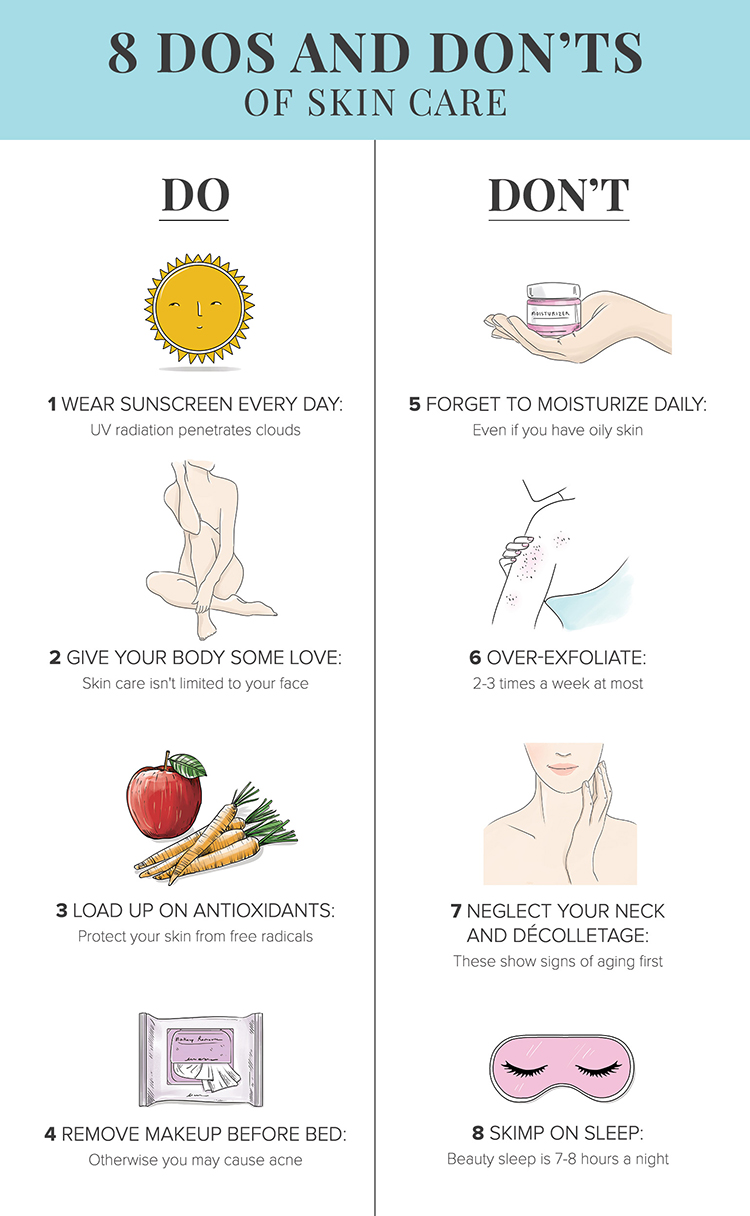 Dos and Don'ts, Explained:
Do: Wear Sunscreen Every Day

Sun damage can really end up doing a number on your skin if you're not careful to protect it every day. In fact, overexposure to the sun's UV rays is the primary cause of aging skin. That's why it's so vital to make sunscreen a part of your skin care routine. While your moisturizer or makeup may have sunscreen in it, it may not be enough to protect for the entire day, so spring for an independent sunscreen with at least SPF 30!
Try: CoTZ – FACE Natural Tint SPF 40 
This lightly tinted face sunscreen dries with a matte finish and protects from UVA and UVB rays.

Buy now

with Dermstore

If you have the kind of routine that causes you to rush in the morning, sometimes moisturizing falls by the wayside. Next to sunscreen, moisturizing is the best thing you can incorporate into your daily routine. Whether your skin's oily, dry or anything in between, finding the right type of moisturizer for your skin type can make all of the difference in the world.
Try: Dermalogica – Active Moist
Powered by silk proteins, hyaluronic acid and amino acids, this lightweight and oil-free moisturizer is perfect for everyday use.

Buy now with free delivery

Buy now

with Dermstore

Taking a long warm bath at the end of a long day can feel like the most luxurious thing in the world, but did you know doing it the wrong way could cause your skin to become flaky and dried out? For the bath that's best at preventing dry skin, you need to keep the water at a reasonable temperature, avoid staying in the water for too long (10 minutes max) and stay away from harmful alkaline soaps which can irritate the skin.  
Try: Herbivore Botanicals – Coco Rose Coconut Oil Body Polish
This bestseller gently exfoliates and moisturizes with coconut, shea butter and antioxidants.

Buy now with free delivery

Buy now

with Dermstore

When it comes to skin care, for some, all of the focus is on the face. It's important to remember, though, that your neck and chest are also on display. The skin in these areas is far thinner and more susceptible to damage than other parts of your body. Make sure you moisturize, exfoliate and wear sunscreen on these parts of your body to fight the signs of aging and keep your bright, glowing skin.
Try: Dermelect – Self-Esteem Neck Firming Lift
Using a combination of AHAs, BHAs and moisturizing ingredients, this cream is designed to hydrate, tone and firm.

Buy now with free delivery

Buy now

with Dermstore

As you age, your skin's elastin fibers become looser because your body is producing less and less collagen. This can cause wrinkles to appear and can make the skin less elastic, which happens because free radicals cause cell degeneration through a process called oxidation. To fight this, add antioxidants into your daily routine like vitamins C and E, beta-carotene, lycopene and selenium.
Try: Dr. Dennis Gross Skincare – C + Collagen Perfect SkinSet & Refresh Mist
This multitasking spray sets makeup, protects, hydrates and refreshes your skin with tons of antioxidants.

Buy now with free delivery

Buy now

with Dermstore

Exfoliation is a great addition to your skin care routine, as it sloughs off dead skin cells and makes room for new, healthier skin. However, when it comes to exfoliating your skin, less is definitely more. Whether you're using physical or chemical exfoliants, you need to give your skin time to rest in between treatments. For most skin types, one to three times per week is completely sufficient. Any more than that, and you could risk irritating your skin.
Try: Phytomer – Vegetal Exfoliant
Using a vegetable-based formula, this gentle exfoliant is designed for even rosacea-prone and sensitive skin types. It's rich in vitamin E and antioxidants to help revitalize your skin without damaging it.

Buy now with free delivery

Buy now

with Dermstore

When you go to bed with makeup on, you're not just leaving the makeup. You're also leaving behind all of the dirt, oil and toxins that your skin has collected over the course of the day. If you don't cleanse away the bad stuff, you could be facing clogged pores, irritated skin and breakouts. It only takes a minute to rid your skin of harmful bacteria and prevent future, unpleasant issues.
Try: One Love Organics – Vitamin B Enzyme Cleansing Oil + Makeup Remover
Gently cleanses your face of makeup, dirt and other impurities while delivering antioxidants and vitamins.

Buy now with free delivery

Don't: Skimp on Sleep

They don't call it "beauty sleep" for nothing. You should be aiming for seven to eight hours of sleep each night to give your entire body time to repair and recharge for the next day. If you're not giving your body time to reset and refresh, you could end up dealing with eye bags, dark circles, breakouts, wrinkles, inflammation and more. If you're having trouble falling asleep or staying asleep, we recommend establishing a calming nighttime routine to promote relaxation.
Try: This Works – Sleep Plus Trouble Shooter
This two-in-one night treatment is filled with hyaluronic acid, antioxidants and essential oils to help promote a deep, restful sleep—while fighting the signs of aging at the same time.