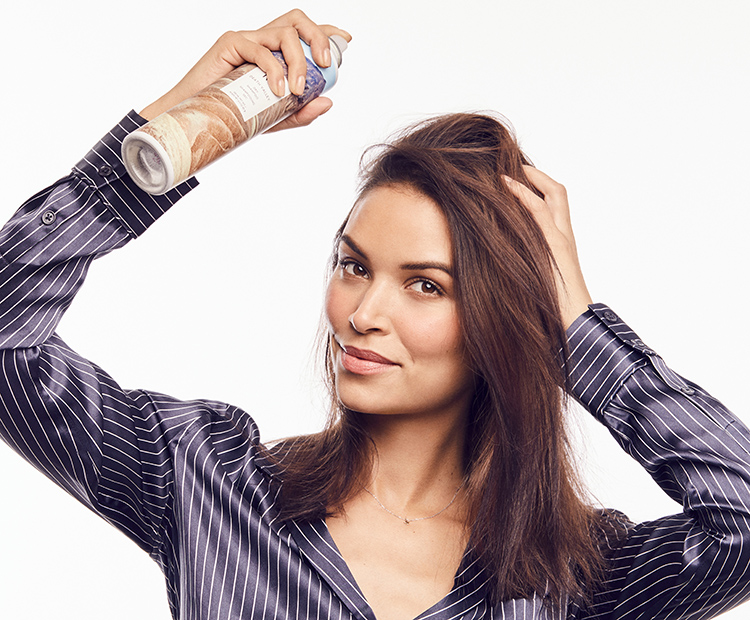 Popular with curly-hair types, cleansing without shampoo, or "no pooing," has become somewhat of a movement over the years. Derived from the belief that commercial shampoos can strip the hair of its natural oils, no pooers feel that forgoing shampoo can have exceptional benefits on the look and feel of their hair. Some report having softer and smoother strands, less dandruff and a healthier sheen. No pooing also has some bearings in the green and eco-conscious community, too, with those hoping to curb the usage of plastic packaging or spend less, opting for diluted baking soda and vinegar rinses instead.
What's in Traditional Shampoo?
According to an article published by McGill University, shampoos do not nourish, energize or rejuvenate hair, because unlike skin, the hair is not alive. Traditional shampoos are meant to cleanse hair and nothing more. "There is no scientific reason that hair should be washed every day," the article says. "Most people don't enjoy greasy hair, so they 'poo.'"
Traditional shampoos are typically made with foaming agents like sodium lauryl or sodium laureth sulfate, which is a great cleansing agent but can also strip your hair dry, causing your scalp to overcompensate by producing more sebum (your hair's natural oil). This creates a vicious cycle of greasy hair needing to be washed frequently. According to some hair experts, these harsh detergents can dry out the scalp, irritate sensitive skin (when not properly rinsed out) and create frizz.
"Sulfates don't add nutrients to the strands. [Overusing them] can strip hair follicles of essential oils which can cause your color to fade, dryness, untamable frizz and damage to the scalp," says Justin Anderson, creative director at dpHUE and celebrity colorist at Chris McMillan salon. "It's like when you overwash your favorite T-shirt and it starts to fade. Shampoo can [act] like detergent and make your color fade over time, as well.''
The Case for Alternative Hair Cleansers
So should you ditch your shampoo altogether and join the "no poo" movement? Hair expert and co-founder of The DevaCurl Academy Shari Harbinger says not necessarily. Just because you've decided to stop using commercial shampoo doesn't mean you can't cleanse your hair and scalp as often as necessary. "Shampooing can mean different things to different people, depending on their product of choice," she explains. "At DevaCurl, 'shampoo' does not exist in our brand. We removed the 'poo,' or the harsh dehydrating detergents from our products and refer to our sulfate-free, botanically infused products as 'cleansers' and NOT 'shampoo.'"
Lucky for us, there's now a wealth of hair-washing options and shampoo alternatives to choose from. Here's how to determine the right one for your hair needs:
No Poo (or no shampoo): a shampoo alternative or sulfate-free shampoo product

What it does: gently cleanses hair without causing frizz, dryness or stripping hair color
Who's it for: curly, color-treated, dry, frizzy or damaged hair types

Low Poo: a mild lather cleanser or washing less frequently

What it does: gently cleanses hair without causing frizz
Who's it for: all hair types, especially curly, wavy, dry, coarse or damaged hair

Co-Washing (or conditioner washing): using a non-lathering conditioner to cleanse hair

What it does: gently cleanses the hair, detangles and adds moisture
Who's it for: all hair types, especially curly, thick, dry, damaged, color-treated or coarse hair

Dry Shampoo: a waterless, starch-based shampoo in an aerosol or powder formula

What it does: absorbs oil and residue
Who's it for: oily, color-treated or curly-hair types or those pressed for time, frequent gym-goers

Water-Only Washing: a water-only–based cleansing method

What it does: breaks up dirt and oil, moisturizes and protects the hair
Who's it for: all hair types, best for those who are styling product–free, since this method may not remove silicones or heavy waxes
How to Make the Switch to No Poo 
Those with oily hair may find that making the switch to no poo will initially give them greasier-looking locks. There is an adjustment period, but over time, you should see favorable results. To ease into the no poo method, try using an apple cider vinegar rinse. "[Our Vinegar Hair Rinse] will gently cleanse, breaking up the molecular structure of buildup without stripping natural oils. This will train your scalp over time to produce less oil," explains Justin.
Ready to take the no poo plunge? Or already a fan and need more product recommendations? Below, we've got you covered:
Buy now

with Dermstore

Relieve your dry, itchy scalp with Briogeo's Scalp Revival™ Charcoal + Tea Tree Scalp Treatment. This soothing formula balances hydration and provides relief to an itchy, irritated, flaky scalp. Binchotan charcoal draws out buildup, impurities and excess oil that may clog scalp and hair follicles while peppermint, spearmint, and tea tree oils reduce scalp itchiness, irritation, and inflammation.Key Ingredients: * Biotin: supports healthy hair growth * Witch Hazel: controls oil production to prevent an oily scalp * Binchotan Charcoal: detoxifies the scalp and draws out impurities * Peppermint,

Buy now with free delivery