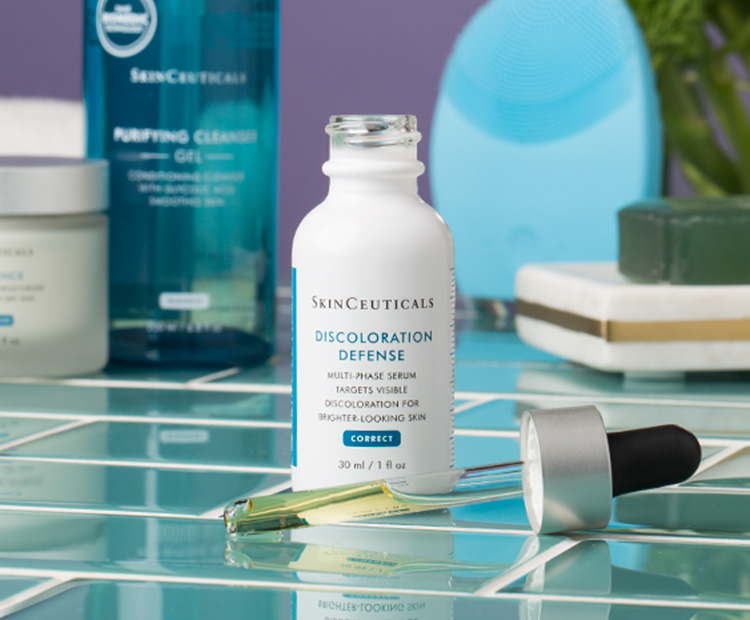 Despite all the major advances in skin care technology in the past five years, skin discoloration, also known as hyperpigmentation or dark spots on skin, remains a poorly understood condition, which makes its treatment even more challenging.
Hyperpigmentation occurs when the skin produces too much melanin (the pigment that gives skin its color) in certain areas, resulting in dark patches and uneven skin tone. It comes in many forms—melasma is one—and can be triggered by a number of factors, such as UV exposure, hormones, prescription drugs and some professional treatments.
But while most dark-spot treatments focus on exfoliation and lightening the upper layers of skin, the newly launched SkinCeuticals Discoloration Defense targets hyperpigmentation triggers—also known as inflammatory mediators—before they could even impact your skin's melanin production.
SkinCeuticals explains: "In order for a topical treatment to successfully address a wide range of pigmentary conditions, it is crucial the formulation contains ingredients that target multiple biological pathways associated with the development of discoloration."
How SkinCeuticals Discoloration Defense Works
Featuring tried-and-tested depigmenting ingredients niacinamide, kojic acid and hydroxyethylpiperazine ethane sulfonic acid (HEPES), SkinCeuticals Discoloration Defense tackles hyperpigmentation from all angles: inhibiting pigment-producing enzymes (tyrosinase), disrupting melanin transfer and exfoliation.
But here's another ingredient most brightening treatments don't have: tranexamic acid or TXA, a well-known plasmin inhibitor recommended by the World Health Organization to reduce or prevent excessive blood loss from major trauma, postpartum bleeding and surgery. New studies show that TXA also has a curative effect towards melasma and ultraviolet-induced post-inflammation hyperpigmentation. By targeting and deactivating inflammatory mediators—the first step of the hyperpigmentation pathway—tranexamic acid can help prevent and correct hyperpigmentation.
Clinical Results
To evaluate the tolerance and efficacy of SkinCeuticals Discoloration Defense, a 12-week, single-center, clinical study was conducted on 50 subjects. Results showed statistically significant improvement in melasma, post-inflammatory hyperpigmentation and other forms of discoloration, skin texture and skin-tone evenness in as early as two weeks. There were also no adverse effects reported during the study.
Ready to defend your skin against dark spots? Here's how to incorporate this serum into your current SkinCeuticals regimen.
Complete Your Regimen
Buy now

with Dermstore

In a rush before heading off to a rooftop happy hour or don't have time to grab your facial cleanser? Dr. Laughlin notes that even a quick splash of cool water, followed by patting your face dry with a towel (or even paper towels, if that's all you have nearby) can stop your pores from getting clogged. No bathroom nearby and your skin is feeling overly sticky? Dr. Laughlin says to add a face mist or a thermal spray water to your beach bag to come to your rescue when you're in a pinch.

Buy now with free delivery