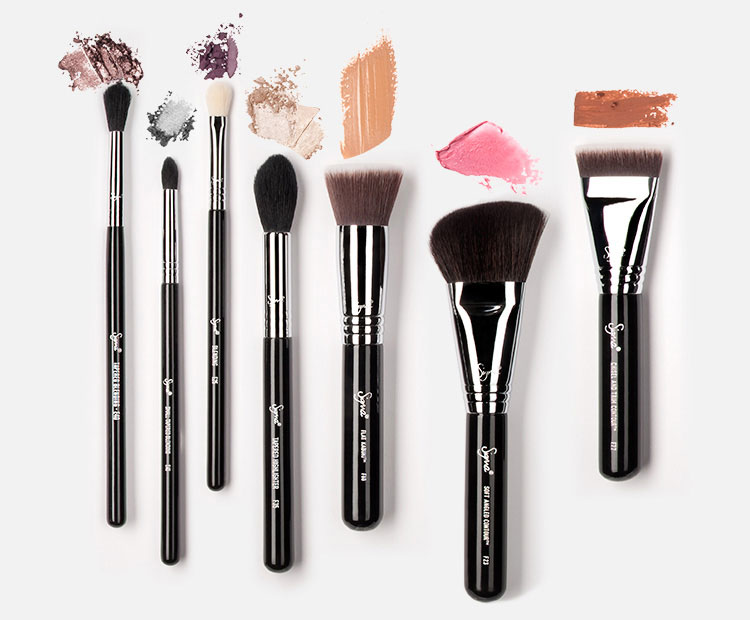 If you're mystified and overwhelmed by all the makeup brushes available on the market, don't worry, you're not alone. Here, we sat down with Sigma Trainer Kayla Casciano to get an insider's opinion on the tools we use to apply our makeup—plus, the essential Sigma brushes no girl should be without.
Dermstore: What makes Sigma Brushes special?
Kayla: Sigma strives to create new brushes (and products of all kinds) that solve beauty problems everyday users are experiencing, and the market isn't offering solutions for. The perfect example of this is our 3DHD® Kabuki Foundation Brush, it has unique angles and edges that fit the creases of the face for easier application, and achieves amazing multifunctionality for contouring, highlighting, concealing and more.
Even the most basic blending brush is special when Sigma does it. Every brush is handmade of lightweight, sustainably-sourced wood handles and exclusive long-lasting, high-performance synthetic fibers. Even the metal ferrule is unique, the patented 3-ring design is stronger than competitors and the SigmaAlloy™ material is durable, corrosion-resistant and antimicrobial. All this is why they believe in their brushes, each one is backed by a 2-year warranty.
Dermstore: What's the difference between real and synthetic makeup brushes? Which one's better?
Kayla: It used to be that animal hair was preferred because it is porous and holds onto product better than traditional synthetics could. The downside to "real brushes" is that those fibers are hair and will split and break overtime, making them much more temporary than synthetics. Per usual, Sigma saw a problem and got to work on it.
Sigma's cult-favorite brushes have such a following because of the incredible, exclusive synthetic fibers – Sigmax® and SigmaTech®. Using unique engineering, the tip of these fibers is tapered like animal hair to pick up, hold and apply product better than animal hair. Problem solved! As a bonus, these synthetic brushes are cruelty-free, so stock up without any guilt.
Dermstore: What's the typical life span of makeup brushes? How often should we change them?
Kayla: With proper care, Sigma brushes will last well beyond their 2-year warranty and every beauty can build their collection as skills and trends develop. Just remember, cleaning and storing your makeup brushes properly is important in protecting all the money you spend on your makeup tools.
Ready to give Sigma brushes a shot? Here are seven of Kayla's favorite makeup brushes and why she loves them.
Buy now

with Dermstore

Application Area: Eyes

What It Does: This soft, fluffy brush is also good for applying color and softening harsh lines, as well as applying a transition color to the crease. You can also use this to apply highlighting colors onto the brow bone.

What Else You Need to Know: You can also use this brush to dust away powder fallout without smearing the rest of your makeup.

What Kayla Thinks: "This brush is an absolute staple for creating a well-blended smoky-eye look."

Buy now with free delivery