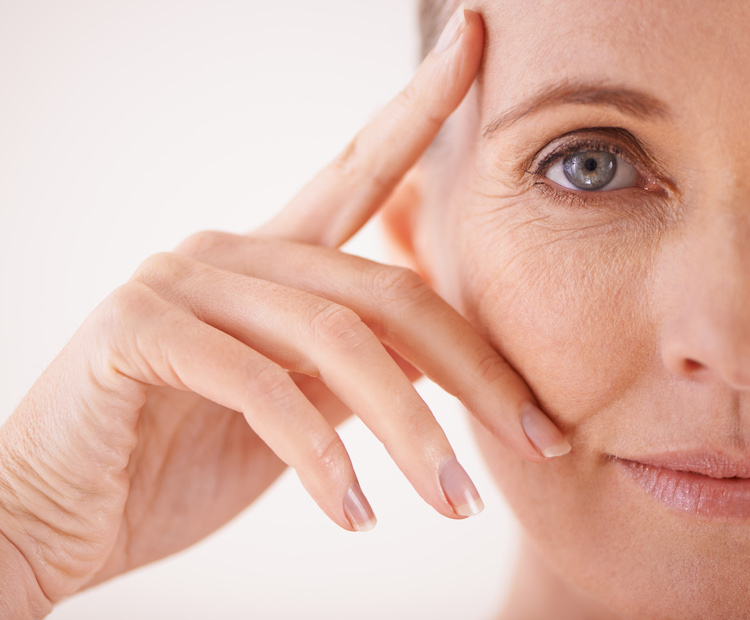 Baggy eyes aren't just from a case of the Mondays. If you struggle with under-eye hollows, you want to consider under-eye fillers to combat dark circles, saggy skin and a tired look.
What are under-eye hollows?
Under-eye hollows are characterized by dark circles, deep indentions and a tired appearance around the under-eye area. Doctors call this skin abnormality a tear trough. Because the skin around your eyes is thinner and paler and lacking proper fat restores, your eyes appear more tired and aged.
How do I get rid of tired eyes?
"Under-eye fillers are a very common solution," said Dr. Michele Farber of Schweiger Dermatology Group. "Anyone with dark circles, hollowing or a chronically tired look will benefit from careful plumping with under-eye fillers."
What are under-eye fillers?
Under-eye fillers are injectable treatments of hyaluronic acid, stimulating the appearance of thicker fat pads under the skin. The most common brand names are Restylane and Juvederm. The procedure can last about 30 minutes and cost anywhere from $800–$1,000 per syringe and last up to nine months.
"People typically need one syringe under the eyes, but depending on anatomy and the degree of hollowing, people may need two syringes," said Dr. Farber.
Why get under-eye fillers?
"Fillers work as a way to replace lost volume to make areas of the face, including the under eyes, look more youthful and help get rid of those dark circles," said Dr. Farber. "They are helpful for anyone with darker circles or loss of fat in the tear troughs/under-eye area to help produce a more naturally rested appearance."
What are eye fillers made of?
"Fillers are made of hyaluronic acid," said Dr. Farber. "This is normally found in the skin's dermis, and with normal aging the skin loses some of this good stuff, causing hollowing in areas where it's not desired. A benefit of hyaluronic acid in filler is it helps pull water for additional plumping power, so it is helpful for creating a natural look and improving the longevity of your filler."
Are eye fillers safe?
"Yes, eye fillers are safe as long as they are done in the hands of an experienced professional," said Dr. Farber. "Check if they are board-certified in the appropriate specialty and their level of experience with cosmetics. It's important that your provider is qualified and experienced in injecting the area. This means that your injector understands the anatomy well, risks of the procedure and has been appropriately trained in how to give a natural result. You should see a dermatologist or plastic surgeon with experience in cosmetics for this procedure."
How long do eye fillers last?
"Fillers used under the eyes typically last six to nine months, although certain fillers last longer. With subsequent injections fillers tend to show longer durations."
Are there over-the-counter solutions to eye fillers?
"While certain topical products will help temporarily smooth or plump the appearance of the under eyes, this will only last for a few hours while the product is applied," said Farber. "An injection with filler will be better for a longer-term fix for under-eye volume loss."
Hyaluronic acid is the key ingredient for banishing dark circles. It's naturally occurring in the body's tissue and cartilage, so you aren't injecting your face with damaging or long-lasting ingredients. If the needle sounds too scary for you, below are OTC products to boost your skin's hyaluronic-acid content and help you appear youthful, rested and ready for the day.
This OTC solution contains the same essential ingredient as injectable fillers—hyaluronic acid, which works to replenish and retains moisture. Hydration is key to a youthful appearance, Dr. Farber said. Encapsulated amino acids also help plump skin and diminish the appearance of wrinkles.

Buy now with free delivery

Buy now

with Dermstore

Fillerina features the same ingredient as your doctor's office fillers like Restylane and Juvederm, which is hyaluronic acid (HA). Fillerina can help you maintain the results of in-office fillers and make them last longer, without ponying up 600 dollars. It's a needle-less applicator, allowing you to use the serum only where you need it. That still allows the serum to penetrate all layers of the skin, showing results in no time.
See what happened when we tried it: Dermstore Tries Fillerina

Buy now with free delivery

Buy now

with Dermstore

Peptides fight the appearance of wrinkles, smooth out expression lines and even skin tone. This product doesn't just address under-eye concerns—ingredients like proteins and plant-based complexes will lift sagging upper eyelids and volumize your lashes.
Reviews Say: "I am so glad I decided to give this a try because it is the best eye product I have ever used. I have been using it morning and evening for a little over a week and the crepey skin under my eyes is gone. I also had a few etched-in lines along with crows feet that have improved dramatically."

Buy now with free delivery

Buy now

with Dermstore

Improve your skin's ability to retain water and stay plump. Professional-grade alginate hyaluronic acid comes in a gel form, refreshing your skin's texture and sealing in moisture.

Buy now with free delivery