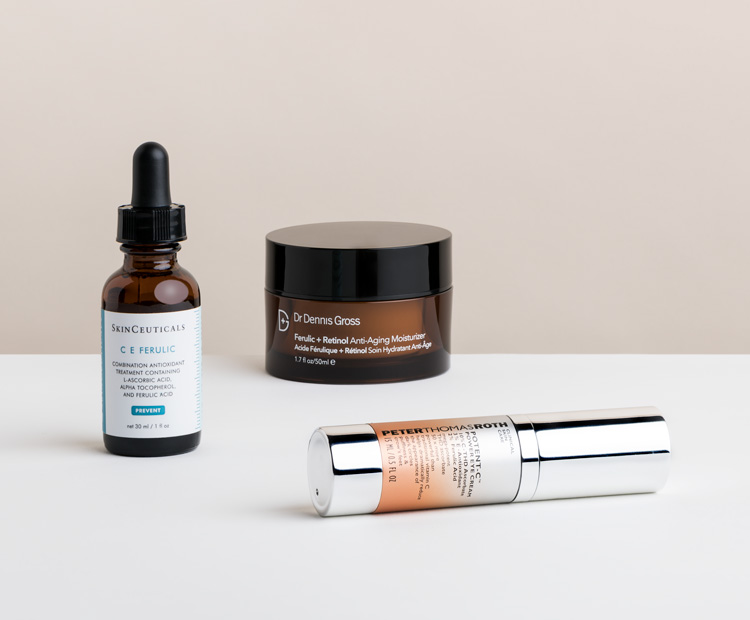 Ferulic acid might not be in your standard skin care vernacular, but antioxidants certainly are. Antioxidants are skin care superheroes; they neutralize free radicals, protecting the skin and reducing signs of aging. Simply put, they're lifesavers, and ferulic acid is one of them. With the help of Nichelle Temple, esthetician and owner of Inderma Studio in NYC, let's explore this little-known skin care ingredient and its many benefits.
What Is Ferulic Acid?
Ferulic acid, as mentioned, is an antioxidant. It's naturally found in the cell wall of plants including bran and certain fruit seeds where it helps to protect and preserve. In the world of skin care, it does just that: protects and preserves. Applied topically, ferulic acid can protect against free radicals and help with skin rejuvenation. Additionally, Temple says, it "improves signs of premature aging, reducing the appearance of fine lines and wrinkles while keeping your skin strong and firm."
Ferulic acid works well in tandem with other antioxidants like vitamins C and E to stabilize and promote their strengthening qualities and further protect against the harmful effects of free radicals. According to the Journal of Investigative Dermatology, "Ferulic acid alone (and vitamins C and E) provides partial protection but vitamins C, E and ferulic acid [altogether] provide virtually complete protection."
Temple says that "because it stabilizes antioxidants such as highly oxidative vitamin C, ferulic acid actually makes other skin care ingredients last longer and work harder to fight free radicals."
How Can Ferulic Acid Work for You?
Now that you know about it, you'll see ferulic acid as an ingredient in many popular skin care products, notably serums and creams. It's often paired with vitamins C and E (we know why now). Temple notes that ferulic acid "is also found alongside vitamin B and niacinamide to keep skin looking smooth." It can also be combined with retinol for skin brightening and evening of your tone. "Ferulic and phloretin (a compound found naturally in apples) shield against exposure to the sun's ultraviolet rays by reducing oxidative stress."
Temple suggests integrating ferulic acid into your morning routine as it "will give your skin antioxidants to battle the environmental factors during the day. When applying after your evening cleansing, the remnants of the topical antioxidants will help kickstart your morning routine."
This ingredient is also known to be safe for most skin types, unless you have sensitive skin, had a negative reaction to anything similar and/or any grain allergies.
Our Fave Skin Care Products With Ferulic Acid
Buy now

with Dermstore

This serum is a powerful combo of ferulic acid and pure vitamins C and E. It works to improve signs of aging and reduce fine lines and wrinkles, brightening and firming the skin.
Reviews say: "I can't be without it! It makes my skin even and lightens my sun spots and acne scars."

Buy now with free delivery