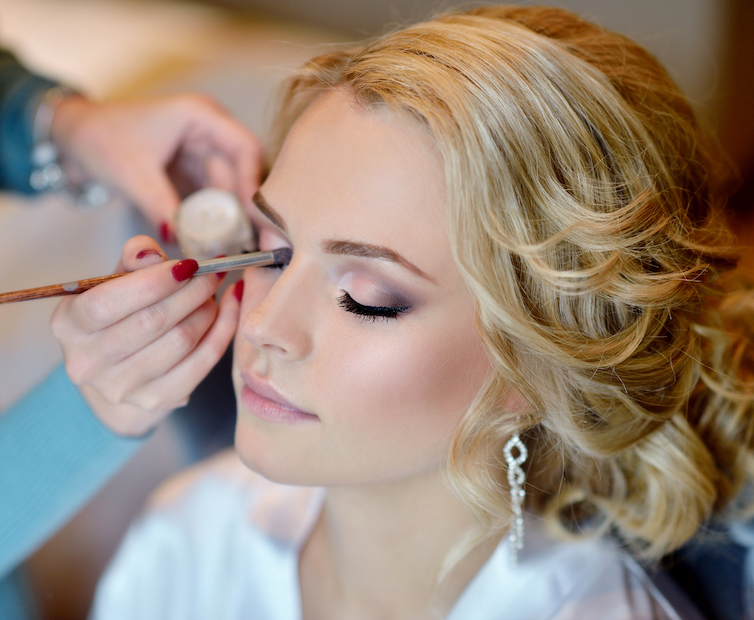 Weddings are arguably the most photographed events most of us will attend in our lifetime. Whether you're getting married or in the wedding party, you're going to have phones, cameras and video cameras pointing at you all day. 
With that in mind, we know you want to be confident in how you look—both on that day and twenty years from now when you're reminiscing. We've got you covered with plenty of tips, tricks and recommendations to look your best. Below, Christine Walsh, an esthetician and makeup artist at Dermstore Spa & Salon in Hermosa Beach, shares with us her best makeup tips for brides.
Timeless Bridal Makeup Tips and Recommendations
Whether you're going to be doing your own makeup or hiring a professional, these tips are essentially universal. Here's how to create a timeless, flattering and photo-ready look.
1. Enhance your natural beauty.
When you're surrounded by loved ones on your special day, you want to look and feel like the best version of yourself—not someone unrecognizable. "Makeup is a tool to enhance one's natural beauty," says Christine, "not a mask to make you look like someone you are not." To put this into practice, ask yourself what your favorite facial feature is—eyes, cheekbones, lips?—and then use makeup to define and enhance that feature. Easy confidence boost!
2. Save the trends and experiments for another day.
We love playing around with new products and colors as much as the next girl, but a wedding is "not the day to try a bold lip or blush on a whim," Christine says. Save the fun new lip color for your honeymoon.?
3. Stay away from heavy, creamy products.
For staying power and the ability to photograph well, Christine advises against heavy creams and foundations. "If you are feeling dry," she says, "try a hydrating serum or a gel-like moisturizer on the day of the wedding." If your skin is more on the combo-to-oily side, she suggests, "a mattifying primer to cut back on the shine that can develop as the day goes on."
4. Opt for waterproof mascara and eyeliner.
Tears, sweat and rain (knock on wood!) are the enemy of a finished makeup look—and these can all be commonplace at wedding ceremonies and receptions. Avoid dealing with the dreaded racoon eyes by choosing long-lasting mascara and eyeliner.
5. Stick to a neutral-colored lip.
Christine recommends choosing a light pink or a peachy nude lip color to keep your look fresh and timeless. She also strongly suggests choosing a lip stain over lipstick or gloss for its superior staying power.
6. Never neglect the eyebrows.
"Even if you don't fill them regularly," says Christine, "the power of a good brow truly is the foundation to your facial feature framing." A little color and grooming will go a long way!
7. Lock in your look with setting spray.
Once your makeup is picture perfect, make sure it stays that way all day (or all night) long with a good setting spray.
8. Keep a touch-up bag nearby.
Christine recommends storing blotting powder/papers and your lip stain within the bag to touch up your look if necessary. Ask one of your trusted bridesmaids to hang onto it for you during the day.
Bonus Tips (If You're Hiring a Makeup Artist)
If you're getting your makeup professionally done, here are a few extra tips to ensure your makeup artist creates a look you'll be more than happy with.
1. Schedule a makeup trial at least three weeks before your wedding.
This will help you try out a couple of different looks, if you're unsure, as well as work out any kinks before the big day. Christine suggests scheduling a trial during the day and taking pictures in natural lighting to get a better idea of the finished look.
2. Be sure to tell your makeup artist about any specific concerns or ideas.
If you have skin concerns (oiliness, dryness, sensitivities), allergies or specific ideas about your look, tell your makeup artist ahead of time to ensure a smooth trial and session on the big day.
3. Ask the makeup artist about their process for the wedding day.
Does the artist work out of a salon, or would they be able to travel to you? How long would the makeup-application process take? This will help you with scheduling your getting-ready time on the day of the wedding.
Check out some of Christine's go-to makeup products for brides below! And if you're planning to DIY your hair too, here are some of our top wedding hairstyle recommendations.