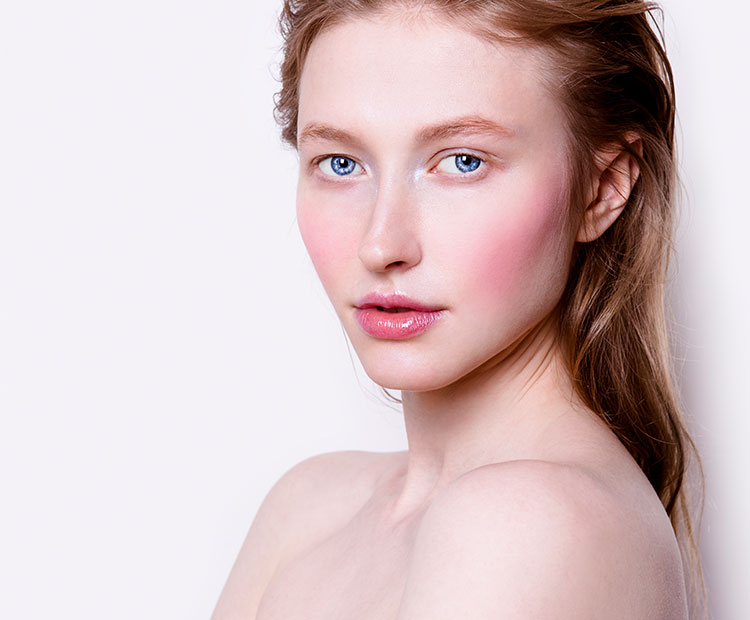 Beauty editors spend a lot of time learning—and echoing skin care tips and pieces of advice—from the best of the best, especially with some of the industry's most influential dermatologists and celebrity estheticians on their speed dial. But just because they have experts at their disposal doesn't mean they're shielded from some of the most common skin conditions, such as rosacea.
Curious to know how beauty editors deal with the dry, red, irritated skin served up by rosacea? We talked to Marie Claire beauty editor, Chloe Metzger, who, not only possesses a breadth of knowledge about various skin conditions and skin care in general, but is also someone who, well, gets it, as someone who struggles with the condition herself. From how she shops for rosacea-friendly skin care products to the best advice she's learned from her dermatologist friends, Chloe shares her skin care tips for living with rosacea, ahead.
1. Don't Try to Fix It Yourself
Even with all the information we can find online, Chloe advises against DIY-ing your rosacea treatment. "I'm a beauty editor, I knew I had rosacea, and I also truly thought I knew how to treat it," says Chloe. "Yet, even with every dermatologist at my disposal for late-night freak-out emails—of which there were many—my skin continued to get worse. Until finally I went to see one in person, Dr. Melissa Levin in NYC, and she prescribed me legit topical medications that actually worked," says Chloe.
Since her rosacea diagnosis, Chloe has had to make some changes to her beauty routine, but not without consulting her dermatologist first. "Currently, the most effective rosacea products proven to treat redness and bumps (like Soolantra, Finacea and Noritate) are only available by prescription, so you really need to see a professional," she adds. "[As for new skin care products], I don't use anything that isn't approved by my dermatologist, which is crazy as a beauty editor who used to slather on a new acid and moisturizer nightly. But it's just not worth destroying my skin barrier solely for the fun of testing a new, cool, trending product."
2. Consider a Laser Treatment
To treat redness associated with rosacea, Chloe swears by laser treatments. "I recently got my first Intense Pulsed Light (IPL) laser treatment, compliments of Dr. Ellen Marmur in NYC, and my redness has decreased by a good 20 percent," she says. "IPL lasers work to reduce redness by essentially breaking up the pigment in your skin so your body can reabsorb it after a few weeks. It takes three or four sessions to see drastic results, and it's definitely not the most wallet-friendly, but it's a wonderful option for anyone really struggling with the redness."
3. When Building Your Skin Care Regimen
When it comes to choosing your skin care products, aside from checking with your dermatologist first, Chloe also suggests looking out for irritating ingredients. "Having rosacea means your skin is inherently ultra-sensitive and reactive, so it can be super temperamental when it comes to acne, inflammation and rashes," she says. She warns against using products with ingredients like witch hazel, menthol, eucalyptus oil, peppermint, fragrances and certain alcohols, especially isopropyl alcohol, denatured alcohol, ethanol and SD alcohol.
Look for products that have "creamy, hydrating and soothing" properties
In addition to ingredients, the formula's texture and hydrating power is extremely important to Chloe. She says, "look for creamy, hydrating products that say 'calming,' 'soothing' and 'inflammation-reducing.'"
Stay away from products with THESE keywords
On the other hand, steer clear of products that have these keywords on their labels: "invigorating," "energizing," "exfoliating," "foaming," "deep cleaning," as these can be irritating to already compromised skin.
Remember that there's no one product that can fix all your symptoms
"You can't fix every bump or red patch or rash with over-the-counter products, and you most definitely can't trust every single product that promises to be a magical fix for redness, or sensitive skin, or rosacea," she adds. "Annoyingly, so many of those seemingly safe products are also filled with junk that can irritate your rosacea, which is why I'm being a broken record about seeing a dermatologist before you try to go at it alone."
4. When Applying Makeup on Rosacea-Prone Skin
When it comes to makeup, "the goal shouldn't be to cover, hide and mask your rosacea," says Chloe. "Because, sad news: It's not going to happen unless you're looking to wear a thick, caked-on layer of concealer," she adds. "Instead, your goal should be to neutralize some of the redness (if you feel the need to, of course)."
As for which products she uses to neutralize redness, she swears by this magic concealer: "I like to mix in a few drops of Dermablend Smooth Indulgence Redness Concealer with my primer to softly even out my skin tone without getting a pasty finish, and then conceal only where totally necessary by mixing a drop of NYX Total Control Drop Foundation—a super-concentrated pigment that's basically 90 percent opaque—with my usual foundation, and then stippling the mixture over just my cheeks."
5. Don't worry, it's not the end of the world.
Aside from the tips above, one other thing she learned about dealing with rosacea is to treat her skin better and not to let the skin condition get the best of her. "It's truly not a big deal, and it's definitely not the end of the world," says Chloe. "At worst, you've got really rosy skin that's annoyingly sensitive and easily irritated. Yes, it sucks, but here's the upside: You can only use certain products when you have rosacea, which takes the anxiety and guesswork out of finding a new skin care regimen," she adds. "If you've ever felt overwhelmed by the sheer number of products in the skin care aisle—and on Instagram—then, hey, rosacea just made all that way easier."