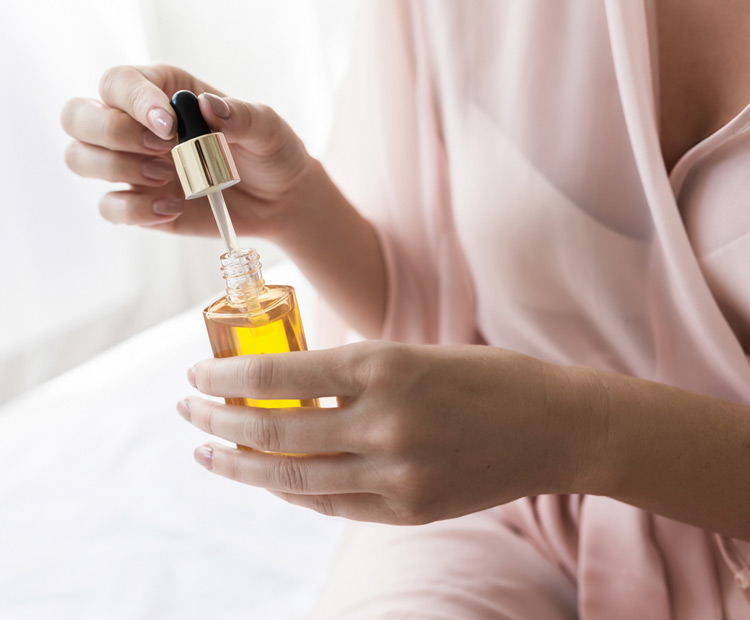 Looking for the best natural skin care ingredients for rosacea? Essential oils might just do the trick. These potent plant elixirs boast an array of skin care benefits, many of which can soothe symptoms of rosacea such as inflammation and redness.
Rosacea usually presents itself as "redness and visible blood vessels on the cheeks, nose, forehead and chin with red bumps," says Dr. Debra Jaliman, a board-certified dermatologist in New York City. "It usually affects fair-skinned individuals between the ages of 30 and 50," she adds. Additionally, it's one of those skin conditions that "can't be cured but can be treated" with proper care—aka, a targeted skin care routine and a touch of plant magic.
To up the ante on your rosacea skin care regimen, keep your eyes peeled for essential oils that help reduce puffiness, irritation and redness. Luckily, they aren't hard to come by and are already featured in many skin care formulas.
Here's a look at the best essential oils for rosacea and how to use them to improve the look of your skin.
How to Use Essential Oils for Rosacea
Although they have existed for hundreds of years, essential oils have only recently made it into the mainstream like never before. Thanks to natural skin care and a particular uptick in diffuser sales, these botanicals have made their way into our everyday arsenal. But, you don't have to go full-fledged DIY to reap the benefits of essential oils for rosacea. In fact, many skin care formulas already contain essential oils, making it easier to incorporate them into your beauty routine.
In addition to purchasing products made with the best essential oils for rosacea, you can incorporate the actual oils into your regimen, too. Dr. Jaliman recommends adding a few drops to your favorite moisturizer to "thoroughly penetrate the skin." Essential oils can also be added to a homemade face mask, or to a facial oil to double up on benefits.
Precautions to Consider
Just because an essential oil is natural doesn't mean it won't irritate your skin. "Some essential oils can be a bit stronger than others," notes Dr. Jaliman. "You should always check which essential oil you should dilute," she explains. You can dilute essential oils by mixing a few drops into a carrier oil such as almond, avocado, hemp, or coconut oil. "You can use many essential oils in conjunction with creams and moisturizers, [too]," adds Dr. Jaliman. As with any new product, test a small patch on your skin (preferably on the inside of your wrist to avoid irritation on your complexion) before slathering on a homemade concoction or store-bought product.
If you experience rosacea, Dr. Jaliman recommends booking an appointment with your dermatologist before diving into the world of essential oils to treat this condition. A professional can help you better determine the severity and come up with a game plan to alleviate symptoms.
The Best Essential Oils for Rosacea
If you want to incorporate essential oils into your rosacea-specific skin care regimen, consider the following botanicals found in your favorite skin care products.
Buy now

with Dermstore

Tea tree is one of the more popular essential oils in skin care and is often a go-to for those with acne-prone skin. However, if you experience rosacea, the natural elixir might help ease some common symptoms. "Tea tree oil is great because it has anti-inflammatory and antimicrobial properties. It [also] helps soothe redness and inflammation," notes Dr. Jaliman.

Buy now with free delivery