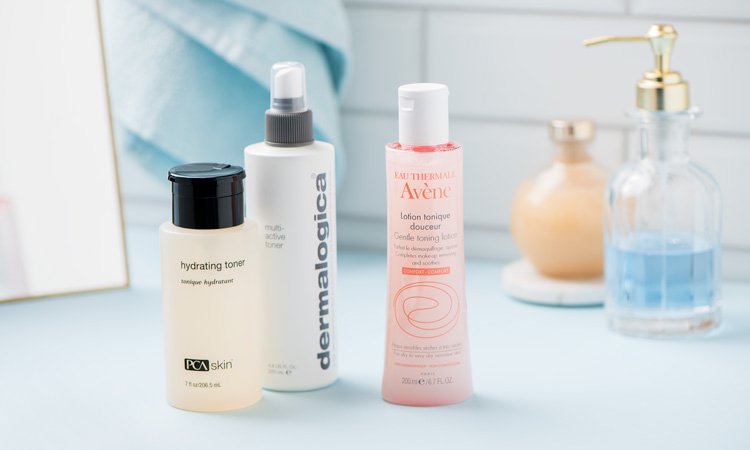 If you live with dry skin, you might have avoided toners for fear of further drying out, irritating or causing your skin to flake—after all, toners are just made to help balance out oily skin, right? Well, that's not necessarily the case—there are now toners for all skin types, including dry skin. And the right type of toner can actually help boost your skin's hydration.
What Is a Toner, and What Are Its Benefits?
Back in the day, alcohol-based toners were originally created to remove excess oil and tighten up the skin, explains Dr. Anna Guanche, a board-certified dermatologist in Calabasas, Calif. "A toner is a terminology from a long time ago, sort of like tonic. It was named because the active ingredients used on the skin would give it a smooth, tight appearance, as if it was toned, like muscles," she says. "In the past, toner was also used to tighten and smooth the surface appearance with astringents, so it was mostly recommended for oily and acne-prone skin," adds Dr. Guanche.
Even today, most people with dry skin still tend to associate toners with harsh astringents, so they don't use them, Dr. Guanche says. But toners have evolved over time. Today, she says a more appropriate definition of a toner is anything used to clear impurities like dirt and pollution from the skin. (Yep, these can still linger even after you've used your cleanser.) "The toners of today have soothing agents to reduce redness and irritation and to hydrate and soothe dry skin," she says. "Hydrating and soothing toners still help to cleanse the skin further, but without removing the skin's natural oils. In some cases, they can even help to alleviate dryness and flaking," she notes.
What to Look for in a Toner
Buyer, beware. While the definition of a toner has evolved (micellar and rose-water spray are two examples), some toners do still contain alcohol in high or low concentrations. You'll want to avoid those high concentrations if you have dry skin, explains Dr. Erum Ilyas, a board-certified dermatologist at Montgomery Dermatology in Pennsylvania. "Most toners still have a percentage of alcohol in them and people with dry or sensitive skin will feel a burn or sting when applied," she explains. Dr. Ilyas says dry skin sufferers will want to look for a post-cleanse, leave-on product like micellar water, or chose a hydrating toner infused with milder ingredients like rose water or chamomile. "The new-generation toners may actually help people with dry or sensitive skin, depending on the ingredients," she says. "And applying a moisturizer on top will only seal in some of these benefits," adds Ilyas.
What Are the Best Hydrating Toners for Dry Skin?
Don't rule out using a toner just because you have dry skin. For dry skin, Dr. Ilyas recommends toners that contain soothing and hydrating ingredients like hyaluronic acid, glycerin, vitamin E, chamomile and antioxidants like green tea. Soothing ingredients like aloe vera, fruit extracts and essential oils will offer the hydration your skin craves. Some ingredients to avoid include salicylic acid and, of course, high concentrations of alcohol, all of which can be further irritating and drying.
As for using a toner for daily use, don't forgo the cleanser first. "Toners are best used post-cleanse," Ilyas says. "You'll see the best results if you use a toner after each cleanse in the morning and at night. Essentially, the toner will help replace some hydration that may have been stripped away from cleansing, if you're using a toner with a hydrating formula," she explains.
Here's a look at some of the best toners for dry skin and what they can do for you.
Buy now

with Dermstore

Need a bit more of that freshly cleansed feeling even after you wash your face? This organic facial mist provides that plus more, since it is also hydrating and soothing for dry skin. And if you're wondering exactly what stone crop is, imagine an environmentally friendly plant easily grown on green roofs that can moisturize, reduce hyperpigmentation and provide anti-aging benefits to your skin.

Buy now with free delivery