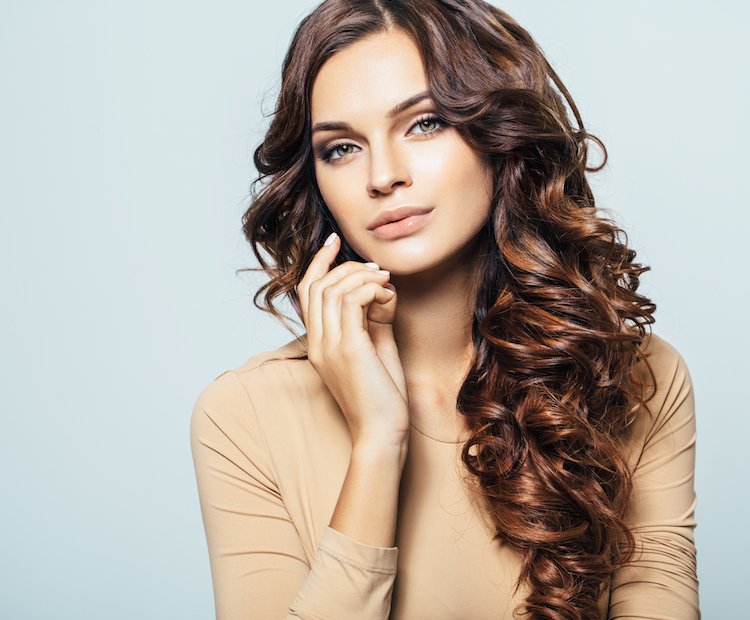 In recent months, soft, plump, healthy lips have become a highly sought-after facial feature. In fact, in a study coordinated by Allergan, "21% of women who received dermal filler in 2016 did so in their lips."1 Dozens of makeup and skin care brands offer lip plumpers and lip enhancers designed to soften and volumize your pout with just a swipe. There's also been an increase in the popularity of lip injections and augmentations in recent years.
Read on for everything we've learned about how lip plumpers work, tips for getting quick one-off results versus long-term steps you can take, plus some interesting stats from skin care brand SkinMedica, who has developed a new product based on their own studies.
First, we had to know: Where did this trend toward fuller lips come from?
While certain social media queens can take some of the credit, the desire for full lips is rooted in psychology. Studies like "Strategies of Human Mating" reveal that humans find females to be most physically attractive when their appearance signifies health, fertility and reproductive value. Essentially, women who look healthy and youthful—with "full lips, smooth skin and lustrous hair"—are often seen as the most appealing.
Of course, beauty is subjective; not everyone is attracted to full lips, and not everyone wants them. But if full lips will give you the look and confidence you want, here are some of the different ways to get there (arranged from quick fixes to longer-lasting results).
1. Quickest way to get fuller lips? Fake it with makeup (plus a few other tricks).
If you just want to plump your lips for a day or night, you can instantly create a fuller, more defined look with a makeup trick or two. Here are some of the techniques beauty bloggers swear by:
Dermstore Recommends:

Laura Geller New York Pout Perfection Waterproof Lip Liner

Vitamin-rich lip pencil nourishes as it lets you enhance and define your lips

LORAC Cosmetics PRO Liquid Lipstick

Lightweight, matte finish designed to last all day or night

Jouer Cosmetics Long-Wear Lip Topper

Adds the perfect amount of shimmer and shine where you need it
2. Swipe on a plumping gloss to make thin lips look fuller for a day.
If you want to make your lips look fuller without the wait, try using a lip plumper that stimulates blood flow to your lips to temporarily increase their fullness. (These are the ones that tingle a bit.) Some essential oils have circulation-stimulating properties, creating a temporary plumping effect when used on the lips. Cinnamon, for example, is said to be effective at increasing blood circulation—according to a study on cinnamon's medicinal uses on the National Institutes of Health (NIH) site. Ginger has similar properties. Another study published on the NIH site suggests that ginger triggers a warming sensation to improve blood flow.
Dermstore Recommends:

Eminence Organic Skin Care Lip Plumper

Cinnamon, caffeine and vitamin E add shine and volume to your pout

A cult favorite, Lip Venom plumps with a blend of essential oils like cinnamon and ginger 
3. For a long-lasting plump, your lips' new best friend is hyaluronic acid.
While some people are just born with thinner lips, others may lose some of their fullness over time. SkinMedica, who recently released a new two-step treatment for fuller, healthier lips—the HA5 Smooth & Plump Lip System—explains how this happens: "Similar to the skin on your face, lips also lose the capacity to produce collagen, elastin and hyaluronic acid over time." Collagen, elastin and hyaluronic acid all make up your dermis (the layer of skin that contains blood vessels, nerve endings and pores). These components are responsible for giving your skin its firmness, fullness and elasticity. As you stop producing as much of these (which can happen as early as age 16), your lips can become thinner and less defined, while losing some of their color.
Your lips are usually affected before the rest of your face, SkinMedica adds, because, "unlike the face, lips do not contain oil glands to help combat the visible signs of aging, making fine lines more apparent and oftentimes appearing dry and cracked when dehydrated." Because of this, if you want to really make a lasting change in your lips, you need to focus on hydrating and healing above all.
If you're not already familiar with the wonder ingredient known as hyaluronic acid (HA), it's time to get acquainted—as you're going to be seeing it quite a bit in skin care and beauty products.
HA is a type of sugar found in your connective tissues, joints, skin and just about every other part of your body. It helps keep your skin supple and firm, as it can hold up to 1,000 times its weight in water and has the ability to draw water to the surface of your skin where it may be lacking. Because it's already found in every part of your body, it's unlikely to cause an allergic reaction and is generally safe to use. This makes it an ideal compound—not just for plumping, but for giving your lips a more youthful glow.
Hyaluronic acid fillers are taking center stage.
The 2016 National Plastic Surgery Statistics report shows a steady increase in popularity in HA injections (commonly known as Juvéderm or Restylane) since 2000. In 2016, HA took the number-two spot as one of the most popular minimally invasive procedures. While collagen fillers were once the best option for fuller lips, HA is now the star of the show—as it doesn't just fill; it actually heals. Plus, while collagen fillers last for 3–4 months, hyaluronic acid fillers can last for up to a year, according to the FDA.
Topical hyaluronic acid plumps without the pain.
Topical treatments powered by hyaluronic acid can be a great way to complement fillers and injections for many people. And for many others who'd rather forego the needles altogether, topical plumpers offer just the right amount of fullness.
Dermstore Recommends:

SkinMedica HA5 Smooth & Plump Lip System

This two-part treatment was seen in studies to increase lip hydration by 58% after four weeks while supporting natural HA

Fusion Beauty LipFusion XL Micro-Injected Collagen Lip Plumper

Combines collagen and HA to firm, hydrate and fill lips
1. Data on File Allergan; Facial Injectable Dosing Records