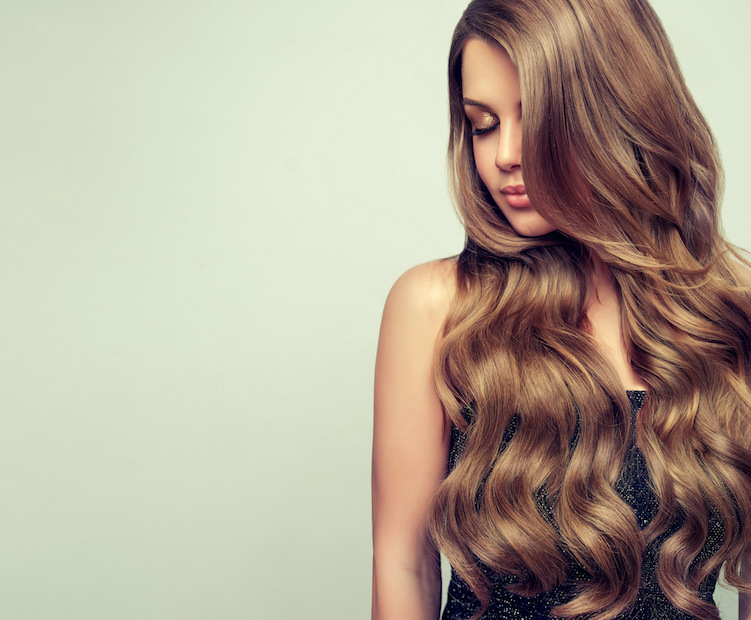 Shiny hair represents health and vitality and even exudes a bit of glamour. But, if you struggle with oily skin and hair, amping up your shine most likely sounds terrifying. What we learned from Monique Murphy, owner of Electric Beauty Lab, is that shiny and greasy are different, and that shiny isn't only achieved after a fabulous salon style. In her 12 years of experience, Murphy has seen a lot of hair. From that experience, she's teased out six tips to get our hair in healthier and shinier shape.
1. Don't wash your hair every day. 
While it may seem counterintuitive to the "But Not Greasy" part of our title, you should really take a day off (or two!) from your wash-rinse-repeat cycle. Hairdressers say this often, but Murphy helps break it down for us. She describes the negative cycle: "Your hair root has sebaceous glands that lubricate the skin and hair. When you wash your hair, you're stripping away the oils, which tells your glands to produce more."
She goes on, "When you leave your hair dirty for a day or so, your scalp doesn't need to produce as much oil to keep itself healthy." Keep in mind that it might take a few weeks for your scalp to get the hint, so grab a quality dry shampoo and keep your eyes on the prize.
We recommend: Klorane Dry Shampoo with Oat Milk
This dry shampoo uses oat milk to step things up a notch, softening hair while absorbing grease. Prevent that gritty feeling and apply only to your roots, allowing the hair shaft to soak in your natural oils throughout the day.
2. Get your protein.
For long-term shine, look no further than your plate. Murphy explains, "It takes 20 amino acids to make a protein, and protein is key to healthy hair. Your body can only produce so many amino acids, so you must turn to a well-balanced diet to help supplement." The body uses protein and iron to grow hair. If you have been struggling with breakage or long growing cycles, consult a nutritionist about how to effectively get more protein in your diet. Layering on products should only be a temporary fix.
Related: What Are Amino Acids?
3. Seal the cuticle.
The hair's outermost layer is called the cuticle. The cuticle becomes raised in attempt to absorb moisture from the air. Dry, porous hair has a raised cuticle, which causes it to lack shine and look frizzy. An easy way to seal the cuticle is "to rinse with cold water, and blow dry properly," says Murphy. Certain hair dryers treat your cuticle more gently, so invest in either a ceramic or tourmaline hair dryer to limit cuticle damage for a smoother look.
We recommend: Harry Josh Pro Tools Ultra Light Pro Dryer
This hair dryer uses ionic heat to minimize drying time, as well as ceramic and tourmaline technology for a shinier finish.
4. Protect your hair from the elements.
Your hair is made of the same material as your skin (keratin), so it similarly needs protection. In the same way you use moisturizer and sunscreen on your face, your hair needs love, too.
Healthy hair is better able to withstand natural and artificial elements, but products go a long way to assist. Murphy describes two natural offenders: "Humidity is probably the hair's least favorite and makes hair lack shine, and the sun is naturally damaging, so we always need to add moisture to our hair somehow, otherwise our hair naturally drinks up any moisture outside causing frizz."
For her clients, Murphy will deep condition, then apply heat styling products, typically an argan oil followed by a cream. The products give the hair the moisture it needs so it doesn't latch onto the moisture in the air.
We recommend: Serge Normant Meta Morphosis Hair Repair Treatment
Use this deep conditioner in the shower for a more frequent regimen, or get deeper as a leave-in overnight treatment.
We recommend: PURECODE Volume + Heat Protector Serum with Argan Oil
Combine both oil and serum into one step with this product, which adds moisture without weighing hair down.
5. Choose quality over quantity of product.
High-quality products don't need to be slathered on to see their effects. Murphy urges, "Once you find the right products, less is more. Just a small dime size can usually do the trick." Adding too much of a shine product, like an argan oil, leads to that greasy look we're hoping to avoid, and too much of a cream or conditioner leaves a sticky feeling. Accidentally added just a little too much? Reach for your dry shampoo to absorb some of the excess.
6. Get a hair consultation.
Murphy shared a secret with us: most salons will do a consultation for free! It's important to have clarity on whether you are fine, thin, coarse, curly or a combination in order to choose the right products for shine.
Don't have time to visit the salon? Try this home test, courtesy of Murphy:
Density: Density is the amount of hairs per square inch on your head. The average person has about 2,200 strands of hair per square inch. Instead of counting the hairs on your hand, look at your hair from different angles. Whether or not your scalp is easily visible will tell you if you have thick, average or thin hair.
Elasticity: To test your elasticity, take one strand of your hair from your brush after you've washed and combed it out. Grab each end and slowly pull, does it feel like its stretching or did it snap under pressure? A healthy strand of hair can stretch up to 50 percent of its length when wet.
Texture: Hair texture is often confused with density, but can be fine, medium or coarse—referring to the diameter of the hair. Take a strand of your hair still attached to your scalp and run your thumb and pointer finger up the strand. You may feel it's smooth or rigid.