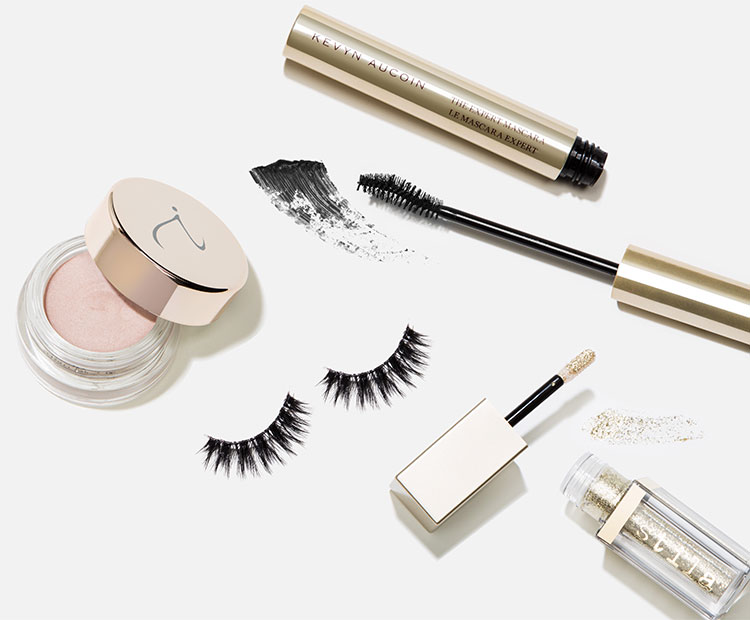 Swipe, line, cover, crease, repeat. You have your makeup routine nailed down to a T, but how do you know the shadow and the cream you're pulling out of your bag is the most flattering? While it's easier to follow the same old steps you've been practicing since you were a teenager, creating the makeup look that accentuates your unique—beautiful!—features is dependent on the shape and the color of your eyes. As makeup artist Keka Heron explains, if you don't take these qualities into consideration, you could make your optics appear muddy, closed or lacking definition. If you're not sure what's the ideal look for your specific set, don't bat an eyelash over it.
Here, secret tips from the pros on how to create a stellar look that shows off your gorgeous hues and frames:
According to Your Eye Color
If you have green eyes…
Do your eyes match nature's favorite color? As the rarest eye color globally, you likely already receive compliments, but to really make them stand out in the crowd, Heron says to trade your go-to black liner for something softer. Charcoal or soft brown liquid or pencil liner will take the emphasis away from the shape of your eyes and bring more attention to the out-of-the-ordinary color you're rocking. When you're selecting your eyeshadow, she suggests trying a wide variety of purple shades, all of which make your eyes pop. For a night out when you'd like to go the extra mile to glam up, Heron recommends a shadow with a red undertone and a smokey silver combination.
Try: Stila Cosmetics Eyes Are The Window Shadow Palette
If you have blue eyes…
When you're shopping, you might naturally gravitate toward royal, light and turquoise blues, all of which highlight the tones and pigments in your eyes. But when you're at the makeup counter, Heron says to consider a warmer selection. Because your eyes draw attention, even without makeup, a deeper eyeshadow hue that reminds you of the colors of Fall will provide the stage for your blue eyes to shine.
"I love a smokey brown and bronze eye with blue eyes," she shares. "A burnt orange shadow with hints of gold are also beautiful—and will make your blue eyes glow." Thanks to the natural blue color you were born with, Heron says you're one of the few eye colors that can pull off a shimmery formula, since it will make your babies sparkle without looking overdone. For an added allure, she says an all-over champagne lid is also a clever trick for bringing more attention.
Try: Smith & Cult Book of Eyes: Eye Quad Palette – Noonsuite
If you have brown eyes…
Even though brown might be the most common eye color, it doesn't make your hue boring or commonplace. Instead, Heron says your shade provides the best playground for experimenting with a wide variety of colors, all of which pair well with the foundation of a brown eye. For a place to begin your ever-changing makeup masterpiece, she suggests hues of blue, green and gold eyeshadow, paired with a dark-blue liner. Don't forget to put a touch of gold near your tear duct for added emphasis. Have a big event and want to bring attention to your face with slightly heavier makeup? She suggests a copper and cobalt blue eyeshadow duo for dramatic effect.
Try: Jouer Cosmetics Springtime In Paris Matte Shimmer Eyeshadow Palette
If you have hazel eyes…
Like Tyra Banks and Emma Watson, your eyes feature surprising speckles of brown and green, that change with the elements around you. As the chameleon of eye colors, Heron explains rich is the theme of your eyeshadow palette. Since you never quite know how much green or brown you'll have when the clock strikes A.M., you're able to dabble more than some other eye colors. Because of this, she says you should investigate the tones of deep brown and eggplant creams or powder, sealed with a rich green liner. Heron notes to be mindful with a heavy-hand on the liner though, as a thick and darker green can be overpowering to the natural (and gorgeous) color variations in your optics.
Try: lilah b. Palette Perfection Eye Quad – b. envied
According to Your Eye Shape
If you have small eyes…
When you have a set that sways slightly smaller, Heron says it's important to use the tricks of makeup to enhance your eyes and give them a rounder appearance. Because heavy hues can add weight to your eyes, closing them in even more, she suggests starting with a very soft shade of brown as your base. This will look natural and extend the space between your lashes and your brow. It's not a worry if you love liner, but it is if you always go for black. The thickness of the shade can draw your two lids together so try a white liner on your bottom. This will draw out the shape to be brighter and wider, Heron says.
Try: Blinc Eyeliner Pencil in White
If you have hooded eyes…
…or not sure if you do? The easiest way to tell is to open your eyes as wide as you can in the mirror and see if you can pinpoint the crease of your eyelid or not. If your crease happens to be hidden underneath the top part of your lid and your brow bone, your eye shape may be described by some makeup artists as "hooded." This isn't a bad quality, but it is one that you might have to work harder at to open your eyes, Heron explains. To begin, she suggests using an eye primer that will keep your eye shadow in place, since hooded-eye shapes may struggle with eye makeup that runs. "Go higher than your natural fold when doing your crease to make it a little bit higher," she explains. Instead of dark colors, go with lighter ones, and if you want to have the going-out-tonight eyeliner look, she suggests a smudge one, so you can color a bit outside of the lines and have it seem intentional.
Try: LORAC Cosmetics Behind the Scenes Eye Shadow Primer
If you have deep set eyes…
When you're rocking this eye shape, your pair of peepers are set further back into your face and more often than not, Heron says feature a larger eye. This striking appearance is a strong palette for exploring with color but also has a major benefit if you wake up feeling lazy and can't be bothered to put effort into getting ready. "These are the only shape where you can wear one color and not look plain and boring," she says. And depending on your eye color (see tips above!), you can get away with swapping that color throughout the week, bringing out different elements and features to your eye shape and color.
Try: BY TERRY Ombre Blackstar Color-Fix Cream Shadow
If you have round eyes…
When you have this shape of eye, you might get the comment that your 'doe-eyed' since your eyes will make up the majority of the upper part of your face, making them appear more pronounced. Celebrities like Katy Perry and Michelle Obama own this look, and Heron says the trick to highlighting the circular shape is with light-colored eyeshadow. She also notes if you want a more oval shape (or a dramatic look for a cocktail party), apply a thick liner to the top lashes only.