Discover youthful-looking skin with Medik8's Crystal Retinal, the one-of-a-kind, groundbreaking serum that reinvented vitamin A skin care. Available in a series of progressive strengths.
Retinaldehyde (retinal for short) is a different vitamin A molecule than traditional retinol. The one vowel change is small, but the difference between retinol and retinal is quite stark. Retinal is considered to be faster-acting than retinol–11 times faster in fact.* Retinol is two conversion steps away from retinoic acid, but retinal requires just one conversion step to retinoic acid. The fewer conversions required, the more benefits delivered to the skin.
Retinal is notoriously difficult to stabilize, making it difficult to find. Medik8's stabilized formula uses delicate crystal-shaped encapsulation system which slowly releases the retinal onto the skin overnight. This ensures the skin is kept comfortable as the retinal gets to work and helps avoid many of the vitamin A side-effects that can come with stronger formulations.
This star ingredient helps to smooth the texture of skin and visibly reduce the appearance of fine lines and wrinkles. Unlike other forms of Vitamin A, retinal contains powerful properties which also allows it to promote a visibly decongested skin appearance.
Real, Visable Results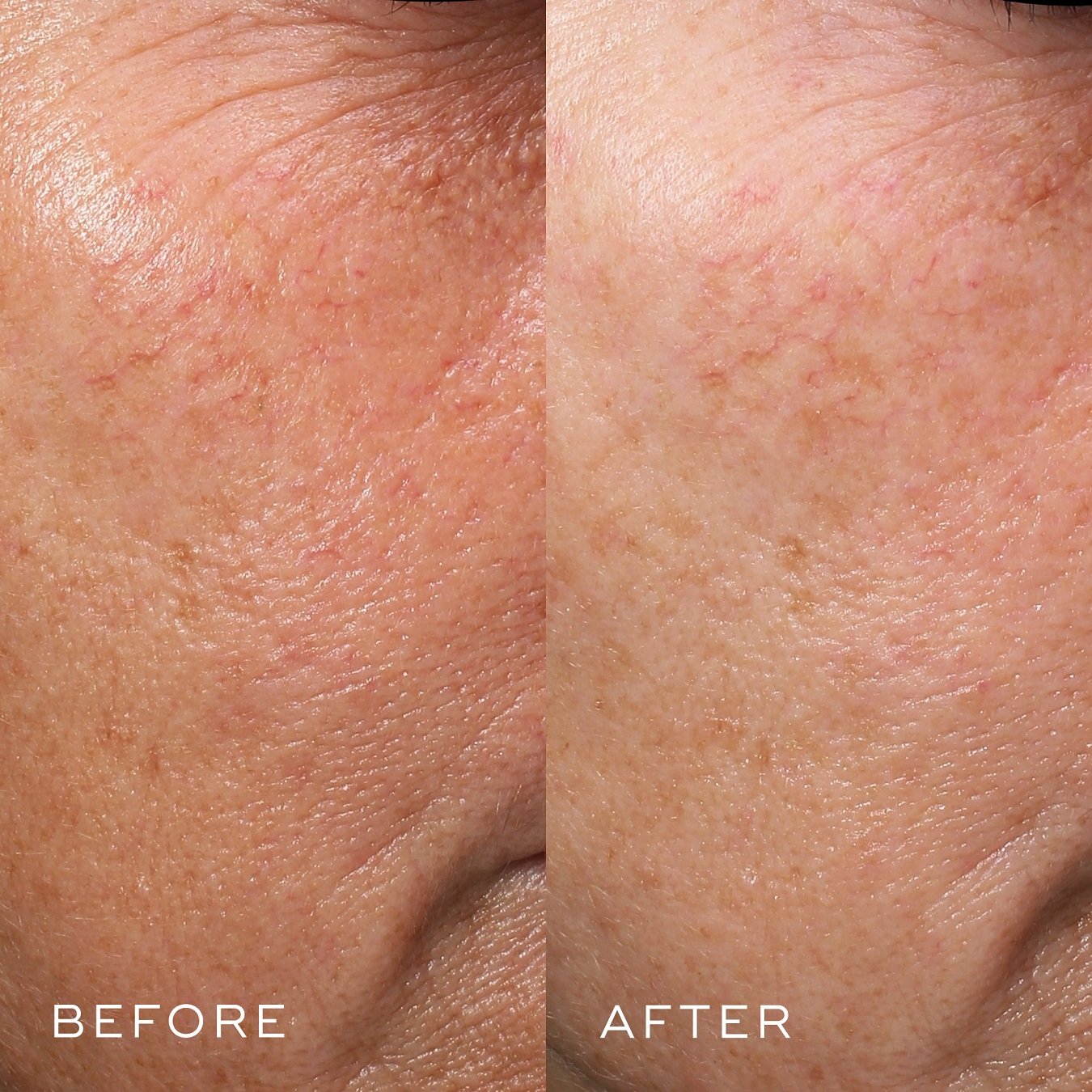 The groundbreaking Crystal Retinal formula works fast to deliver benefits showcased in an independent clinical study. With just one tube:**
– 20% reduction in visible dark spots
– 11% increase in skin firmness
– 100% agree skin appears brighter
– 100% agree skin appears healthier
Always Peak, Never Plateau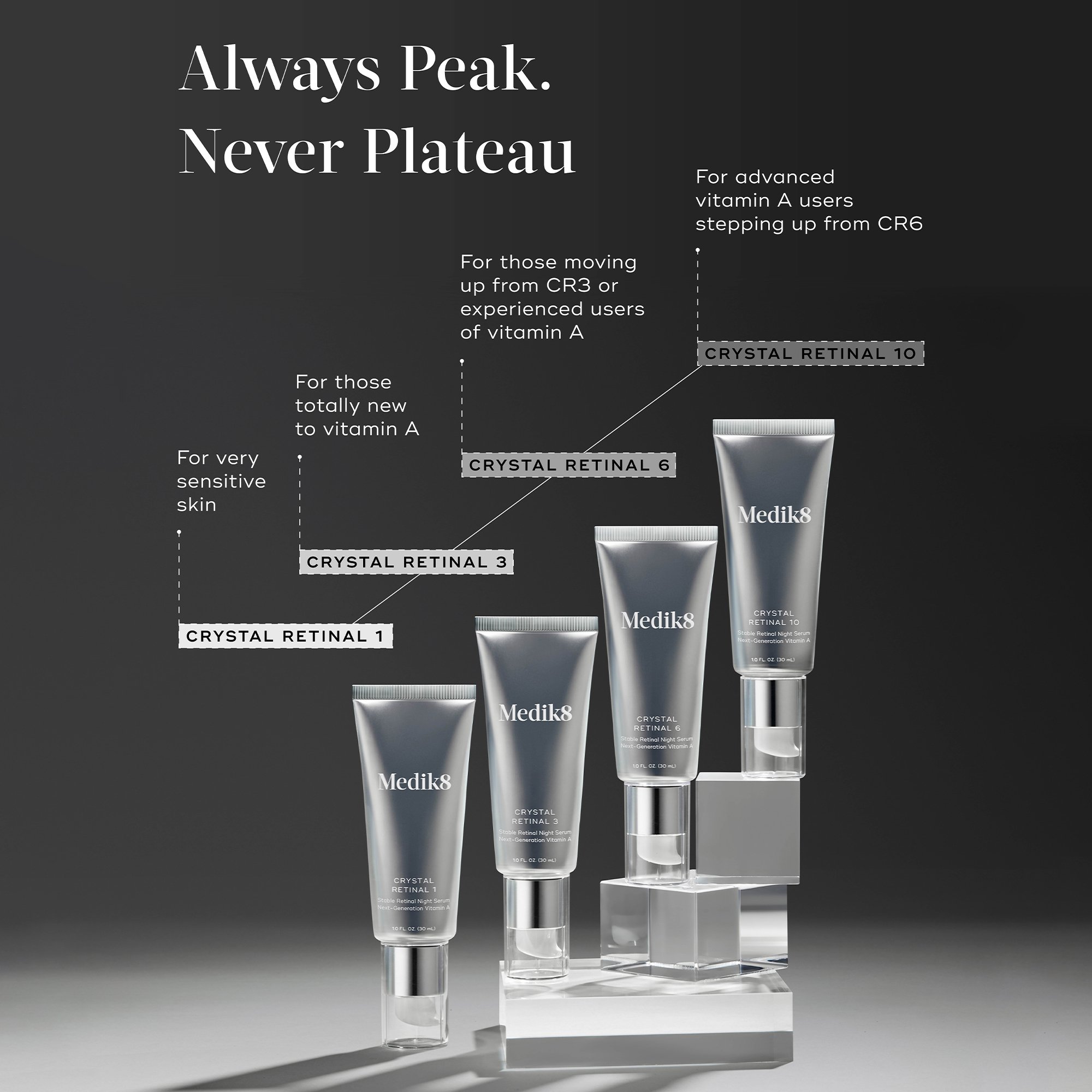 Available in 4 strengths, Crystal Retinal allows you to progressively elevate your results, to continuously reveal your best skin.
We always recommend starting low and going slow. Work your way up gradually through Medik8's innovative ladder system to keep powering up your results.
Perfect Pairings
Looking to supersize your Crystal Retinal results? Combine it with Medik8's age-defying allies, designed to work in harmony at night to boost brightening results and refine texture.
Press & Glow: The all-rounder star of Medik8's daily acid toning. The product was born out of a need for a powerful exfoliating acid toner that you could use every day, twice a day. Non-drying and non-sticky, this is the gentle acid toner: featuring hydrating PHA (poly hydroxy acid) gluconolactone (at 5.5%) for visibly smooth, glowing skin.
Advanced Night Ceramide: This is Medik8's go-to night cream, designed to follow vitamin A serums (Crystal Retinal). The sumptuous cream is infused with a multi-blend of ceramides in a ratio optimized in Medik8's in-house laboratory, which works to moisturize the complexion throughout the night. Also featuring a Midnight Complex, involving antioxidants saskatoon berry and dragon fruit extract, to support the skin's natural processes overnight.
*Biochem J., 1990, 268, pp 371-378
**Proven via independent clinical study on Crystal Retinal 6. Tested on 33 participants over 12 weeks.