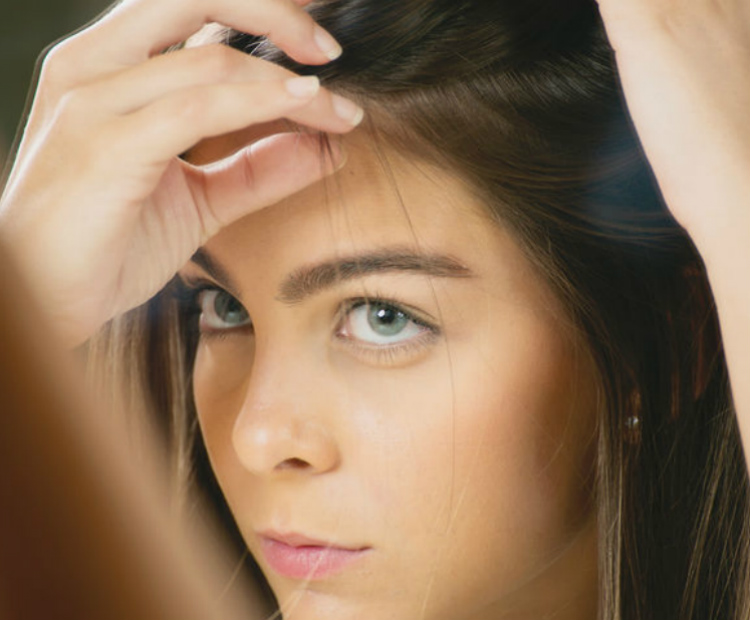 Once considered a mark of a middle age crisis among men, hair loss and thinning hair is fairly common among women as well. Some 30 million women in the U.S. have hereditary hair loss (compared with 50 million men). Daily tasks such as brushing and washing your hair can turn from relaxing to puzzling when excess shedding around the hairline occurs. Being an unlucky victim of either genetics or improper hair styling can cause a receding hairline.
Hereditary Hair Loss
Androgenetic alopecia, or AGA, is what you think of as male pattern baldness. Women can experience this phenomenon too. While men lose their hair in an M shape, women tend to lose hair all over. But in some cases, women also may lose hair more at the front of the hairline—right behind the bangs—and at the top of the scalp. The loss is gradual but can become apparent starting in your 20s. Your hair may also be thinner all over as well as at the front of your head.
What Causes Hair Loss
Hair growth and loss is a complex chemical process, affected by enzymes and hormones. AGA begins in puberty, when male sex hormones known as androgens shorten the anagen, or growth, phase of hair follicles. When this phase is shortened, hair dies sooner than usual and sheds. In a woman, hereditary hair loss is slightly more complex. In men's AGA, an enzyme known as 5-a reductase combines with testosterone to produce dihydrotestosterone, or DHT—a hormone responsible for the shrinking and disappearance of hair follicles. Women have about half as much 5-a reductase as men do, which means their hair loss tends to be diffuse, rather than concentrated at the hairline.
Hormonal Variations
Women also have more of an enzyme called aromotase, which stimulates the hormone production of estrone and estradiol; both of these hormones act against hair follicle-shrinking DHT. In most women, aromotase production is significant at the front of the hairline—meaning loss here is less common in women, but not impossible. Sometimes, conditions such as hirsutism, ovarian abnormalities, infertility and menstrual irregularities may interfere with estrone and estradiol production so that loss at the hairline occurs.
Treat the Hair Gently
Tightly pulling back your hair in ponytails, cornrows or braids can lead to traction alopecia, characterized by hair breakage along the hairline and temples. Women athletes who often wear their hair pulled back are particularly at risk. A change in hairstyle usually helps; however, hair loss may be permanent if the tight styling techniques have been used too long.
This article has been reviewed by board-certified dermatologist Dr. Emmy Graber.