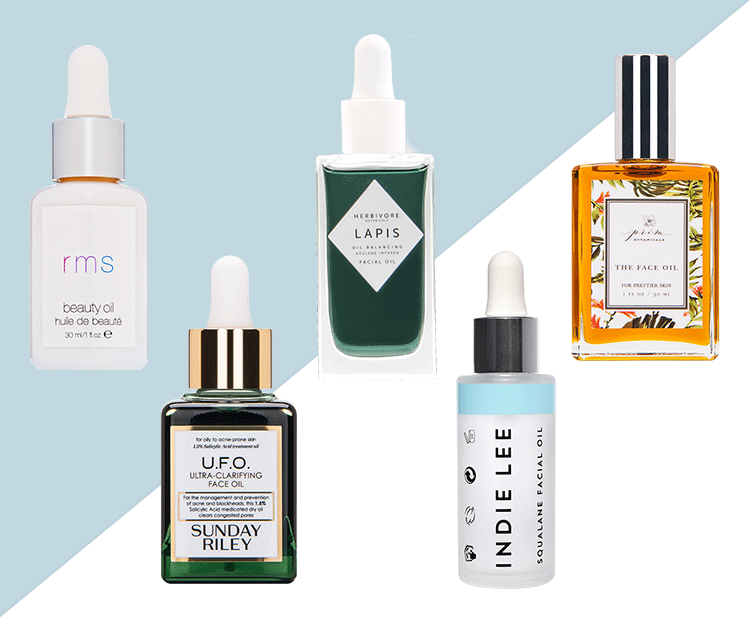 Face oil is one of those products you've heard about but likely have been too intimidated to try—especially if you have sensitive skin. Whether your sensitive skin is characterized by reactivity to certain ingredients in terms of oil production, breakouts or sudden dryness, it's not something you want to challenge. Believe it or not, face oils can actually do quite a bit of a good—even for the most sensitive skin. To help sell you on the idea of massaging oil into your face like it's a ritual, we consulted NYC Dermatologist, Dr. Sejal Shah, founder of SmarterSkin Dermatology. By the end of this article, you'll be wrestling over which bottle of skin-rejuvenating goodness to add to your sensitive skin care routine.
What Makes Face Oils Beneficial for Sensitive Skin
While face oils are widely marketed toward all skin types, it's the right oil or the specific combination of oils that can be particularly beneficial for sensitive skin. "Face oils are rich in fatty acids, antioxidants and other essential nutrients that make repairing the skin barrier and locking in hydration possible," Dr. Shah says. What's more, they can give the skin an instantaneous silkiness and superficial hydration that's known for today's must-have dewy skin look. At last, the secret to model-off-duty skin!
How to Choose the Right Face Oil 
As with any skin care product, it's important to consider your specific skin concerns when choosing a face oil. When it comes to sensitive skin, Dr. Shah recommends looking for oils that are rich in fatty acids to reinforce the skin barrier, antioxidants to protect and combat future damage, and anti-inflammatory ingredients to soothe. Not sure where that leaves you? Think avocado oil, marula oil, chia seed oil and sunflower oil, just to name a few.
Beyond the ingredients, you'll want to think about texture and scents. "If you have acne-prone, oily or combination skin (which can still be sensitive), you will want to use lighter, drier oils or oils with astringent effects, while heavier oils are better for dry skin," Dr. Shah says. From there, consider your reactivity to fragrances. If you're not sure where your skin lies, play it safe and use caution with fragrant and essential oils, as they can sometimes aggravate sensitive skin.
When Should You Apply This
Depending on your sensitive skin's specific needs, your face oil will soon join the ranks of your AM or PM skin care routine—or both. Dr. Shah points out that oils are best used at night since they tend to leave a shiny visage which could potentially interfere with daytime makeup, however if you have dry skin it may be beneficial to use an oil during the day as well. At the end of the day, it really comes down to personal preference, but it's important to remember that face oils are meant to be an addition to your skin care routine, not a one-stop solution for everything. "Keep in mind that face oils lack other essential ingredients for the skin, such as hydration-boosting humectants and rich blends of emollients," says Dr. Shah. "It's these ingredients that provide skin with deep and long-lasting moisture, so you don't want to cut them from your routine in favor of a face oil," explains Dr. Shah. So, when it comes to applying your soon-to-be-favorite face oil, simply add a drop or two into your moisturizer, or follow up your first step of hydration with a few drops dabbed on top.
The Best Oils for Sensitive Skin
Now that you know more about face oils and, more important, their effects on sensitive skin, you might be feeling a bit intrigued. Before heading blindly down the skin care aisle, you may want to brief yourself on the industry's most effective face oils for your sensitive skin type.
Ready to find your perfect match? Check out some of our favorites below.
Buy now

with Dermstore

Great for: Fighting early signs of aging
Éminence Organic Skin Care Facial Recovery Oil features a blend of precious herbs and nourishing oils to soothe and renew sensitive and aging skin. While clary sage oil works to calm skin and balance oil production, olive oil works to deeply hydrate, sage-leaf extract to rejuvenate and ylang-ylang to cleanse. In the end, you're left with a visibly refined complexion.

Buy now with free delivery