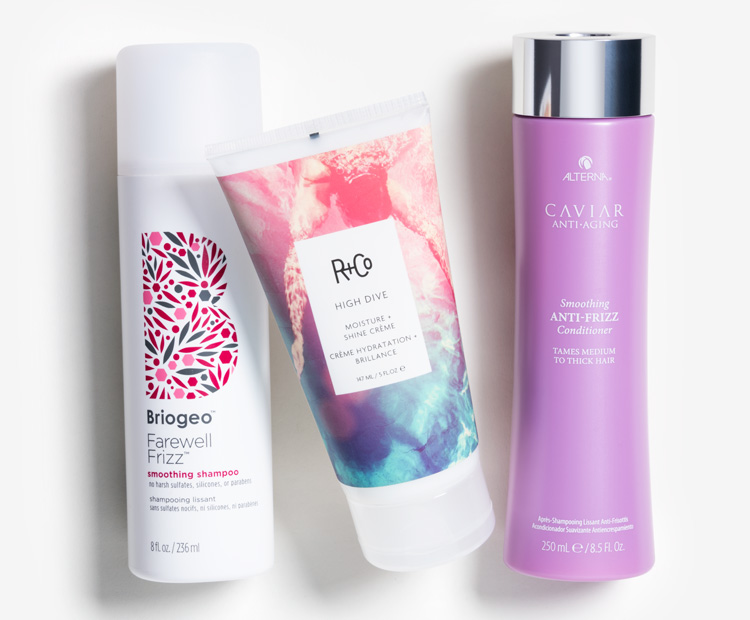 There are those who are born with naturally sleek, smooth and brilliant hair…and then there's the rest of us. When the first drop of rain sprinkles from the sky, when humidity reaches an all-time high and when the season of ski and slope arrives—your hair is wildly unmanageable and frizz-tastic. While many people scour the shelves for the best products to reduce scrunchy, unpredictable strands that go haywire, the solution is actually found not only in the right formula but in styling habits that can decrease common causes. Luckily, leading hair experts have managed to tame even the most rebellious of hair types and have some helpful strategies that really make a difference. Here's the scoop.
What Causes Frizzy Hair?
Beauty expert Colleen Camp explains that there are a slew of reasons that hair is subjected to frizz. One of the leading reasons—unsurprisingly—is high humidity. Our hair tends to frizz when we walk into this type of weather, due to an uptick in moisture in the air. After meticulously styling your hair into a sleek look, the high-humidity environment causes your cuticle layer to rise, sending you straight back to your all-natural look, pre-straightener.
You might want to call yourself goldilocks since Camp shares on the other end of the spectrum that low-humidity also can cause a frizzy look. How come? She notes that desert climates can wreak havoc on your style since air with little to no innate moisture induces static electricity, creating manic hair.
How you touch your hair can also have an impact on how frizzy it is since Camp explains that styling or drying your hair the wrong way can create unwanted texture. To ward off this type of human error—and try to fight against Mother Nature—smart and effective routines can change the discipline of your locks. Follow along to learn about the best tips and products to lead you toward shiny and silky hair.
How to Tame and Prevent Frizzy Hair
Buy now

with Dermstore

Though experts like colorist and entrepreneur Kacey Welch warn against overdoing it on the scrub-and-rinse cycle, to get the sand and sweat out of your tresses, you have to give your strands a bit of a wash sometimes. You can set your locks up for smooth success by choosing a lightweight formula and "avoid shampoos that have sulfates, as these will dry out your hair," she explains.
For a frizz-fighting cleanser, consider this shampoo and conditioner duo from Alterna. Ideal for medium-to-thick hair, this paraben- and sulfate-free formula protects your strands from humidity, frizz and whatever else is responsible for your bad hair day.

Buy now with free delivery