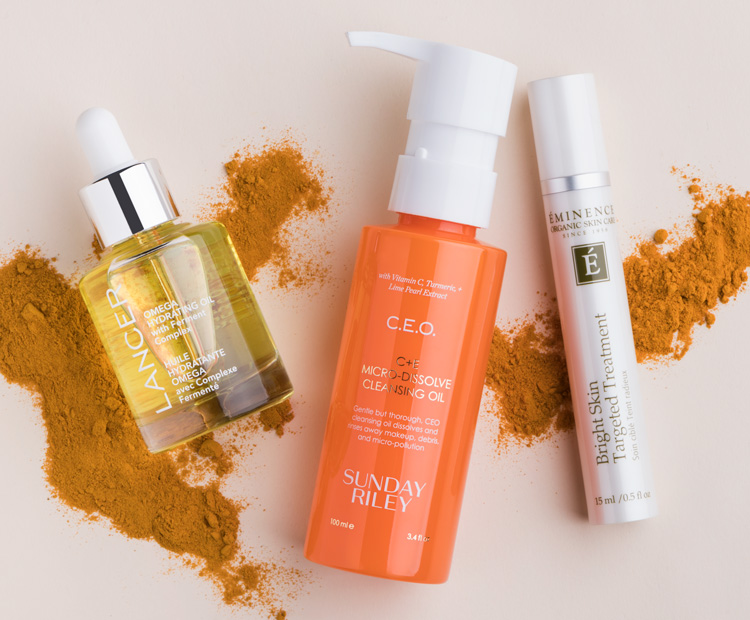 We all know that turmeric—the main spice used to make curry—is seriously delish. But did you know that it actually has some pretty cool health and beauty benefits? This golden-hued herb has been used for centuries in Ayurvedic medicine (a system of healing medicine that has been around for more than 5,000 years), says Dr. Sharyn Laughlin, MD, a board-certified dermatologist and medical director of Laserderm in Ottawa, Ontario. Indian brides have even reportedly been using DIY turmeric masks for years to achieve glowing skin, notes Dr. Laughlin.
Health Benefits of Turmeric
Turmeric contains curcumin, a type of polyphenol (a potent antioxidant) that has anti-inflammatory properties, says Samantha Cassetty, RD, a New York City–based nutritionist. Dr. Laughlin points out that doctors are now studying its use in relation to everything from gastrointestinal disorders to cancer to depression. "The polyphenol compounds within turmeric seem to exhibit efficacy in multiple pathways related to things like improving the cellular death of cancerous cells and inhibiting their migration," she says.
A study published in the journal Foods explains that curcumin's anti-inflammatory properties aids in reducing symptoms associated with conditions including arthritis and anxiety. The study also notes that due to its antioxidant and anti-inflammatory nature, curcumin can also boost the mood and brain function of healthy people.
Skin Care Benefits of Turmeric
"In terms of topical use, we are starting to understand that turmeric has beneficial properties relating to its use as an anti-inflammatory, anti-microbial and antioxidant," says Dr. Laughlin. "It's emerging as an innovative ingredient for improving wound healing and the benefits extend to other skin conditions like acne and eczema," she adds.
Various studies back this up. A 2016 review found that turmeric—when taken internally or applied topically—may help improve skin issues ranging from acne to psoriasis to sun damage. Another study suggests that curcumin in facial cream could help prevent the production of melanin, the pigment responsible for dark spots.
How to Use Turmeric (and Precautions to Note)
When it comes to adding spices like turmeric to your diet, Cassetty recommends using them liberally and often to help reap the antioxidant benefits. Sprinkling some into coffee or your baked goods are easy ways to hop on the turmeric train, she adds.
But before you do, there are a few precautions to note. According to the National Center for Complementary and Integrative Medicine, turmeric is considered safe when ingested or applied topically, but taking high doses of it may cause stomach troubles. Plus, the Center recommends consulting with your doctor before adding any herbal supplements to your routine, as supplements can sometimes interact with medications. Additionally, applying turmeric directly to your face could get messy really fast.
Best Products With Turmeric 
Not a DIY-er? Spice up your beauty routine with these turmeric-infused products instead!
Buy now

with Dermstore

If you're looking for a way to fade dark spots and make your skin brighter, turn your attention to this dark spot treatment. Turmeric and licorice root help lighten hyperpigmentation, punarnava curbs melanin (a.k.a. pigment) synthesis to even skin and GigaWhite™ blocks melanin production. In addition to your face, you can even use this dark spot corrector on your hands and chest.

Buy now with free delivery