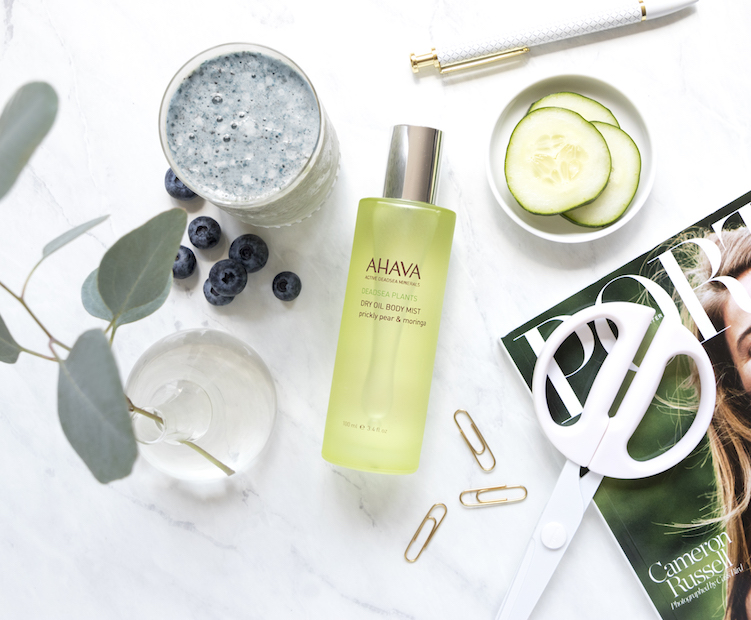 Image courtesy of AHAVA
Recently I read about how dry oil is a highly moisturizing hair treatment that adds a bit of shine without making your hair look greasy. Intrigued by the promise—though confused by the name—I ordered a little bottle of dry oil for my hair. After a few uses, my hair looked and felt great, but I remained confused. After all, when you see the word oil, what comes to mind? Probably a slick, wet substance. Add the word dry in front of it, and it sounds like an oxymoron, doesn't it? How can something be both wet and dry?
Solving the Mystery: What Is Dry Oil? 
To help eliminate my confusion, I reached out to those who know dry oil best—the brands that have helped put it on our radar. Here's what founder of The Organic Pharmacy, Margo Marrone, as well as brand educators at Alterna, had to say about this moisturizing product.
As it turns out, the term dry oil isn't referring to the substance itself. Instead, the name comes from how your skin and hair absorb the oil. Unlike, say, massage oil, which stays primarily on top of the skin to reduce friction, "Dry oil is a very light oil that is instantly absorbed," says Marrone.
Hair, body and face oils are known for being nourishing and moisturizing, among other benefits, but those benefits sometimes come with some unwanted slip and shine. Enter dry oil. According to AHAVA, "Dry oils give all the benefits of oil but without leaving the greasy feeling."
In short: Dry oil is a lightweight, non-greasy, quick-absorbing oil for the skin and/or hair.
How to Use Dry Oil
Each of the brands I talked to offers a dry oil in mist form for ultra-easy application. While each one is made with a special blend of oils and recommended for a specific set of uses, they all share the same goal: to nourish and moisturize, quickly and effortlessly. Here are some of the ways to use dry oil in your beauty routine.
Buy now

with Dermstore

Key Ingredients: Caviar extract, avocado oil, abyssinian oil
What Makes It Special: It's lightweight enough for those with fine hair—yet, it's still able to deliver the nourishment and protection of a much heavier product, which makes it ideal for thicker hair types as well.
"I love this product because I can use it on any client or any hair type and I am guaranteed to get great results," says Andrew Fitzsimons, Alterna Brand Ambassador and Celebrity Hairstylist. "It is so versatile—it can be used as a conditioning treatment, primer or as a finisher and takes any look from frizz to flawless."
How to Use It: Spray on damp hair to protect from heat and prevent frizz. Use it as a finisher to add a little extra shine to your hairstyle. Get some extra frizz control throughout the day with a spritz or two as needed. Or try it out as an overnight treatment on dry hair and wash out in the morning for soft, sleek hair the next day.

Buy now with free delivery

Buy now

with Dermstore

Key Ingredients: Coconut oil, argan oil, rosehip oil, jojoba oil
What Makes It Special: "Our dry oil comes from coconut oil and sweet vanilla, [and it] also includes antioxidant oils of argan, rosehip and jojoba," says Marrone, "so it's full of vitamins to keep skin and hair in super condition."
How to Use It: "It can be used on hair, nails, face, and body as a moisturizer and to make the hair shine and skin glow," says Marrone. Mist onto your damp or dry skin and work the oil in as needed. Because it's so lightweight, "It is absorbed really quickly, leaving a seductive sheen on the skin," says Marrone, so it's perfect for any time of the day.
To nourish and moisturize your face, warm a small amount of oil in your hands, then massage it into your face. You can do this in place of a cream moisturizer—or in addition to it, if your skin is extra dry.
After styling your hair, you can add a bit of extra shine and frizz control with a spritz of the oil. Spray onto your palms, then run your hands through your hair for the best results.

Buy now with free delivery