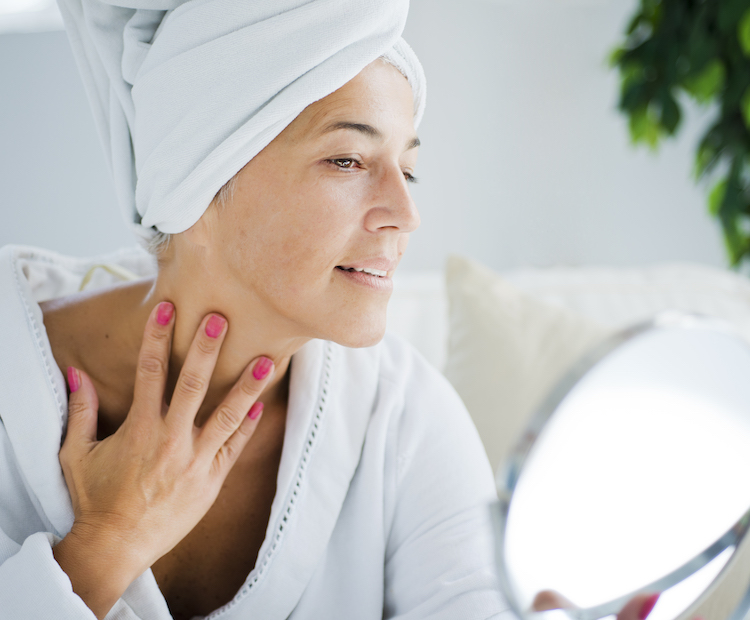 Loose skin: it's one of the most tell-tale signs of aging. From the underarms to the neck and even to the eyelids, time and gravity are to blame for sagging skin. That's why we talked with two leading experts to learn how to tighten skin through prevention and treatments so that you can boast those youthful contours for even longer.
How to Tighten Skin on Your Face 
Option #1:
Use SPF and Collagen-Boosting Creams
Across the board, experts agree creams are the best place to start. "Prevention is the key to appear your best," says board-certified facial plastic surgeon Dr. Houtan Chaboki. "I like the fragrance-free sunscreens with mineral UV protection such as zinc or titanium oxide and with minimum SPF 30 for daily use," adding to lather up even on cloudy days.
But if less-than-your-best skin laxity is giving away your age, shoot for creams that target wrinkles, notes Dr. Bobby Buka, dermatologist and contributing Founder & Chief Science Officer of the First Aid Beauty skin care line. "I recommend First Aid Beauty's Ultra Repair Hydra-Firm Sleeping Cream to help firm up loose skin and reduce fine lines or wrinkles. It uses an advanced blend of peptides to boost collagen and reverse visible signs of premature aging." Dr. Buka also recommends the First Aid Beauty's Facial Radiance Polish with bark extracts, which prevent buildup of toxins and hydrocarbons on the skin.
Option #2: Get a Facelift
"Surgery is still the gold standard for tightening facial skin with a facelift, but it does require weeks of downtime and comes with some higher risks," explains Dr. Buka. And with a price tag of an average $7,048, it's the most costly but also the only truly long-lasting option. Because nonsurgical treatments can't achieve the same results as this permanent option can, facelifts are for those looking for the optimal outcome; although, Dr. Buka adds it is recommended only after all other nonsurgical options have been taken.
How to Tighten Skin on Your Neck
Option #1: Utilize Ultrasound Technology
Looking for a non-surgical procedure? A facelift sure isn't the only player in the game! Dr. Buka recommends Ultherapy. "I like Ultherapy because it's a secret weapon for lifting the skin on the neck and fixing tired-looking skin underneath the eyes," adding that it takes around 30-45 minutes and the cost ranges from $1,500 to $3,000. The secret weapon? It works by using a focused radio-frequency and ultrasound to send energy to different layers of the skin while stimulating collagen deep within, rejuvenating a youthful appearance.
Option #2: Try Injectable Fillers
We all too often neglect the neck area even after so carefully caring for our face and hands, and yet the skin around the neck is even more fragile. Dr. Chaboki explains that patients are often using nonsurgical treatments such as Botox and facial-filler injections to enhance their appearance, especially so to maintain the upkeep of a facelift. And the statistics support this. The American Society of Plastic Surgeons reports that in 2016, injection-based procedures that target specific areas such as under the chin increased 18% while non-invasive skin-tightening procedures that tighten sagging areas increased 5%.
How to Tighten Skin on Your Body 
Option #1: See an Expert about Body Contourin
g
Summertime, vacation, weekend—it doesn't matter—we want our physique at a personal best. But life often just gets in the way—and that's okay! "Our collagen and elastin gets tired of picking up our tissue for all those years, and it eventually starts to sag," relates Dr. Buka while Dr. Chaboli adds that loose skin can develop on the body after childbirth, weight loss or bariatric (like gastric bypass) surgery. Unfortunately, after such times in our lives, the skin doesn't bounce back to normal which is why both experts recommend plastic surgery such as a tummy tuck or arm lift to remove the excess skin.
Option #2: Exercise, Dry Brush, Massage (Repeat)
If the above doesn't apply to you, you may just need to get a little physical! Building long, lean muscle under problem areas like underarms, back of legs and even the tummy in cases of minimal sagging can tighten up your shape. A post-workout (or whenever!) dry-brushing session promotes collagen production and boosts circulation for plumper skin all around. Slather on a super nourishing and collagen-plumping oil (like this forever favorite) and you just finished a powerful skin-tightening routine for more radiant-looking skin.